Padstow Seafood School wins best cookery school
27.01.2015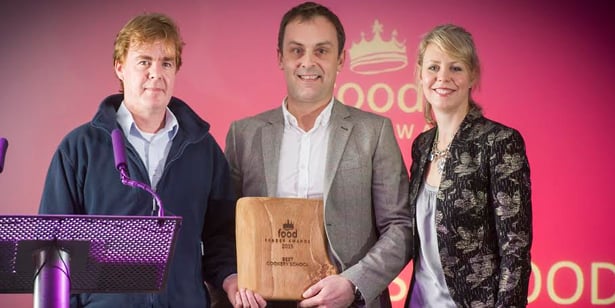 We are delighted to announce that Padstow Seafood School has won Best Cookery School in the Food magazine reader awards 2015.
Our head chef lecturer, Mark Puckey who attended the event commented "Thank you so much to everyone that voted for Padstow Seafood School in the Food magazine reader awards, we are so pleased to win best cookery school".
Offering over 30 different courses from skill workshops, one-dish evening workshops to four day courses, Padstow Seafood School provides detailed tuition and hands on learning techniques to their students.
Jill Stein offered her congratulations to the team just moments after the news was announced "I am over the moon for you all at the school it is so well deserved. It is a great cookery school."
2015 has seen the school add brand new menus to their most popular courses such as Fish and Shellfish, as well as introduce exclusive new courses and tasting evenings.
For a full schedule of events and courses at Padstow Seafood School, please click here.