Private Shepherd's Huts near Padstow, Cornwall
Sheltered by woodlands on the grassy grounds of our pub near Padstow, The Cornish Arms has six new shepherd's huts. The wooden huts offer peaceful countryside accommodation within reach of some of Cornwall's favourite restaurants, beaches and coast walks.
Each shepherd's hut is home to a warm and bright living and dining area, an en suite shower room and kitchenette. Complete with underfloor heating, boutique fixtures and fittings including gooseneck taps, Nespresso coffee machines and Robert's 'Revival' Radios. The huts boast a cosy double size bed with beautifully crisp linen, all designed to comfortably accommodate two adults.
Locally sourced stone is used to form a private patio on which to enjoy your morning coffee (and nightcap) in the fresh air, without being overlooked.
HEAT, SLEEP, RETREAT STAYCATION
Escape to Cornwall on our new two night bed and breakfast break including a Sauna by the Sea experience at Harlyn Bay.
Take time to recharge, breathe and enjoy the view.
Your Experience
Make your way to your secluded shepherd's hut or check in with our team at the Cornish Arms if you have any questions. Once you're settled in you won't be disturbed during your stay, so expect a tranquil escape in the Cornish countryside, designed to help you relax, unwind, and spend quality time together.
After a restful night's sleep in the comfy double bed, you can look forward to your breakfast hamper. Opt for Rick's perfect smoked salmon bagel or a lighter breakfast of granola and yoghurt, all made using the finest local produce. Breakfast is served in The Cornish Arms, where you can choose from cooked options including Cornish bacon rolls, avocado on toast and eggs to your liking. Lunch and dinner are available at the nearby The Cornish Arms – British classics made to Rick's recipes with the very best ingredients.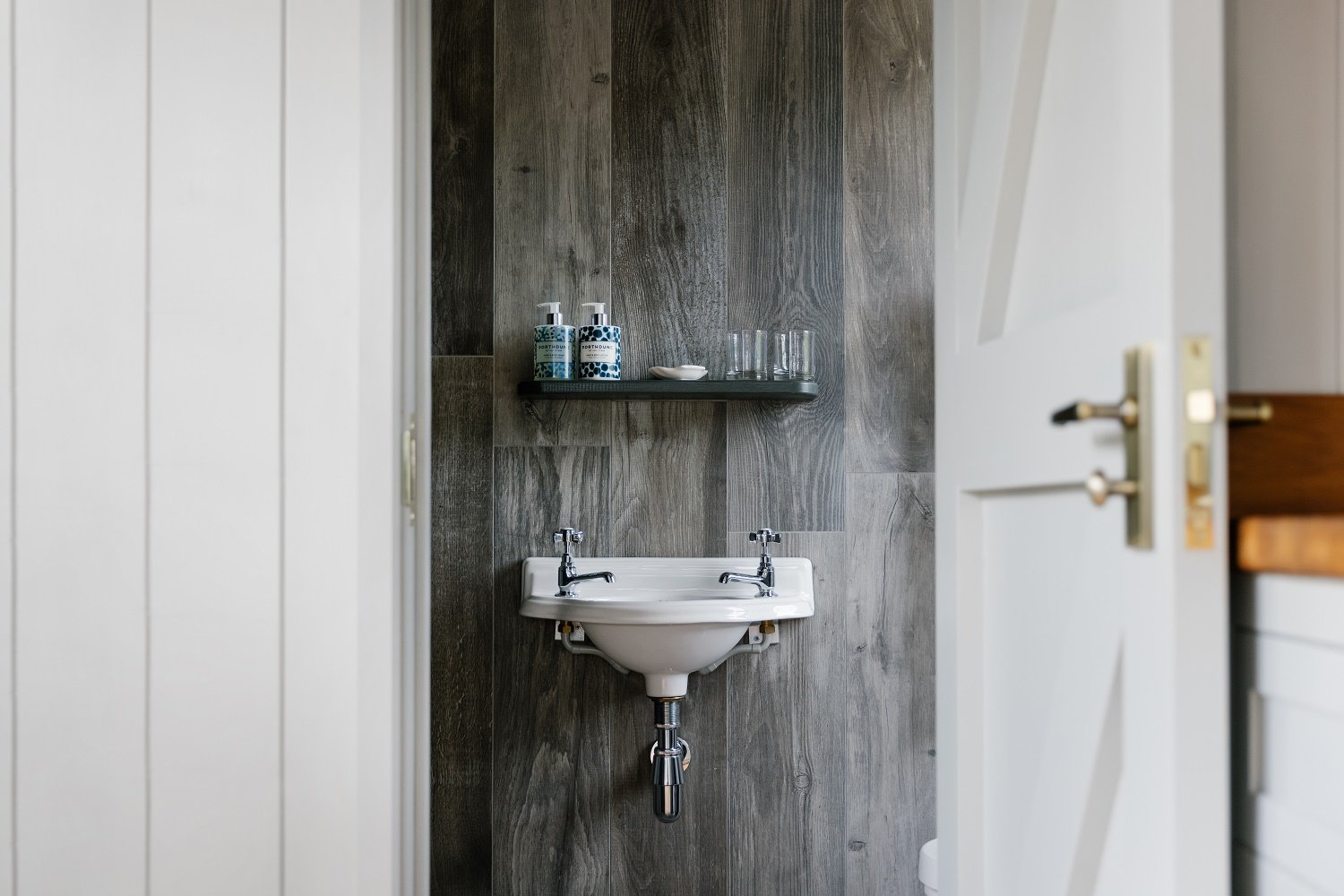 Explore Cornwall
Located just five minutes from some of Cornwall's best walks and beautiful beaches like Harlyn and Constantine, head down for a morning surf or watch the sunset, and for restaurants, pubs and shops galore, head 10 minutes into Padstow for a day of mooching around the harbour and quaint Cornish streets.
Good to know
Our shepherd's huts near Padstow are certainly for the more adventurous among us; if you prefer to travel with a lot of luggage, require more leg room than most or you're looking for an even more luxurious experience, we suggest booking a room in one of our Padstow hotels or self-catering accommodation.
Room Info
– Private paved garden & seating area
– Private parking
– Fresh Cornish milk, good coffee, Birchall Tea & Stein's biscuits
– Priority bookings available at The Cornish Arms upon room booking
– Porthdune by Jill Stein Toiletries
We aren't able to welcome dogs or children in our Shepherd's Huts. Our huts have real wood floors and as much as we love dogs sadly their claws and muddy paws make it very difficult to keep the floors in perfect condition. We have dog friendly rooms in Padstow, take a look here.
Each Shepherd's Hut offers a feeling of getting away from it all, without the compromise.
– Self check-in with staff on hand to answer any questions
– 4ft x 6″ double bed with crisp linen
– Ensuite bathroom with shower, soft white towels and Porthdune by Jill Stein toiletries
– Underfloor heating throughout to keep your hut cosy all year round
– Parking nearby
– Private paved garden and seating area
– Fresh Cornish milk, Origin Coffee, Birchall Tea and Stein's biscuits
– Kitchenette with mini fridge, microwave, sink, toaster, tea and coffee making facilities
– Wardrobe, large under bed storage draw, ironing board and iron and mini safe
– Robert's 'Revival' Radio, to listen to your favourite stations and connect to your own device
Shepherd's Huts from £160 per night
Prices are per hut, for two people enjoying a bed and breakfast break.
Breakfast is something we take very seriously.
We serve breakfast in The Cornish Arms, just a few steps from your Shepherd's Hut.
Start your day with a selection of fresh fruit juices, a hot cafeteria of Cornish roasted coffee and your choice of Birchall's finest teas. Then choose whatever you fancy from our breakfast menu:
Rick Stein's Granola with yoghurt
Freshly baked pastries
Avocado on toast
Your choice of eggs on Coombeshead Farm sourdough toast
Omelette
Cornish bacon or sausage bap
Available for guests staying: 10th July to 30th September. Served in The Cornish Arms, 9am – 10:30am.
Food will always be at the heart of what we do, so when it comes to dining we have options for everyone.
Restaurants
Guests in our shepherd's huts get priority booking at The Cornish Arms.
Designed by Jill, Kate & Ed Stein
Ed Stein – an accomplished stonemason and artist – worked in collaboration with local experts in craft and design, to ensure the huts combine craftsmanship with modern comfort. Locally sourced stone is used to form a private decking on which to enjoy your morning coffee and aperitif in the fresh air, hand-curved wooden planks form homely, Scandinavian-style interiors, brightly lit by sunlight through large windows on all sides.
Collaborators on the project include Martin Clemens, Cornish stonemason with over 35 years' of experience in the trade, and Steve O'Hagen, a local farmer responsible for levelling the land and plot on which the huts rest.
Jill & Kate Stein – worked together to create a warm and welcoming space that is luxurious while being unique. Hand selecting soft furnishings and in-cabin amenities, each choice in keeping with country and seaside setting and inspired by the Cornish coast.
Jill Stein is an interior designer and co-founder of the 1975 Rick Stein Restaurants has fitted the cabins, with all-natural skincare, bath salts, candles and more from her Porthdune range, offering guests a little more luxury during their stay.