Rick Stein The Road to Mexico
11.10.2017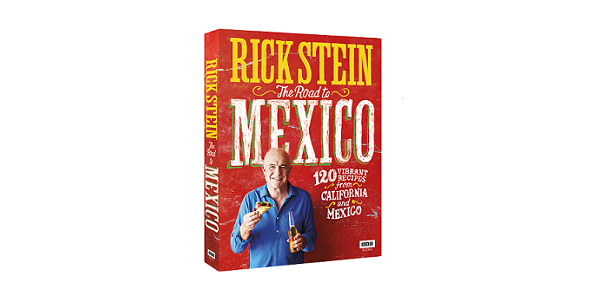 Update: 
Rick Stein The Road to Mexico airs on BBC2 at 9pm from Tuesday 7th November.
2015 saw Rick embark on a culinary trip from Venice to Istanbul, exploring Italy, Greece, Croatia and Turkey on route. 2016 was all about spending a Long Weekend in some of his favourite European cities, like Berlin, Reykjavik, Palermo and Vienna.
Moving on to 2017, and Rick has been filming his latest BBC TV adventure, due to air in a seven-part series in the autumn, documenting the food and culture from San Francisco in California down to Oaxaca in Mexico. Rick Stein The Road to Mexico is inspired by a journey that he made in late 60's, so expect to hear lots of nostalgic tales of how the countries have changed over the years and how the food has developed. It will be classic Rick – vibrant dishes, travel tips and a dash of art and culture thrown in for good measures.
The accompanying book was published on 19th October and is available to order here.
Join Rick on his book tour. Dates and destinations are below:
Rick Stein The Road to Mexico – Book Tour
 Friday 27th October
12noon: Rick Stein's Deli
South Quay, Padstow, PL28 8PY
3.00pm: The Falmouth Bookseller
21 Church Street, Falmouth, Cornwall, TR11 3EG

Monday 6th November
6.30pm: Jarrolds, Norwich – Q&A with Chris Rushby –  SOLD OUT
Tuesday 7th November
12.30pm: Waterstones Reading
89A Broad Street, Reading RG1 2AP
7.30pm: Rick Stein in Conversation, Bath Ballroom – Book online
The Ballroom, Bennett Street, Bath, Somerset, BA1 2QH
Wednesday 8th November
12noon: Stratford Literary Festival in Conversation with Tim Hubbard – Book online
14 Rother St, Stratford-upon-Avon CV37 6LU
7.30pm: Booka Bookshop. Oswetry
26-28 Church St, Oswestry SY11 2SP
Thursday 9th November
12noon: Linghams Bookshop, Heswall
248 Telegraph Rd, Heswall, Wirral CH60 7SG
7pm: Rick Stein in Conversation, Croston Theatre – Book online
Croston Theatre. Westholme School. Meins Road, Blackburn, Lancashire, BB2 6QU
Friday 10th November
12.30pm: Waterstones, Yarm
97 High Street, Yarm TS15 9BB
7.30pm: Rick Stein in Conversation at Mainstreet Books, St. Boswells – SOLD OUT
Saturday 11th November
2.30pm: The Edinburgh Bookshop
219 Bruntsfield Place, Edinburgh, EH10 4DH
6.30pm: An Evening with Rick Stein at Waterstones, Glasgow – Sauchiehall – Book online
153-157 Sauchiehall Street, Glasgow, G2 3EW