3 stars awarded by the Sustainable Restaurant Association
27.03.2015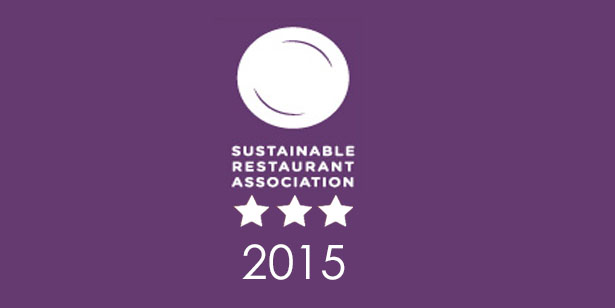 We are delighted to be awarded Three Star Sustainability Champion status from the Sustainable Restaurant Association, the highest accolade the group recognise for exceptional sustainability within restaurants.
The award applies to six of our restaurants: The Seafood Restaurant, St. Petroc's Bistro, Rick Stein's Café, Stein's Fish & Chips, The Cornish Arms and Rick Stein's Fish, Falmouth.
There are three main categories that are judged for the award: sourcing, society and environment. We have increased each of our scores in these separate categories by nearly 20% in just 12 months.
Our top scores came from recognition of our local and seasonal menus, ethical meat and dairy sourcing and fair-trade choices being promoted within our restaurants. We also received 100% ratings for treating people fairly and waste management.
We received special recognition for our community engagement as a result of our annual charity lunches in our restaurants that have supported causes such as WaterAid, Save the Children and the British Red Cross.
The report concluded: "The Group achieved its highest score in the pillar of Society, and is highly commended for achieving a perfect 100% in the area of Treating People Fairly. It has a fantastic range of training opportunities in place, as well as a 'train the trainer' course which enables staff to deliver training in-house on topics specific to individual's roles.
"In Sourcing, the Group excelled in the area of Local and Seasonal, where the SRA commends the team for purchasing British, and often local, produce and for changing the menus monthly to incorporate seasonally available vegetables. The Group achieved a strong score in the Environment pillar, with a perfect result in Waste Management and good scores in most other areas. Each restaurant is commended for formally monitoring not only waste but also water and electricity use and setting reduction targets in both areas."
To find out more about what we do in our restaurants to improve our sustainability click here.