Why we love Camel Valley Vineyard
02.07.2013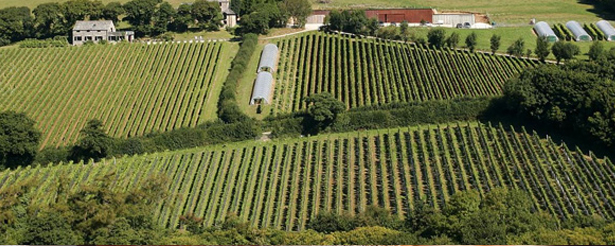 When ex-RAF pilot Bob Lindo and his wife Annie planted their first eight thousand vines in 1989, they never dreamed of the phenomenal success they would achieve within 2 decades.   They'd bought their farm in the heart of the Cornish countryside several years earlier, seeking a change from service life and the perfect place to bring up their then young family, and initially farmed sheep and cattle.  Each summer they watched the grass turn brown on the sun-drenched slopes of the Camel Valley, and wondered if vines might enjoy such an aspect.
Bob 'did a vintage' in Germany and both took viticulture courses and read every vine and wine book they could find.  They built a winery and equipped it with the finest equipment they could afford.
They're the first to admit it wasn't easy in the early days, doing everything by hand and staying up all night crushing the grapes. But they loved it, always striving for perfection and when they won a medal in the national English Wine competition for their first wine, they knew they were doing something right.
Their success has continued since, with plenty of awards and accolades following and Bob and Annie's son Sam, being named UK winemaker of the year on more than one occasion!
Here in Padstow, we're big fans of Camel Valley Vineyard. All of our restaurants stock the Camel Valley sparkling wine including our fish restaurant in Falmouth and you can also buy it from Stein's Deli in Padstow.
Here's a few reasons why we love Camel Valley Vineyard
It's made in Cornwall! Our Cornish climate is best suited to making sparkling wine by the champagne method, and it tastes even better knowing that it is made in Cornwall.
It's the perfect accompaniment to our classic fish and chips cutting through the grease and complementing the lashings of salt and vinegar!
You can cycle to the vineyard from Padstow and enjoy a glass or two when you arrive.
The vineyard was one of Rick's food heroes back in 2004.
Finally, it tastes really good! From the fresh and fruity Cornwall brut to the delicate floral noses of the pinot noir rose brut, we love Camel Valley's Cornish bubbles.