Get Into Cheffing
Have you always wanted to become a chef? Well now's your chance. With over 50 years of experience, we want to help inspire more people to become chefs here at Rick Stein.

On Tuesday 23rd May, we're opening up our cookery school in Padstow to budding chefs who want to get a taste of what it takes to become a Rick Stein chef. You'll learn all you need to know from our expert chef lecturers, Nick and Aarran starting with kitchen techniques in the morning, followed by cooking some of Rick's classic dishes in the afternoon.
Whether you're looking for a change of career, have just finished college and are looking to get your first job or want to learn some new skills to enhance your cv. All ages are welcome along with an opportunity to secure a job in one of our friendly kitchens.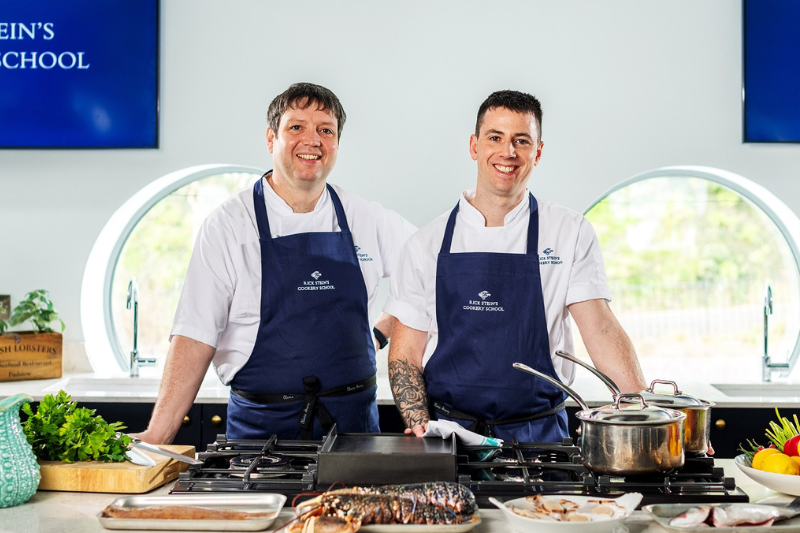 Meet Chef Lecturers, Nick and Aarran
With over 30 years of experience between them at Rick Stein, there's no one better to learn seafood cookery from than Nick and Aarran – they know Rick's dishes inside out. Our Chef Lecturer duo will guide you through the day and teach you everything you'll need to know about becoming a chef and what it's like to work with the very best ingredients in our friendly kitchens.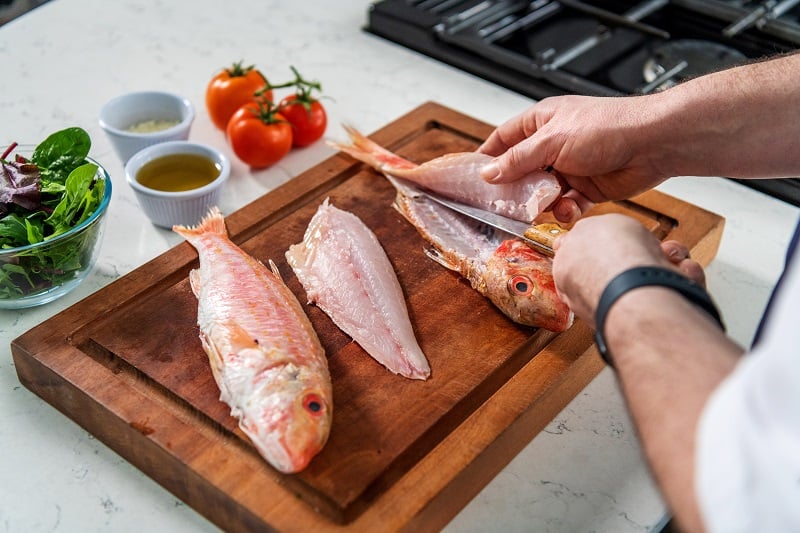 Grow your chef career with us
We're not just passionate about food, we're passionate about developing our people too.
75% of our managers have been promoted from within and we want to help you fulfil your potential.
We'll invest in you with:
• Craft skills and training (wine and food tastings, supplier visits) to develop your knowledge and confidence
• Opportunities to move between parts of our business
• Encouragement to apply for bigger roles when the time is right
• Regular encouragement and support from your manager
Perks of working at Rick Stein
Flexible shifts. Family time and work/life balance are important to us. We'll work with you to find the shifts that work for your lifestyle, and full-time employees can request to work a four-day week.
Brilliant tips. On top of your hourly wage you'll earn tips. These are paid weekly into your bank, aren't subject to NI deductions and you'll even get tips when you're on holiday!
Social events. You'll get the chance to meet Rick and the family at social events and parties.
Holiday. You'll get 28 days paid holiday every year.
Staff discounts. You'll get 50% off in our restaurants, 20% in our shops and online and discounted hotel stays and cookery courses.
Free meal for two. After one year with us, you'll get a complimentary 3 course meal for two people in one of our restaurants every year.
Plenty of food. We provide great quality meals whilst on duty, the chance to taste all our dishes as well drinks and snacks whilst you're on a break.
Staff surprises. We like to make you smile, so there'll be little treats from us throughout the year.
For any enquiries, please email [email protected]