Recipe: Hake alla Carlina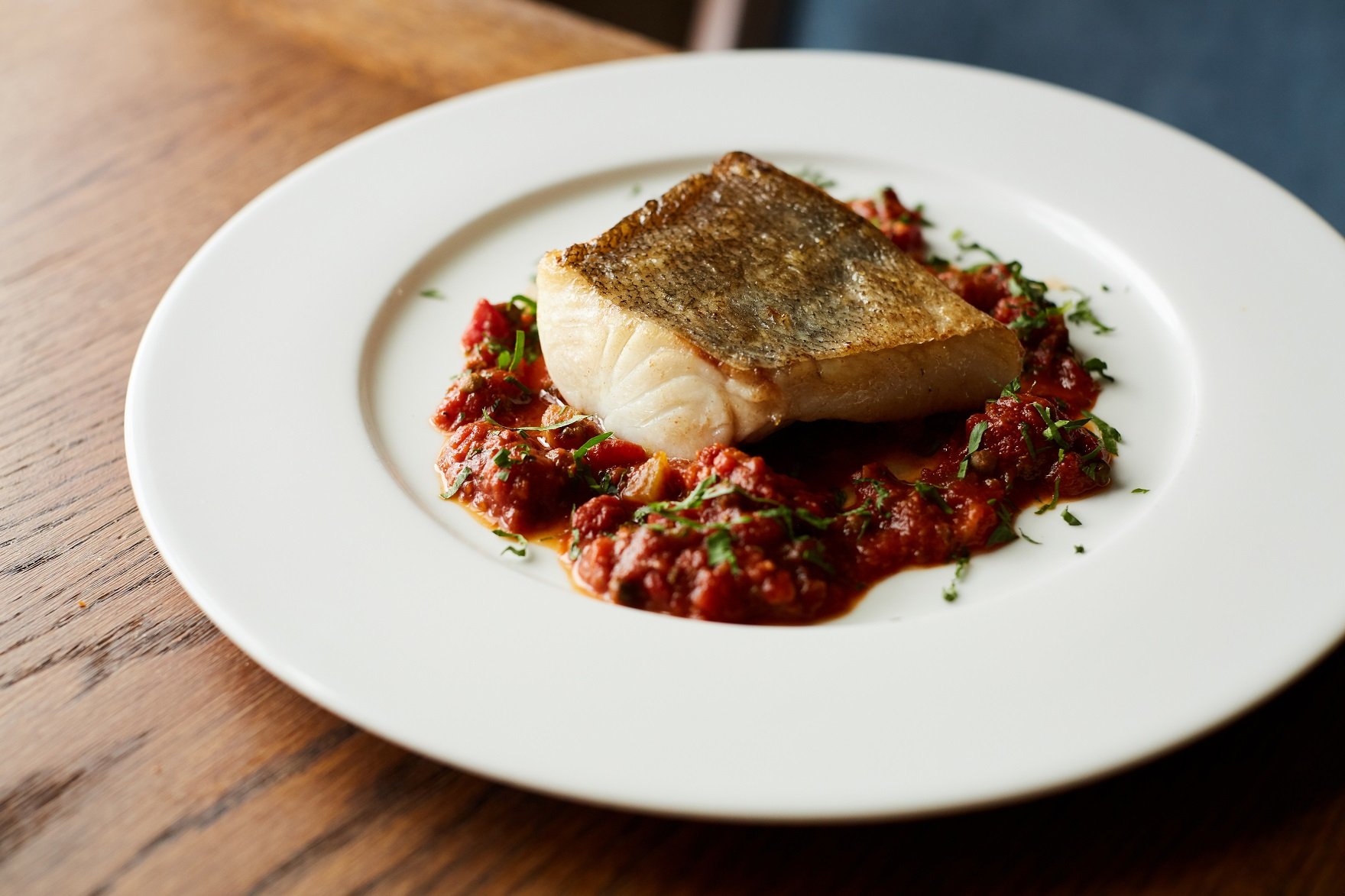 Our recipe of the month for October is a Venetian dish from Rick's Venice to Istanbul travels – hake alla Carlina. A simple recipe to recreate at home for your friends and family this autumn – You will probably also want a glass or two of pinot grigio, such as Tiefenbrunner from Alto Adige in the Tyrol. You can also look forward to trying it on our set menus in Marlborough, Winchester, Barnes and Sandbanks.
Rick says: 'Not my recipe but from the lovely Locanda Cipriani on the Venetian island of Torcello. With an olive oil and tomato sauce sharpened with capers and gherkins.'
Serves 4
Ingredients
4 hake fillets, about 150g each
2 tbsp olive oil, plus extra to serve
50g plain flour
Salt and freshly ground black pepper

For the sauce:
2 tbsp olive oil, plus extra to serve
1 lemon, halved
1 tsp Worcestershire sauce
2 small gherkins, finely chopped
2 tbsp capers: 1 tbsp finely chopped,1 tbsp whole
2 tomatoes, peeled, deseeded and finely chopped
3 tbsp tomato sauce – passata will work well
250ml fish stock
Small handful flat-leaf parsley, chopped
Method
Season the hake fillets with some salt and pepper and lightly dust with flour. Heat the olive oil in a frying pan, add the fillets skin-side down and fry for 2–3 minutes until lightly browned, then season with a squeeze of lemon juice, turn the fish over and cook for a further minute. Remove from the pan and keep warm.
Add the Worcestershire sauce, gherkins, whole and chopped capers, tomatoes, tomato sauce and fish stock to the pan, bring to the boil then reduce by three quarters to create the sauce. Add the fish carefully back to the pan for a minute to warm through in the sauce.
Serve immediately, drizzled with a little more olive oil and sprinkled with fresh parsley.
Happy cooking!
Recipe from © Rick Stein From Venice to Istanbul, BBC Books, 2015