Head Chef – Rick Stein Fistral
Hello, come in. Great hospitality is what we do – offering a friendly and generous welcome to all.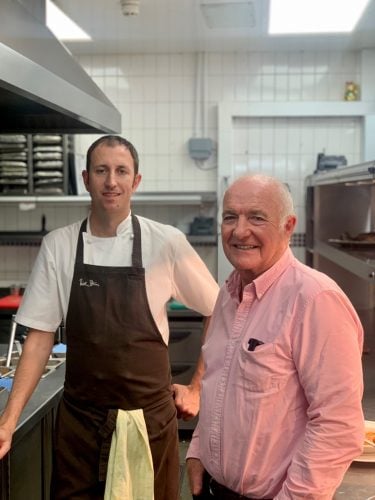 We're looking for an Head Chef to lead our kitchen team at Rick Stein on Fistral beach in Newquay.
You'll be cooking Rick's famous fish and chips, alongside a menu of curries, grilled fish, beach bites and more.
You'll be working in our restaurant in Newquay alongside our General Manager, with the support of a Group Operations Manager, Executive Chef and a head office support team. You'll also get to work with the Stein family, our wider team of Head Chefs from our other restaurants across the south of England, with the chance to experience our other restaurants if you wish.
---
What you'll be getting up to:
Delivering Rick's vision for fresh fish, simply cooked
Leading the kitchen team to deliver a quality experience for our guests
Developing, training and inspiring your kitchen team to continuously improve
Working alongside the restaurant manager to find ways to make your guests and staff smile
Working with our Group Executive Chef and Rick & Jack Stein to develop seasonal menus
Planning rotas, events and holidays to ensure the smooth running of your restaurant
Controlling the kitchen from a financial and quality driven perspective
What you'll bring to the role:
This is a great opportunity for a sous chef to progress, or for a current head chef. We're looking for someone who has worked in restaurants, beach cafes or pubs that puts their heart and loyalty into a role. You'll be aware of guest needs and know how to make them sile, as well being able to effectively lead, inspire and develop a team.
---
How we make you smile:
Staff discounts. You'll get 50% off in our restaurants, 20% in our shops and online and discounted hotel stays and cookery courses.
Brilliant tips. On top of your salary of £28,000 a year, you'll earn tips. These are paid weekly into your bank, aren't subject to NI deductions and you'll even get tips when you're on holiday!
Social events. You'll get the chance to meet Rick and the family at social events and parties.
Holiday. You'll get 28 days paid holiday every year.
Free meal for two. After one year with us, you'll get a complimentary 3 course meal for two people in one of our restaurants every year.
Plenty of food. We provide great quality meals whilst on duty, the chance to taste all our dishes as well drinks and snacks whilst you're on a break.
Staff surprises. We like to make you smile, so there'll be little treats from us throughout the year. We've recently given all our staff a £25 voucher and a free Stein's at Home 3 course meal box to enjoy at home.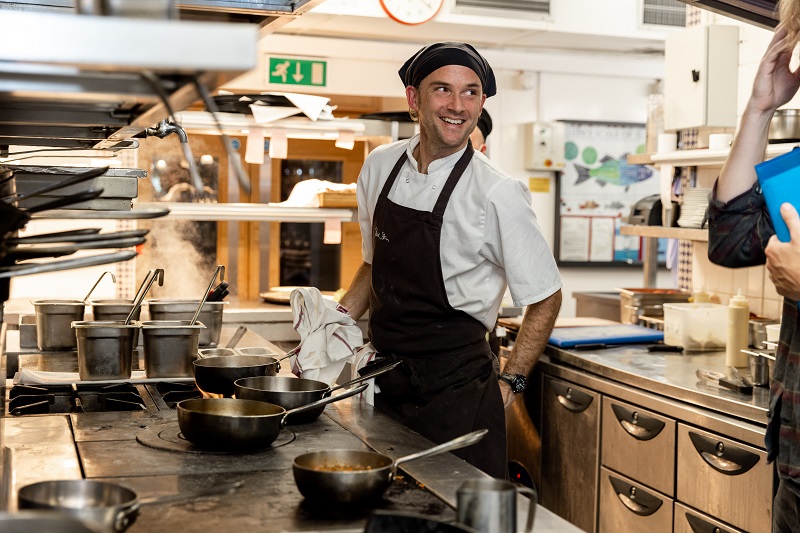 ---
Our story:
Rick and Jill Stein started our family run business back in 1975, and today we employ over 600 happy staff. The business has grown from the first flagship Seafood Restaurant in Padstow to 10 restaurants across the south of England, plus hotel rooms, cookery school, shops and an online shop. Rick and Jill are still heavily involved in the business, as are their three sons Ed, Jack and Charlie. We see ourselves as being in the 'cheering up industry' trying to make people smile with great food, drink and experiences.
We opened our Fistral restaurant in 2015 - with fantastic views over the iconic surfing beach, we can't think of a better place to work. You can enjoy a surf before or after your shift, watch the most fabulous of sunsets from the restaurant and generally soak up the relaxed beach vibes. We keep things casual in Fistral so expect a menu with Rick's famous fish and chips, alongside curries, noodles, beach bites and more.

Our values:
We're in the business of making our customers smile, but to do that we know your happiness must come first - so our priority is always you. Our team tell us that they are proud to work for us and they voted for us as one of the top 100 best companies to work for.
Team spirit - we look out for each other, support each other to fulfil our potential and celebrate our successes.
Continuous improvement - we encourage ideas, embrace change and find better ways to do things.
Fair and honest - we encourage feedback, we listen and ask questions, we treat everyone with respect.
Generosity of spirit - we go the extra mile, we wow, and we do the right thing in the right way.
---
Say hello:
If you are an experienced Head Chef looking to develop your career, we'd love to hear from you - apply using our quick application form below, or email your CV to fcoyle(at)rickstein.com.
---