New: Rick Stein's Taste of Shanghai
08.01.2016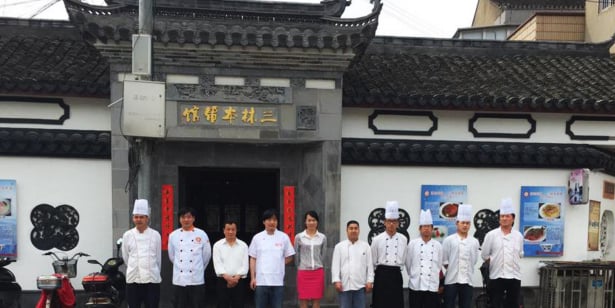 Rick Stein will be on our screens on Monday 8th February with a brand new one off BBC journey in Shanghai, arguably the biggest city in the world, to see how much its culinary roots have changed in the past 20 years.
Highlights of Rick Stein's Taste of Shangahi  include a visit to the vibrant 24 hour Tong Chuan Lu Seafood Market, a trip to Jinshan, a fishing village in the South East suburbs and an adventure on Shounin Road with local writer Jamie Barys sample street food, including the much-loved hairy crab.
Dishes from the new show feature Xia Long Bao dumplings, a type of steamed bun steamed in small bamboo baskets that Rick compares to the Cornish pasty, Anthony Zhao's red braised pork, and Jia Jia's home cooked boiled chicken. Rick also uncovers the new phenomenon of Chinese fine dining at Fu Restaurant, the city's most popular high end chain of traditional restaurants, where local dishes are reworked with an elegant western style twist.
In classic Rick style, he will of course be sampling the local drink on offer: yellow rice wine. Used primarily in cooking the same way the rest of China use soy sauce, Rick's quick to notice it's also "jolly nice to drink" and visits Nong Ji Winery on Chongming Islands where the famous rice wine is made using wooden buckets, straw covers and giant ceramic pots.
If all of this hasn't got you excited enough, here's what Rick has to say about his latest culinary adventure:
"What am I doing here?  Well, I want to add a few more dishes to my Chinese repertoire.  I'm going to share my favourite Shanghainese dishes from the ones that I'll discover on this trip.  We all love a Chinese – the sweet and the sour, the freshness, the crunchiness, the colours, the smell of five spice and soy. I'll be finding the pockets of traditional food still left in this city … the dishes that the Shanghainese long for away from home.  I'm going to taste rich red braised pork – Chairman Mao's favourite, the city's cherished hairy crabs and mouth-watering dumplings, unique to Shanghai, so delicate they sag under the weight of the hot liquid inside and burst at the lightest touch.  If like me you thought you knew Chinese food, you're in for a surprise."  
Rick Stein's Taste of Shanghai will air on BBC2 on Monday 8th February at 9pm. For more information on the programme, follow us on Twitter @TheSeafood.