Our 40th anniversary Brut wins silver at the Wine of the Year awards
07.07.2015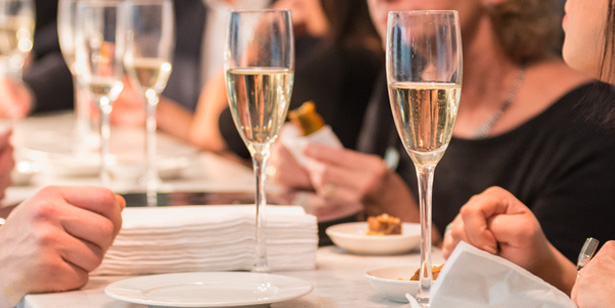 Rick and Jill 's 40th anniversary sparkling Brut has been awarded a silver medal at the UK Wine of the Year awards 2015.
The Lindo family at Camel Valley,  just up the estuary from The Seafood Restaurant, made the wine at their Darnivole vineyard.
Camel Valley has been producing award-winning, world-class wines in a beautiful corner of Cornwall since 1989. They are set in an idyllic setting on sun-drenched slopes and produce excellent grapes that perfectly suit the soil and climate.
Founder Bob Lindo said: 'Grapes for the Seafood Restaurant 40 years Anniversary fizz were grown in a single vineyard at Camel Valley, nearest to the River Camel and Padstow, in 2010. It's a lovely coincidence because Rick and Jill were awarded Lifetime Achievement awards at the National Restaurant Awards, where Camel Valley was also served.'
A fresh and fruity fizz, perfect for all celebrations our 40th anniversary Brut has English hedgerow scents, citrus character and a touch of honey on the palate.
It's being served across all our restaurants and is available to buy online or in Stein's Deli or Stein's Gift Shop for £32