Record Year for Charity Lunches at The Seafood Restaurant
14.04.2015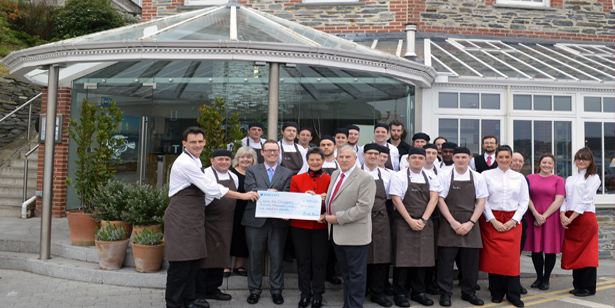 The Seafood Restaurant in Padstow has raised £13,500 for Save the Children, beating last year's total.
The charity lunches were held over four weeks in January and February. Guests enjoyed some of Rick's favourite dishes such as fish and shellfish soup with rouille and Parmesan and grilled hake on spring onion mash and soy butter sauce.
We celebrate our 40th anniversary this year and have raised nearly £100,000 since we began our charity lunches in 2001.
Stephane Delourme, head chef of The Seafood Restaurant commented: "This is the 14th year we have held our charity lunches and this is the most successful one so far. We've had wonderful feedback from our customers who love the event. This year the most popular dish was the Amritsari fish from Rick Stein's India. I'm already thinking about the new dishes we can include on next year's menu. It's a pleasure to help support such a worthwhile charity."
The Save the Children fund runs world-class programmes to save children's lives in over 70 countries around the world. The charity works tirelessly to challenge world leaders to keep to their promises of giving children a brighter future.
Jonathan Duke, Regional Fundraising Manager for Save the Children added:  'A huge thank you again to Rick and Jill Stein, all the team at The Seafood Restaurant and our Padstow fundraising team, for another record breaking fundraising year of the Save the Children lunches.  Save the Children responded to 95 emergencies in 2014, and reached over 9 million children. We are able to do this thanks to the fantastic fundraising that goes on in our communities around the UK.'
Thanks to all who came along to support such a great cause and we look forward to seeing you next year!