We've opened a NEW SEAFOOD BAR IN PADSTOW
25.05.2016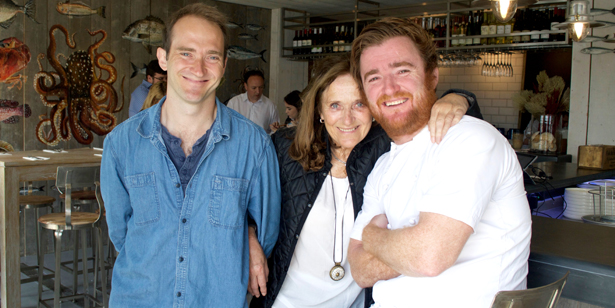 We have opened a small seafood bar in Padstow as part of our fishmongers on South Quay.  Stein's Fisheries opened back in 2012, and the latest development will see the seafood bar running alongside the fishmongers, offering customers the chance to pop in for an informal plate of the freshest fish, simply prepared.
The seafood bar opened on Friday 20th May and will be open from Easter to November every day from 12 – 4pm. The simple menu designed by Rick and Jack Stein showcases the freshest seafood from the Cornish shores, including oysters, crab and lobster as well as eels, whelks and roll mops – all served alongside a wide selection of wines. The communal bar and table seats 24, no reservations are taken so you can just pop along and find a stall.
Rick commented "After the first couple of years of running our fishmongers we were sort of thinking, because I've seen it in so many parts of France and Spain, about actually adding a simple seafood bar. It just seems such an obvious thing to do.  I've been to many such places in Paris where you can buy a box of oysters or turbot or some John Dory or you can go in to the fish shop which will have a few tables and eat those things.
"I didn't want hot food, I just wanted a selection of seafood and all dishes cold. I wanted to keep it really casual and that's what we've done. You can go in there and order oysters, lobster, langoustines. It's really about going in there and thinking, you know I really fancy a plate of whelks with some mayonnaise and a glass of Muscadet."
Overseeing the design with eldest son Edward and daughter-in-law Kate, Jill Stein commented "We really liked the idea of adding a simple bar alongside our fishmongers; a place where you can eat shellfish and have a glass of wine whilst watching the fishmongers at work is a great experience. The space features a lovely dark slate bar as well as a beautiful mural from local artist Florence Super."
To keep up to date with the latest news from the seafood bar follow us on Twitter @SteinSeafoodBar or visit our Facebook page.