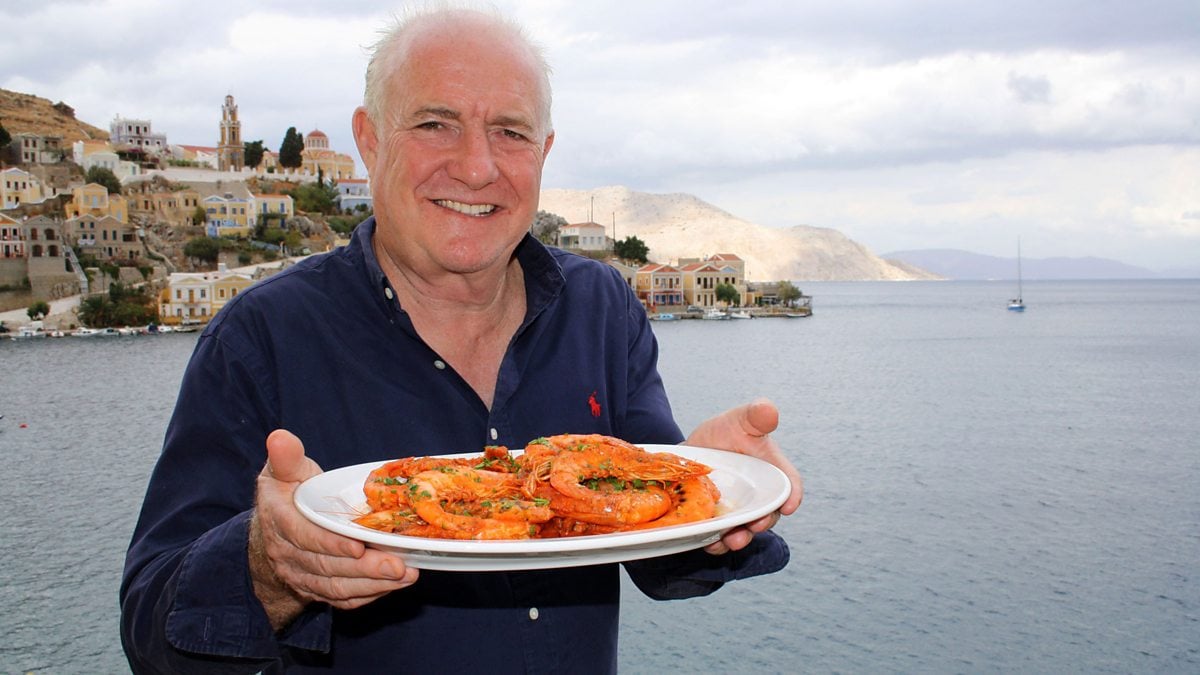 Rick Stein's Venice to Istanbul
During Rick Stein's Venice to Istanbul series, he discovers more than 100 Byzantine recipes inspired by centuries of eastern Mediterranean history and tradition. Follow Rick as he travels through the mythical heart of Greece to the Black Sea via the flavours of Croatia and the oriental influences of Turkish food.
Recipes include garlic shrimps with soft polenta, barbecued chicken with sumac, stuffed squash leaves and yoghurt-baked lamb and is accompanied by stunning location photography from Croatia, Venice and Istanbul.
Get the book
Order a signed copy of Rick Stein's Venice to Istanbul, which includes 120 new recipes to recreate for your friends and family at home here.
Try the dishes in our restaurants
You can look forward to trying some of the dishes from Venice to Istanbul on our menus – including hake alla Carlina, Butrint mussels, cuttlefish risotto and saganaki halloumi. Choose a restaurant here.
Learn to cook the recipes
To celebrate dishes from Venice to Istanbul, Head Chef Lecturer Nick at our cookery school in Padstow has included some of them in a new two day Taste of the Mediterranean course.
Two day cookery course – £360
Venice to Istanbul Episode Guides
The episode launches in Venice with Rick reminiscing about his previous visits there, before being taken by Francesco Da Mosta to a tiny restaurant, Antiche Carampane, in San Polo the historic courtesans' area of Venice.
Here Rick tried his first recipes from Venice: fried schia in paper cones and bigoli in cassopipa. The bigoli dish is a thick spaghetti shaped pasta with a shellfish sauce, made by cooking the shellfish in a pot with leeks, carrot, onions and a spice mix containing nutmeg, cardamom, cinnamon and cloves. Next, Rick and Francesco headed to All'Arco Cicchetti, a Venetian mezze style bar, to try baccala with garlic.
Rick then goes on to cook a classic gnocchi con granseola dish made with spider crab meat and Byzantine spice mix, before visiting the Rialto fish market, just by the Grand Canal in Venice, home to piles of tiny soles, bass, octopus and sardines split open ready for frying.
The next stop on Rick's travels is to the family owned Hotel Wildner, by the San Zaccaria vaporetto stop near St. Mark's Square. Here he meets meets Luca Fullin, the son, who cooks his classic spaghetti vongole with bass bottarga dish for Rick. He makes this with triangular-shaped clams called telline that aren't actually from the lagoon but the Adriatic, Rick enjoys their sweetness.
Moving next to the Lido, the narrow strip of land which separates the central part of the Venetian lagoon from the Adriatic Sea, Rick visits the Grand Hotel Excelsior. Here he tries gobi risotto, bigoli in salsa, an understated but incredibly good pasta dish with onions and anchovy, scampi alla busara, originated from across the Adriatic and a tiramisu recipe made using a whisked fatless sponge and presented in a cocktail glass that Rick is particularly taken with as a twist on a recipe "as common as apple pie".
La Giudecca is next on Rick Stein's journey through Venice, an up and coming part of the island, in a less visited part of Venice, despite being one of the largest islands.  He visits the Food and Art Café in Giudecca where they do a three course lunch for 12 euros and serve dishes such as sarde in saor. The chef, Irene Fortunato, prepares a Fegato alla Veneziana for Rick, a quickly fried liver dish, cubing rather than slicing the liver and thoroughly cooking it. Rick enjoys the dish and in a city famous for astronomical prices, notes this is a fabulous off-piste place to visit, popular with the locals.
The final part of the episode takes Rick to Harry's Bar where he meets Arrigo Ciprani, who gave up his dream of becoming a Formula One racing pilot to continue his father's restaurant in Giudecca. Arrigo presents Rick with bellini, carpaccio and baccala mantecato: stockfish (dried cod), olive oil and garlic emulsion.
The final recipe from Venice that Rick cooks is a seafood risotto.
Rick leaves Venice and sets off to Ravenna in Italy where he tries his first dishes of the episode, cresceone con verdura and piadina con prosciutto, flatbreads made to order and filled with rugola and squacquerone, a soft cheese.
Next Rick meets Angela Schiavina, who prepares passatelli, a rich beef stock with lots of Parmesan and bone marrow.  A ferry ride to Split sees Rick visit the fish market and go for a swim, before heading to the Zlatna Ribica bar in Bosnia where he tries fritto mistro, a mixed selection of fried seafood.
The series takes us back to Rick's kitchen on the island of Symi, Greece, where he tries his hand at cooking scampi alla busara.
Next, in the Monsor mountains, Rick meets with a local restaurant who specialise in spit-roasting lambs. The restaurant is legendary in Croatia and is lined with photos of the family with stars from abroad and celebrities. They cook a veal peka for Rick, cooked on the embers of a wood fire in a peka, a pot-roasting dish with a domed lid that can be covered with hot coals so the food cooks from above as well as below.
Back in Rick's kitchen in Symi, he starts cooking pasticada, a pot roasted beef dish with red wine, prunes and bacon. Then we return to Split where Rick visits the daily Pazar market with a host of fresh ingredients. At Villa Spiza, Rick meets sisters Ivana and Nada Gamulin and their best friend who cook fish brodetto with borlotti beans, a fish stew made in two hours over several glasses of Caric red wine.
Rick meets with history teacher, Dino Ivancic, at the Diocletian Palace, considered one of the main attractions on Split. Then at the Dioklecjan Bar, Rick tries tripe and prosciutto, before taking a ferry from Split to the island of Korcula. Here Rick meets Biliana who makes kid goat stew with peas to serve at her restaurant that evening.
Next in Korčula, Rick muses on the birth place of Marco Polo and how this has given the place a chance to stake a claim. Toni Luzica, who works on the island  in a boutique hotel called Lešić Dimitri Palace, cooks Rick a Croatian green stew called zelena menestra, a dish with smoked pork and cabbage.
We return to Rick's kitchen in Symi where he prepares walnut crusted pork chops with figs, making a paste out of chopped walnuts, cinnamon, nutmeg and olive oil to coat the chops before frying themin butter and adding dried figs, butter and white wine to make a pan sauce. The dish has been inspired by Karen Evenden, an ambassador of Croatian cooking.
The final dish of the night is enjoyed on the beach of Bilin Zal, in a restaurant under the same name that has just opened for the summer season. The cook, Jelena, grills a dozen small bream over charcoal, which she serves up with a dish of lightly crushed new potatoes, green beans and olive oil.
In the third episode of Rick's travels, From Venice to Istanbul, he drives from Orebic to Ston. In Villa Koruna he tries native oysters with Marihana Franusic, before heading to Konoba Maris, Trstenik to try what Rick now calls his favourite dish of the journey, black cuttlefish risotto. Rick returns to his kitchen in Symi, Greece to try his hand at recreating the recipe.
Next, Rick journeys towards Albania, stopping at the Mrizi i Zanave Restaurant in Lezhe where he meets Altin Prenga and tries pork and beans, flee and chicken jufka, a signature baked dish made with chicken and homemade pasta. After prawn fishing at the lagoon near Lezhe, Rick goes to the Trendafili Mistik Te Diella Restaurant where he tries eels and rice and prawns cooked on wood fire.
Jack Stein joins Rick for the next leg of the journey, stopping first at Lezhe Castle and the Statue of Skandeburg, before they go to the Paradise Hotel in Vlorë and try seafood linguine.
Jack and Rick head for the hills next, driving up into the mountains trying to find Albanian shepherds. Finally they find them and try their roast goat and fresh goat cheese. Back in Rick's kitchen in Symi, he prepares a tave kosi, albanian baked lamb with rice.
Lunch at Sofo's restaurant, near Llogara Pass sees a selection of Albanian recipes including wild mountain herbs and vegetables in filo pastry, breast of lamb stuffed with minced lamb and boiled egg, yoghurt and garlic, baked cheese with green peppers and tomatoes, lamb brains in batter, polenta with offal and kokoretsi: offal wrapped in intestines. After saying goodbye to Jack, Rick muses on Albania's unspoilt culinary heritage.
Sheep intestines, offal and Rick's son, Jack, all made an appearance in last week's episode of From Venice to Istanbul as they ventured through Albania. This week, Rick travels to Greece.
The first people he meets on his journey are Virginia Papapostolou and her mother in Aspraggeli, Zagori. They show Rick a selection of recipes including hortopita or horta pie, made with filo pastry, feta cheese and wild greens, gigantes beans with spinach and chicken pie or kotopita -which Rick has gone on to name "the best chicken pie in Greece". The pie is made from a whole poached chicken and onions – get Rick Stein's chicken pie recipe here.
Back in Rick's kitchen in Symi, Greece, he cooks up souvlaki or kontosouvli, marinated in oregano and chilli. inspired by a recipe he sees in Ioannina in Epirus in Northern Greece. Further exploring Ioannina, Rick fishes on the Ioannina lake, meets sweet shop owners bursting with enthusiasm on Ioannina Island and visits Tonia Kortzi at the Pamvotis Restaurant. Tonia cooks crayfish and pasta, deep fried eels and carp, boiled crayfish and fried frog legs.
Next, Rick meets Marina Siarava, a cookery student who had lost her job in the Greek economic climate and had to retrain. She cooks Rick a veal stifado with bulgur wheat salad, which Rick finds delicious. Back in his kitchen in Symi, Rick makes avgolemono sauce, made up of egg and lemon and used with the poaching liquor from celery and green vegetables, best enjoyed with fish.
Moving on to Preveza, Rick tries his hand at early morning prawn fishing, before trying prawns in a sauce of tomato, basil and feta cheese, sometimes called prawn saganaki, which refers to the small skillet pan in which they are cooked.
After a stroll along Preveza waterfont, Rick heads to En Plo Taverna and tries perfectly grilled fish, kefalos petayli, and Greek salad. Next is a visit to an ouzo shop, lined with barrels of ouzo which Rick gets very excited about, before travelling to Messolonghi for the next part of his journey.
Rick tries another dish in his kitchen in Symi, stuffed peppers and tomatoes, a favourite of the film crew for lunch, discovered on the drive from Preveza to Messolonghi at the little fishing village of Astakos.
After exploring the fish culture of Messolonghi, admiring the lagoons surrounding the town, perfect for trapping grey mullet for their roe, Rick goes on to try the last dishes of the episode with Petros Paragios: bottarga and clams in prawn stock with parsley, chilli and lemon juice.
This week Rick starts his journey in Pylos, Greece trying vlita, cooked greens. He heads to the Poseidonia Restaurant and tries fish stew, before visiting O Nakos Taverna in Koukounara and trying rooster hilopites with mizithra cheese: a one pot dish with pasta and tomato sauce.
Back in his kitchen in Symi, Rick cooks galaktoboureko with a sweet and sticky orange syrup,  whisking the egg yolks and sugar until pale and creamy and the egg whites into peaks before folding, to make the pastry as light as possible.
Next, Rick visits the Trixordo Taverna in Messinia, where he tries a host of Greek mezze dishes including lamb cooked in a wood fired oven, petoules (thin pancakes) with mizithra cheese, stuffed courgette flowers,  veal, mint and oregano meatballs in a rick tomato sauce, saganaki, kayiana  Greek version of menemen, pork and chips, wood oven vegetables, souvlaki and pork chops. Back in Symi, Rick tries his hand at the halloumi saganaki recipe, dusting the halloumi in semolina before frying it in olive oil and drizzling with warm honey, black sesame seeds and oregano.
In the Taygetos mountains, Rick tries the ancient spartan soup, melas zomos, a black broth made of boiled pigs' legs, blood, salt and vinegar. He then moves on to Preveza, a seaside town on the western coast of Greece. Here he meets Pavlos Alexandrou and joins the Preveza gastronomic society dinner . They enjoy oxymeli, an ancient dish made up of orange juice, vinegar and honey, rabbit cooked in wine, bream with celery and an egg and lemon sauce called avgolemono and kokotretsi.
In Kardamyli, Rick ventures to Patrick Leigh Fermor's house where his housekeeper, Elpida, cooks her famous moussaka (get the recipe here). In Poto Cayo, Rick enjoys some grilled sardines before we head back to his kitchen in Symi and watch him prepare gigantes, a giant Greek butter bean.
The last dish of the show is enjoyed in Areopolis: pot-roasted goat with potatoes, artichokes and fennel from the Lithostroto Taverna with Maria Koronaiou. The roasting pan is lined with fennel before the goat leg steaks, cut through the bones are added, followed by potatoes and other vegetables, finishing with the artichokes: a long, slow-cooked dish.
The pentultimate episode of Rick Stein: From Venice to Istanbul opens in Gerakas, a Greek fishing village, where they fish with nets for red mullet before heading to Remetzo Taverna, to enjoy fried red mullet with oranges and capers. We're whisked away to Rick's kitchen in Symi where he cooks Limeni-style grilled octopus with lemon juice, oregano and olive oil.
Next, in Monemvasia Old Town, 40 minutes north of Monemvasia in the Peloponnese, Rick meets with Giorgos and Eli at the Monemvasia Winery. He tries their speciality Malvasia wine. After a round up of his favourite dishes in Greece, it's time for Rick to embark on the final leg of his journey: Turkey.
The first dish Rick tries in Turkey is a doner kebab, before heading to the Tep Kahve restaurant and tucking into a traditional Turkish mezze breakfast. He enjoys twelve to fifteen dishes, including three or four cheeses, menemen (scrambled eggs with tomato and red peppers), candied fruits, a Turkish version of Greek salad, breads, a couple of köfte-type dishes, cacık (yogurt with garlic, cucumber and mint) and red lentil patties called mercimek köftesi,  which are generally served cold.
Venturing onwards next to Golcuk goat farm, Rick discovers Armola cheese, before meeting with Kemal Demirasal at Alaçatı,market, an Aegean town on the western coast of İzmir Province in Turkey. They visit the Barbun Restaurant and enjoy a lamb tandir with Turkish spiced pilaf. The lamb is traditionally made in a tandoor oven and needs long slow cooking to be a success.  The lamb is served with Turkish spiced pilaf, made up of cinnamon, pine nuts and currants. Back in Symi, Rick cooks arnavut cigeri, a spicy Turkish liver dish.
Meeting with Can Ortabas, Rick is shown the Urla Serapcilik Winery and tries their Urla wine and Turkish guzleme.  Next, Rick heads to Ephesus, an ancient city in Turkey's Central Aegean region, near modern-day Selçuk. He visits the Sigacik Fishing Port and watches their fish auction.  At the Serif Restaurant, Rick tries a scorpion stew.
The episode finishes in Rick's kitchen in Symi where he tries his hand at cooking the fried red mullet with oranges and capers that he tried earlier in the programme in Gerakas.
The final episode of Rick Stein From Venice to Istanbul starts in Dardanelles, Turkey, where the crew have lunch at the Balaban Coffee House and enjoy roast goat and irmik tatlisi, hazelnut semolina halva made by boiling semolina with milk and sugar.
Next Rick visits the Ezine tomato fields, before meeting Ayse Nur who cooks outside in her garden bread oven. They try sinkonta, baked pumpkin with sun-dried tomato paste called salca and crispy onions with sumac. Back in Rick's kitchen in Symi, he cooks oven roasted chicken sumac, pomegranate molasses, chilli and sesame seeds.
Next Rick meets Osman Demirci at Guzelyali village where he tries sardine sarma. In Gallipoli, Rick goes to the Ozcanlar Restaurant and tries lamb and pistachio kofte kebabs, before retuning to his kitchen in Symi to make his own with plenty of chilli.
Rick fishes for bluefish on the Bosphorus with a very pleasant fisherman, Mesut, on his small diesel engine boat. They eat Mesut's blue fish stew with chilli cornbread. He chats with Bilge Kadioglu at the Egyptian Spiace Market and then meets Altan Sekerleme and tries some traditional Lokum (Turkish delight), made with rosewater and cornflour as opposed to gelatin.
The next dish Rick cooks is kisir, a pearl barley salad with pomegranates. Then he tries simit a circular bread covered in sesame seeds and balik ekmek, griddled mackerel in a baguette with tomato, lettuce, onion and sumac by Galata Bridge. Tuba Satana takes Rick to Esnaf Lokantasi Lades, where they eat kapuska, turkish spiced cabbage and minced lamb stew with tomatoes, harni erek, veal stew,  a Turkish spiced bulgar pilaf with cinnamon, pine nuts and currants and then hünkar begendi, a rich lamb stew with aubergine purée. Rick then makes his own version of the kapuska in his kitchen in Symi.
As the episode draws to a close, Serhan Güngör joins Rick for a mezze lunch in Uskuda of pickled bass in mustard sauce, taze fasulye (green beans in tomato sauce), lekarda, pickled bonito from the great Black Sea, baba ghanoush, smoky aubergine purée with garlic, tahini and lemon juice, hamis with dill and raki. Then the pair visit the Topkapi Palace kitchens.