Seasonal masterclass with Matthew Stevens
21.03.2015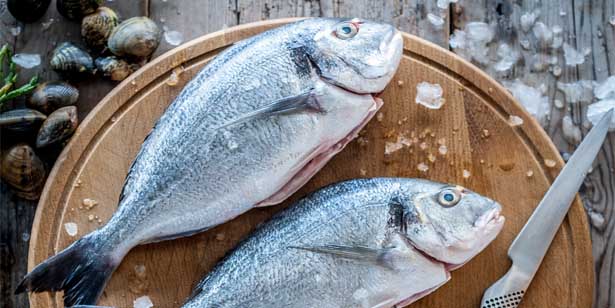 On 19th March we held the first of our seasonal masterclasses, new for 2015, with our supplier Matthew Stevens, fresh fish and seafood specialist. He was joined by Mark Puckey, our head chef lecturer at Padstow Seafood School and assisted by John-Baptiste, our new senior chef lecturer.
After being greeted with a glass of Sauvginon Touraine Domaine du Fraisse, our guests relaxed in their seats to watch Mark and Matthew start their demo.
Matthew Stevens & Son, have been our local fish supplier for over 15 years. The fifth generation company based in St. Ives delivers the finest fish Cornwall has to offer to all our restaurants on a daily basis; from the delicacies found on the fruits de mer at The Seafood Restaurant to the fresh haddock on the menu at Stein's Fish & Chips.
Between Mark demoing the three dishes of the night – John Dory with grilled baby leeks and boiled eggs, grilled seabass with sauce vierge and toasted fennel seeds and hot shellfish with garlic and lemon juice – Matthew entertained our guests with anecdotes from the sea, humorous tales about supplying Rick, plus top tips for seasonality.
Once the three dishes had been created, our guests got the chance to taste each of the dishes.
Our next seasonal masterclass, Summer BBQ, takes place on 18th June an you can find out more here.