SKILLS MINISTER COOKS WITH RICK STEIN APPRENTICES
18.03.2016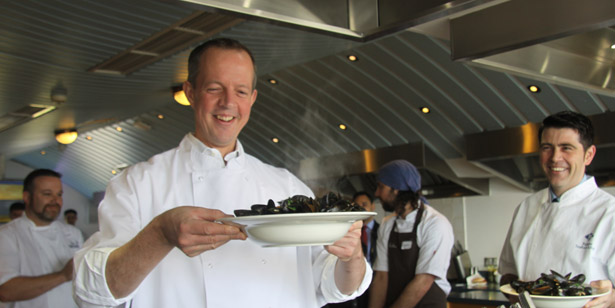 Skills Minister Nick Boles headed into the kitchen on Thursday 17th March to join Rick Stein chef apprentices in Padstow.
Visiting as part of National Apprenticeship Week, the trip celebrated the Rick Stein apprenticeship programme and the positive impact it has had on the individuals, the business and the wider economy.
Joined by local MP Scott Mann, The Minister enjoyed a cookery demonstration of mussels with black beans, ginger and garlic from apprentices Rebecca Brewer and Rory Kong before heading back to their own workstation to recreate the dish.
After showing-off their newly taught culinary skills, they stepped out of the kitchen to meet those working behind the scenes to support and advocate apprenticeship programmes in Cornwall as well as meeting two apprentices from the Royal Cornwall Hospital Trust.
Skills Minister Nick Boles said "If you think you can handle the heat in the kitchen get an apprenticeship with The Rick Stein Group.
"It's been fantastic to try my hand at cooking alongside such motivated and talented young people today. I hope more businesses will be inspired to make apprenticeships part of their future as we move towards our goal of 3 million apprenticeships by 2020."
Rick and Jill Stein created their professional cookery apprenticeship programme in 2008 to invest in talented individuals, living in Cornwall, who were passionate about professional cooking. Since launching the scheme, over 60 employees have taken part with many progressing to more senior roles and three working their way up to head chef positions within the company. Cementing the success of the scheme, in January 2016 The Rick Stein Group were recognised as one of the top 100 apprentice employers in the country.
Apprentice chef Rebecca Brewer commented "I love working in a kitchen environment and enjoy the adrenaline of service, I hope to progress in my career to become a head chef and am keen to work abroad and experience from the best around the world."
Eight years on, the programme has now grown to include a retail apprenticeship as well as launching The Rick Stein Academy, in conjunction with Truro and Penwith College, to inspire, train and develop hospitality professionals in Cornwall.
Truro and Penwith College Principal David Walrond said: "National Apprenticeship Week is the perfect time to celebrate the positive contribution that Apprentices make to the Cornish economy and the visit from Skills Minister, Nick Boles, gave us an excellent opportunity to share how Truro and Penwith College and The Rick Stein Group work together to create the professional chefs of the future. The Minister will have seen first-hand our strong commitment to supporting employers and business through delivering the very best Apprenticeships in high quality work-based learning, with the learners and their potential at the heart of the partnership."
We are now welcoming applications here for our 2016 / 2017 cohort of apprentices to start in September.