Festival fun at The Cornish Arms
24.03.2015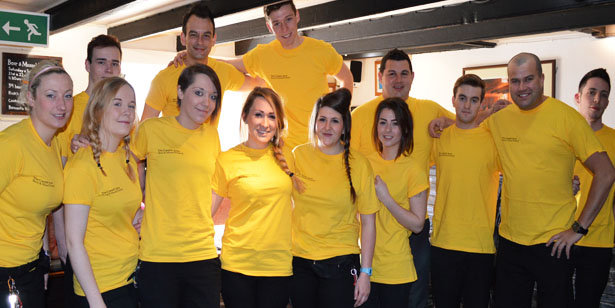 On 21st and 22nd March we held our 4th annual Beer & Mussel Festival at The Cornish Arms in St. Merryn.
We were blessed with beautiful weather – the perfect way to enjoy the 40 beers and ciders that were on offer from some of the best breweries in the South West along with some freshly cooked mussels.
Saturday started with a book signing by Rick where he greeted his fans and welcomed everyone to the festival.
Afterwards, Jack Stein took the stage with Daphne Skinnard from BBC Cornwall for a cookery demo of two dishes, mussels masala and his own creation especially for the festival, mussel po' boys : deep fried mussels with a special mussel mayonnaise.
The rest of Saturday could only be dedicated to one thing – the RBS 6 Nations matches. Our marquee was filled with avid fans cheering on England in a very tense match. Visitors enjoyed three different mussel dishes from our chefs including mussel masala, mussels with beer & bacon and moules mariniére.
As the sun set on the first day of the festival the C90's took the stage and got the whole tent to their feet dancing into the night, followed by Taz Djay.
The second day of the festival saw another stunning day in St. Merryn, we welcomed The Stowes and The Boscastle Buoys who gave fantastic performances throughout the day with their traditional Cornish shanty singing.
Next came the big charity pub quiz – which raised over £600 for St. Merryn Primary School. Rick and Jack took part in the quiz and narrowly missed the first prize position whose team won 2 kegs of Tribute.
The evening came to an end with an acoustic set by Guy James, who serenaded the crowd with some great covers into the night.
If you'd like to see more of our photos from the festival, take a look at our Facebook page here.