The Seafood Restaurant raise £17,500 for Children's Hospice South West
02.03.2016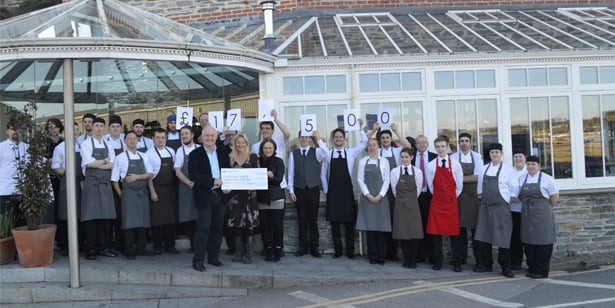 We are very excited to reveal that we have raised £17,500 for Children's Hospice South West at our charity lunches at The Seafood Restaurant this year, beating last year's total of £13,500 which we donated to Save the Children.
We held our lunches for four weeks at the start of the year, offering a special 3 course set lunch menu including some of Rick's favourite seafood dishes and asked guests to donate £2.50 straight to the charity. Since 2001, our charity lunches have raised over £110,000 for local disadvantaged children charities.
Emma Lloyd-Cowell, head of fundraising at Children's Hospice South West commented: "We are so overwhelmed by the generosity that people have shown towards Children's Hospice South West and we thank Jill and Rick Stein and all the staff at The Seafood Restaurant for their incredible support with their delicious charity lunches. Such a staggering amount will help us make a massive difference to local families with life limited children who face a very fragile and heartbreaking future. We care for the poorly child, support mum and dad and help the well brothers and sisters spend precious time together without the worries of caring. Thank you to everyone involved for helping us make the most of short and precious lives."
In the words of Jill, "we are very pleased to have raised £17,500 for such a great and well deserving charity", and want to thank all our customers who came along and generously donated.
Do you have a charity you'd like us to support? Take a look at our charity page here and tell us all about it.