Try our limited-edition Boxer Beer at The Cornish Arms
18.05.2022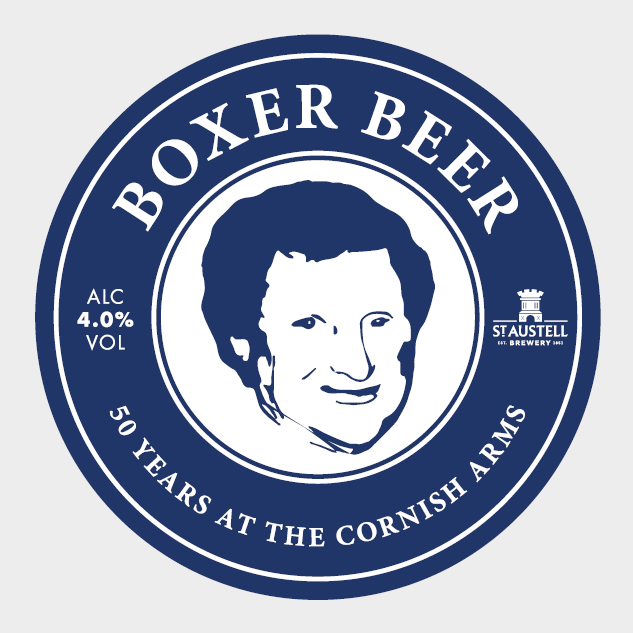 With the support of our friends at St Austell Brewery, we're very pleased to be serving a limited-edition beer in celebration of our longest serving barman, Boxer.
Boxer pulled pints behind our bar for an amazing 50 years. Having lived in St Merryn his whole life, he first got behind the bar at The Cornish Arms back in December 1970. A roofer by trade, he worked part-time serving and chatting with locals and holiday makers alike – many of which returned year after year to see him and hear his tales of the area. His recommendation from the bar is a pint of St Austell Brewery's finest, Tribute – in his understated words, 'not a bad drinking beer that.'
Very few know him by his actual name Brian, as the nickname Boxer has been with since his school days in Padstow. The story goes, he was chased down the road by a Pit Bull, which his classmates wrongly thought was a Boxer, from then on they would shout 'here comes Boxer!' Funny how names can stick.
Away from the pub, Boxer supports Manchester United and in his younger years played in goal for Wadebridge Town FC. He'll be enjoying retirement with a pint of his namesake beer and a couple of Tributes too.
Thank you, Boxer, for all your hard work, local tales and many great times.
Boxer Beer Tasting Notes:
Pale Ale – Delicately hopped with Fuggles, Celeia and Willamette hops, imparting mandarin orange flavours balanced by biscuit notes from the Maris Otter and Cornish gold malts.
Colour – Amber
Aroma – Citrus
Taste – Orange, biscuit
Bitter 2.5/5
Sweet 3/5
4.0% ABV