Virtual Food Festival Success
14.04.2020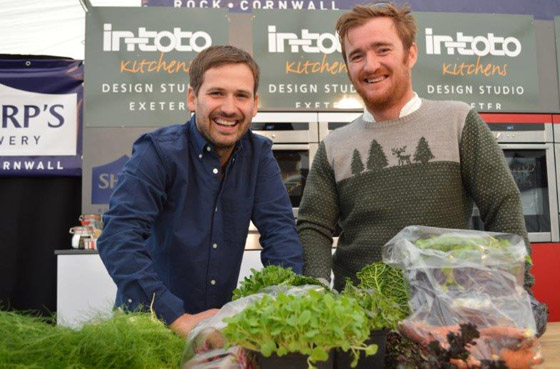 VIRTUAL FOOD FESTIVAL A SUCCESS
On a typical Easter Monday, many foodies would be shopping at local food markets and enjoying dishes from their favourite restaurants. This isn't possible as people stay at home in the fight against Coronavirus, so a group of ambitious chefs and hospitality folk got together to set up and launch the Virtual Food Festival – all within a week.
Streamed live on the Rick Stein Restaurants Instagram channel, Rick Stein opened the festival cooking seafood gratin live from his kitchen in Sydney. The festival was hosted by author and presenter Steven Lamb, with chefs taking part including Angela Harnett, Jack Stein, Ross Geach, José Pizarro, Mitch Tonks and Rick Toogood.
The idea was the brainchild of Ross Geach, who wanted to find a way to bring the food festival atmosphere to peoples' homes as well as showcasing local food suppliers. The festival promoted farmers, fishermen and suppliers currently not able to sell to restaurants but offering online delivery services for people at home. The festival included 'live' connections with Fish for Thought and Haywood Farm Cider as well as promoting over 20 suppliers on Instagram stories and virtualfoodfestival.org
Ross Geach commented "The festival was a real success and great fun. We achieved our objectives to help suppliers, raise some money and have a bit of fun. I can't wait for festival number two." Ross also approached local web company, Solve Web Media, to set up a website, which director Lawrence Harmer was able to do in double quick time.
Paul Trudgian from Fish for Thought commented "This was a brilliant event to get involved with and demonstrates the resilience and positivity flowing in the hospitality sector, even in the most challenging times. For Fish for Thought it was a wonderful opportunity to showcase the fact that we offer customers at home the same world-class fresh fish and shellfish that our restaurant customers, like Rick Stein, can enjoy."
Virtual festival goers were invited to make a donation for attending and raised over £1300 so far for the National Emergency Trust Covid-19 appeal. Donations are still being taking via virtualfoodfestival.org
Those that couldn't attend the Virtual Food Festival can catch up on all the demonstrations, chef and supplier information on virtualfoodfestival.org
Plans are underway for the next festival.