Winners of Rick Stein's Fish art competition announced
22.07.2015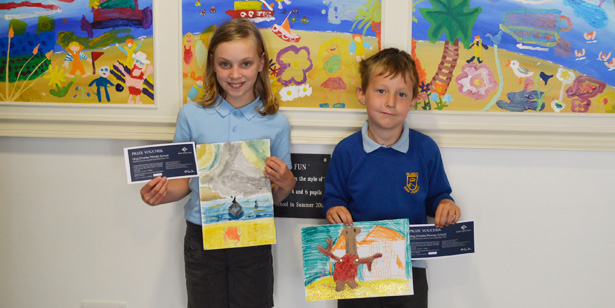 We have announced the winners of our art competition held with King Charles Primary School, which marked their crab celebration at Rick Stein's Fish, Falmouth.
The competition saw pupils from across the school get creative entering their collages, paintings and drawings after we challenged them to enter their best crab themed artwork.
Lucas, age 5, and Maddy, age 10 from King Charles Primary School were chosen by Jack Stein out of over one hundred entries from the school, each winning a family meal at the restaurant.
Jack Stein commented "It was fantastic to see so many entries to the competition and to see how creative the children at the school were. We have some very worthy winners and I hope they enjoy visiting us at Rick Stein's Fish."
The crab celebration saw the restaurant introduce an exciting crab menu including dishes such as Malaccan black pepper crab, Maryland crab cakes and crab linguine as well as hosting sea shanty band, "Swinging the Lead" and running competitions throughout the month.
Chloe Slade,  assistant manager of Rick Stein's Fish commented "The crab celebration was a huge success and we received a lot of support from locals and visitors who came in to see us and try our special menu. We can't wait to bring it back next year."
Although our crab celebration is now over, you can still enjoy a menu of local fish and shellfish inspired by Rick's travels at Rick Stein's Fish, we are open every day between 12 – 2:30pm and 5 – 9pm.