5 of our favourite walks at the New Forest Walking Festival
07.10.2016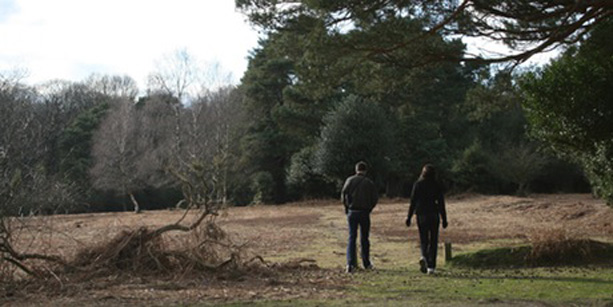 The New Forest Walking Festival is taking place between the 15th to the 30th October 2016. Led by the New Forest National Park Authority and partner organisations, this year's festival includes a variety of walks suitable for all ages and abilities. Here are some of our favourites…
1 – Exploring Breamore walk
If you're a keen walker and want to go on a long walk that offers plenty of exploring, then this 9-mile walk is perfect for you. Starting at Breamore Church and following a figure-of-8 route through Breamore, this walk will give you lots to explore including an old Saxon Church and old railaway line.  You'll also get the opportunity to visit a Craft and Garden Fair taking place at St Mary's Church at the end of the walk.
Saturday 15th October from 10am to 4pm.
Price – Free to attend but book online here

2 –Healthy walk at Holbury
With the beautiful New Forest autumnal scenery at its peak, this short and easy walk is a must. Expect a great mixture of open forest walking, woodland walking and open headland walking, offering you plenty of famous New Forest landscapes to admire.
Saturday 15th October from 11am to 1pm
Price – Free to attend but book by emailing Mike Roberts or call 07811361319

3 – Birds of the coast walk
Discover the variety of land, freshwater and seabirds that the New Forest coast has to offer. On this walk you'll learn how to identify the birds by appearance, behaviour and calls, as well as finding out what makes them unique and special. Also, expect breath-taking views of the Isle of Wight and Hurst Castle. Bringing your binoculars on this walk is a must!
Monday 17th October from 9am to 12.30pm
Price – From £4 per person, book online here

4 –The What, Where and Why of White Moor walk
Led by the National Park's heritage mapping expert, discover the hidden past of White Moor on this morning walk. Whether it's the long boundary banks, symmetrical Roman field systems or the Second World War tank training and rifle ranges, you'll pick up lots tips when it comes to reading the landscape on this walk. Plus, the walk leader will explain how the New Forest has utilised new technologies to help identify and map archaeological sites to ensure that they are protected.
Tuesday 18th October from 10am to 1.30pm
Price – From £4 per person, book online here

5 – New Forest Toddle walk
If you're looking for a perfect family activity suitable for toddlers and young children at this year's festival, then look no further. On this New Forest toddle walk you'll enjoy a fun filled adventure through the tall trees on this self-guided trail. Plus, the kids will stay entertained throughout the morning with plenty of craft activities, spotter sheets and activity sheets available.
Monday 24th October from 10.30am to 2.30pm
Price – Free, no need to book, just turn up

For a full list of all the walks taking place between the 15th to 30th October 2016 at the New Forest Walking Festival, as well as booking details and prices click here.
Photos courtesy of the New Forest National Park website.