5 reasons to attend this year's Wimborne Minster Food & Drink Festival
13.09.2017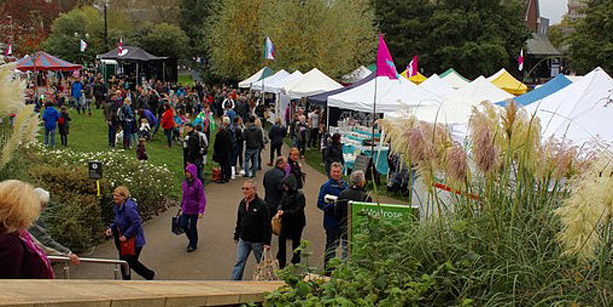 If you haven't been to the Wimborne Minster Food & Drink Festival before, you are missing out. This year the festival takes place on Saturday 21st October and there's plenty to do and see throughout the day. Here's our top reasons to attend…
1 – Chef demonstration from Pete Murt, Head Chef at Rick Stein, Sandbanks
There's a great line up of top chef demonstrations taking place from 11am at the demonstration kitchen in the Cornmarket. Don't miss out on Pete Murt who will take to the stage at 11.30am. He will demonstrate how to cook two of Rick's favourite dishes including Singapore chilli crab and beetroot cured salmon.
2 –  Dorset Farmers Market on the Square
From cheeses to breads, vegetables and wine, the Farmers Market will display some of the best local produce that Dorset has to offer. Enjoy sampling some of the delicious local produce throughout the day, plus make sure you stock up on supplies to take home with you for the week ahead.
3 – Pancake tossing competition
Get your frying pan ready for the pancake tossing competition! Whether you're a pro at making pancakes or just like to a have a bit of fun, then why not enter yourself into the pancake tossing competition? Pop over to the Daccombes stand in the High Street on the day to find out more information.
4 – Wine Tasting at the Cornmarket
If you enjoy a glass of wine or two head over to the Cornmarket where there will be wine tasting taking place. Here you will get the chance to sample some lovely wines and will be given recommendations on the best wine to complement some of the dishes being created in the demonstration kitchen.
5 – Children's cupcake competition
Get your baking trays ready for this year's children's cupcake competition! Taking place on the Waitrose stand in the High Street, this fun competition is a great way to get the children cooking in the kitchen at home before entering their cupcake masterpieces into the competition. For more information visit the Waitrose stand on the day.
For more information visit www.foodevents4u.co.uk/