5 things you need to know about May Day in Padstow
19.04.2019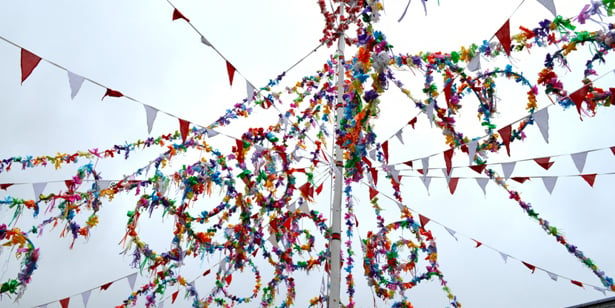 If you've ever visited Padstow on the 1st May you will know it's a huge day of celebration in the town. The winding streets of Padstow fill with as many as 30,000 people celebrating May Day, or "Obby 'Oss" as it is also known. Here are some fun facts about the festivities that will be taking place:
1. The festival starts at midnight on 30th April, May Day Eve, when everyone gathers outside the Golden Lion Inn to start the night singing to the landlord, continuing their songs through the town. By morning, the town has been dressed with greenery and flowers placed around the maypole which is in the centre of the town right by our Patisserie and Ruby's Bar.
2. May Day starts by 8am with the local children leading their Obby 'Osses through the town. The Blue Ribbon 'Oss  leaves Padstow Insitute at 10am. The old 'Oss appears outside the Golden Lion at 11am.
3. Throughout the day supporters take it in turns to tease the 'Oss and wave their clubs in the air dancing around the 'Oss. The master of ceremonies can be identified by his top hat and decorated stick – he leads the two parades followed by a band of accordions and drums.
4. Late in the evening the two 'Osses meet at the maypole before returning to their stables.
5. As well as all the May Day festivities surrounding the Osses, the party continues through the town throughout the day in to the night with fairground rides, facepainting and fun to be had by all.