A day in the life of … part 1
16.07.2015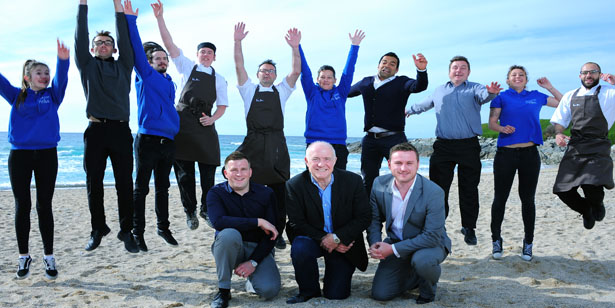 Ever wondered what it's like to work for Rick Stein? Or to relocate to Cornwall? We'll be bringing you a four part blog series that follows some of team members both in the kitchen and front of house. If you're left feeling inspired, you can join our team here.
Crazy, but fun… !
Manuel Espejo, Commmis Chef 
When did you join The Seafood Restaurant?
I came to The Seafood 4 months ago to work with Stephane and the team – I cooked for him, he liked what I did and that was that!
Stephane Delourme has been head chef of The Seafood for over 15 years – what's it like working with him?
Really fun, crazy, but fun – he is very French!
What were you doing before you came to The Seafood?
I was studying my NVQ level 2 at Truro College and was looking to get some real kitchen experience.
Did you have to move for the job?
I moved from St. Austell to one of the staff houses in Padstow which has been perfect – there's a special rent rate for staff plus I'm really close to work. It also made it really easy to meet people and make friends.
How do you spend your spare time when not in the kitchen?
I'll go with some of the team for drinks in the local pubs in Padstow, or head to Newquay for a night out.  We work hard, but we know how to have a good time on our days off.
Finally, Manuel, what do you love the most about your job?
The best part of my job is working the seafood bar. It's a chance to step out of the kitchen and interact with the customers, we get some really interesting people through the door.
If you are looking for a job in Cornwall take a look at our current job opportunities available. You don't need to have any previous experience, as we'llg give you all the training and knowledge you'll need, and benefits include fantastic tips, 20% discount around our businesses, 28 days holiday a year and opportunities to grow and develop.
Interested?