Chats with Charlie Stein #5: Food

Being a Stein means food has always been at the centre of Charlie's world. From growing up sneaking into the kitchen at The Seafood Restaurant to see what the chefs were up to and family holidays recipe-hunting around the world, food, alongside wine, is a subject that Charlie really is an expert on. 

Pour yourself a glass of something short and click below to watch or read what Charlie had to say about food.
Watch Charlie talk all things food…
---
What three ingredients do you always have in your fridge at home?
In my fridge, as you might imagine, I've got a lot of wine. But food wise, I love pickled stuff and I make my own kimchi so I've always got jars of that in the fridge that I'll put in sandwiches, burgers and rice. Next up, Kewpie mayonnaise which is Japanese mayonnaise, that again I'll put with kimchi on anything. Then, the third thing I really like, again pickles, is pickled cucumbers. You can always just add them to a salad and spice things up.
What's your favoruite dish to cook at home?
I love spaghetti vongole with fresh clams. It's so simple, just spaghetti with lots of olive oil and fresh parsley – it's so easy to do. I made it for dinner party the other week and everyone just loved it. Vongole can be quite hard to get absolutely right, but I've cooked it so many times I feel like I'm there. I feel like I can make the perfect version.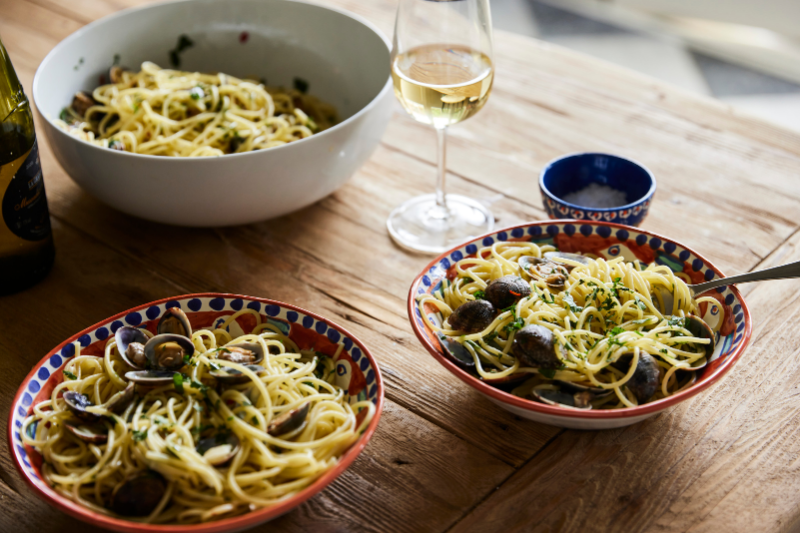 What's your go-to order at The Seafood Restaurant?
I'd start with appetisers – six langoustines and six oysters for the table. Then for a starter I'll have my favourite which is hot shellfish, I absolutely love it. A selection of the freshest shellfish – oysters, langoustines, whelks, crab claw. I just love all of that garlic, olive oil and red chilli, it's such a great dish. Then for the main course, Dover Sole meunière and then tuck into a tarte tatin and finally a cheese course with a glass of red.
Where do you like to eat in London?
A lot of different places, I think London's one of, if not, the best city to eat in the world. I go to established classic restaurants that I visit time and time again like Quality Chop House, ST. JOHN, BRAT and Smoking Goat. All of these I'll revisit and I absolutely love them. I think Quality Chop House is probably way up there, and The Drapers Arms is also just a great pub in Islington with an amazing wine list at a very good price and then just a phenomenal menu as well, run by Nick who's amazing. Those kind of just constantly good restaurants are where I like to visit, eat and have fun.
What's your top restaurant tip for outside the UK?
I think I must have picked this up from Anthony Bourdain who advises you to go where the chefs go. So ask the chefs in a restaurant where they go and eat and go there. Also, I love to go to a place that just if you're in Italy or Greece that just it looks like a family run restaurant that isn't in any guidebooks but you just kind of follow your nose and uncover a gem.
Thanks for watching or reading and keep an eye out for more Chats with Charlie soon.
FIND OUT MORE ABOUT CHARILIE
Charlie leads our business with Rick, Jill, Ed and Jack – inspiring everything we do to make our guests smile.
From choosing all the drinks on our lists and hosting dinners in our restaurants to sharing his knowledge with our teams to develop their skills. There's so much to Charlie's role.