Chicken with a pistachio crust and feta dip recipe from Long Weekends
09.12.2016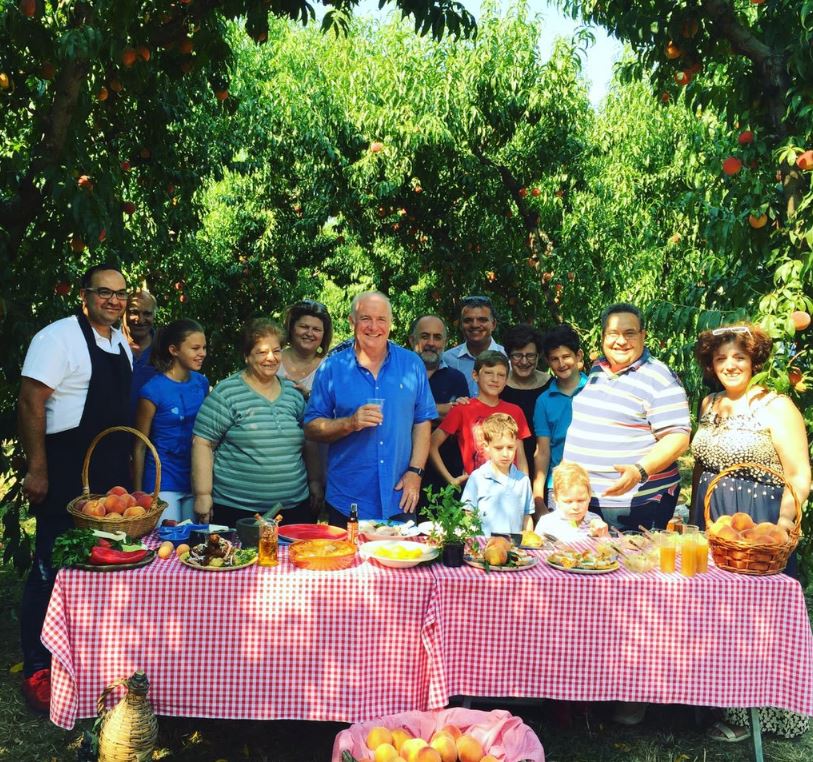 Crispy bites of chicken fillet with Aegina pistachio crust and feta cheese dip from Rick Stein's Thessaloniki, Greece, episode of Long Weekends.
Serves 2 as a light lunch
Ingredients
300g skinless chicken breast fillet, cut into strips
1 tbsp dark brown sugar
1 tbsp Dijon mustard
2 tsp  natural Greek yoghurt
1/4 tsp salt
40g plain flour
1 egg, beaten
30g sesame seeds
30g unsalted shelled pistachios, crushed
500ml  vegetable/rapeseed oil
For the feta dip
60g feta cheese, crumbled
30g natural Greek yoghurt
1 tsp olive oil
1 small red pepper, roasted, skinned & pureed( can use one from a jar)
pinch of chilli flakes
 To serve
80g mixed salad leaves
1 lime, cut into wedges
Method
Place the chicken strips in a bowl with the brown sugar, yoghurt, mustard, and salt and set aside to marinate for 30 minutes.
Meanwhile, make the dip. Place the crumbled feta in a bowl, add the Greek yoghurt and stir in gently. Add the olive oil, chilli flakes and puréed red pepper and set aside.
Set up 3 plates or shallow bowls, 1 with flour, 1 with beaten egg and 1 with the sesame seeds and crushed pistachios mixed together. Coat the chicken strips first in the flour, then the egg and then the mixed sesame seeds and pistachios. Set aside while you heat the oil in a large, heavy-based saucepan to 180°C, using a temperature probe or sugar thermometer to check. Fry the chicken in batches until cooked through and light golden all over, 7 to 8 minutes. Drain on kitchen paper to soak up any excess oil.
Serve with salad leaves, the feta dip in a small ramekin and lime wedges.
Please note, this recipe is one of a handful that does not feature in the book, either because it's too elaborate, contains ingredients that were too hard to get or were excluded due to lack of space. For that reason, regretfully it has also not been tested.
If you'd like to learn more recipes from the show, book yourself onto our brand new Long Weekends cookery course at Rick Stein's Cookery School in Padstow. Find out more about the one and two day courses here.