Facebook Live recipe demos from Rick Stein's Cookery School
29.02.2020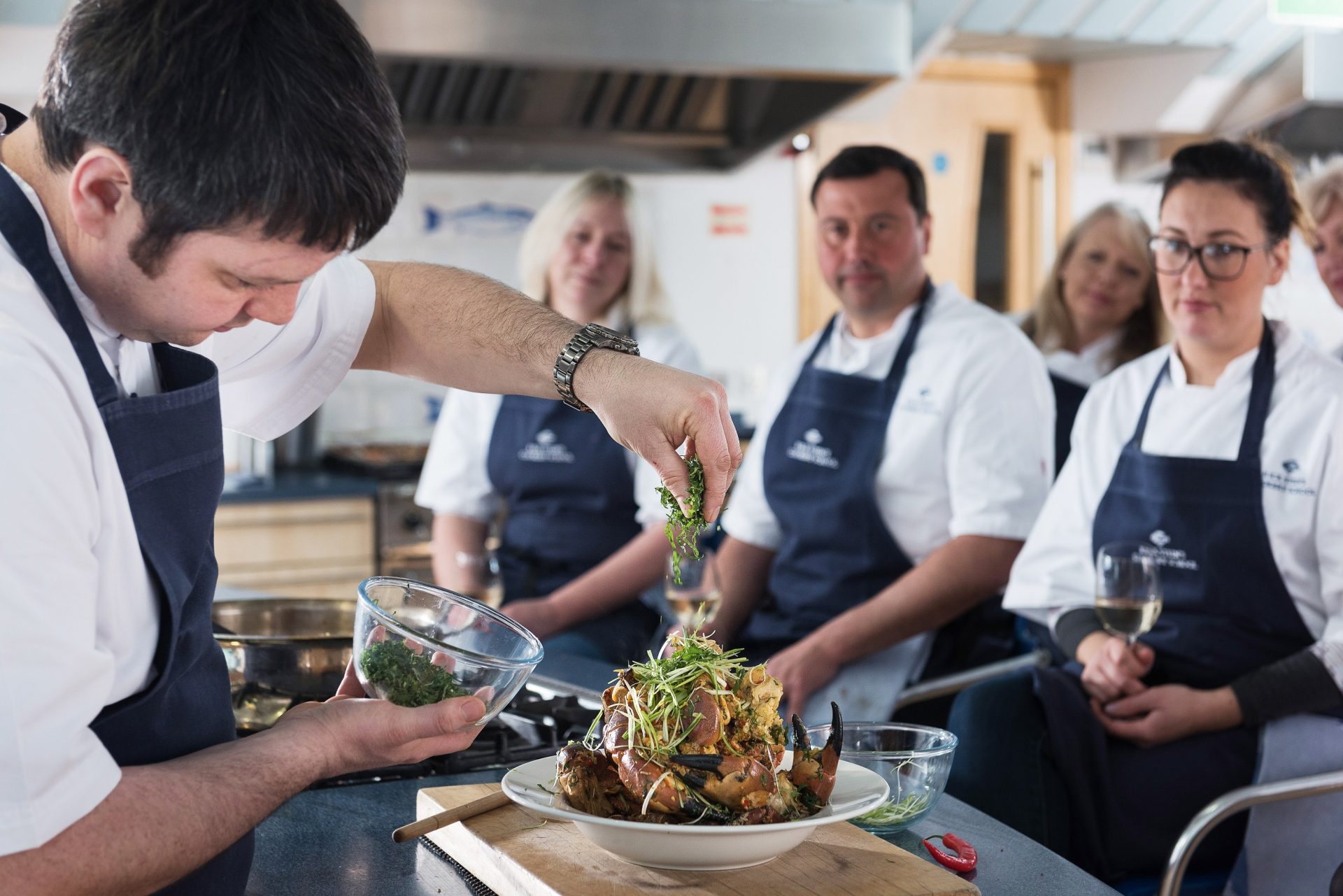 Every month Nick Evans, Head Chef Lecturer at our cookery school does recipe demos on Facebook Live – sharing his knowledge, skills and passion for all things seafood. The recipes, all Rick's of course, range from simple classics like thai fish cakes with sweet and sour dipping sour to more challenging restaurant-style dishes like Cornish chilli crab. Scroll down to watch back and be sure to keep an eye out on our social media channels for new recipes to try at home. Also, if you'd love to discover more of Rick's recipes, join Nick and his team on a course here.
Mussels with poulette sauce, from Secret France
Cinnamon churros with spiced chocolate sauce
Lobster salad with a chive dressing
Fish filleting masterclass: Round fish
Monkfish with new season's garlic and fennel
Mackerel recheado with kachumber salad
Haddock with puy lentils and a red wine sauce
Clams with beer, black bean and spring onion
Hake with spring onion mash and soy butter
Thai fish cakes with a sweet and sour dipping sauce
Scallops with soy, ginger and spring onion
Crab linguine with chilli and parsley
Monkfish fritters with cumin, garlic and pimenton
Mussels with tomato, garlic, chilli and parsley
Hog Island oysters with chilli, lime and coriander

Plaice with pancetta and beurre noisette
Scallops with serrano chilli, pumpkin seeds and coriander sauce
Battered mackerel with chilli sauce, mayo and lime
Clams with XO sauce, spring onions and coriander
Mussels with Bayonne ham and shallots
Oysters with a classic shallot vinegar, and tempura oysters with a soy and lime dressing
To find out more about Nick and the cookery courses that we offer in Padstow click here.