From Venice to Istanbul: episode 6
11.09.2015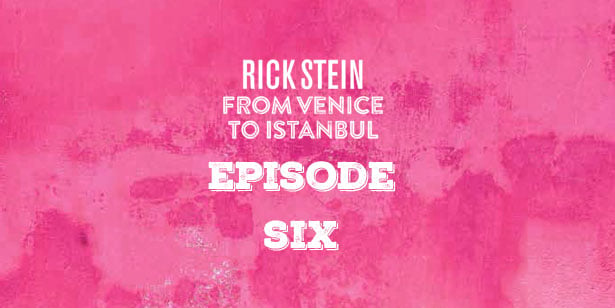 The pentultimate episode of Rick Stein: From Venice to Istanbul opens in Gerakas, a Greek fishing village, where they fish with nets for red mullet before heading to Remetzo Taverna, to enjoy fried red mullet with oranges and capers. We're whisked away to Rick's kitchen in Symi where he cooks Limeni-style grilled octopus with lemon juice, oregano and olive oil.
Next, in Monemvasia Old Town, 40 minutes north of Monemvasia in the Peloponnese, Rick meets with Giorgos and Eli at the Monemvasia Winery. He tries their speciality Malvasia wine. After a round up of his favourite dishes in Greece, it's time for Rick to embark on the final leg of his journey: Turkey.
The first dish Rick tries in Turkey is a doner kebab, before heading to the Tep Kahve restaurant and tucking into a traditional Turkish mezze breakfast. He enjoys twelve to fifteen dishes, including three or four cheeses, menemen (scrambled eggs with tomato and red peppers), candied fruits, a Turkish version of Greek salad, breads, a couple of köfte-type dishes, cacık (yogurt with garlic, cucumber and mint) and red lentil patties called mercimek köftesi,  which are generally served cold.
Venturing onwards next to Golcuk goat farm, Rick discovers Armola cheese, before meeting with Kemal Demirasal at Alaçatı,market, an Aegean town on the western coast of İzmir Province in Turkey. They visit the Barbun Restaurant and enjoy a lamb tandir with Turkish spiced pilaf. The lamb is traditionally made in a tandoor oven and needs long slow cooking to be a success.  The lamb is served with Turkish spiced pilaf, made up of cinnamon, pine nuts and currants. Back in Symi, Rick cooks arnavut cigeri, a spicy Turkish liver dish.
Meeting with Can Ortabas, Rick is shown the Urla Serapcilik Winery and tries their Urla wine and Turkish guzleme.  Next, Rick heads to Ephesus, an ancient city in Turkey's Central Aegean region, near modern-day Selçuk. He visits the Sigacik Fishing Port and watches their fish auction.  At the Serif Restaurant, Rick tries a scorpion stew.
The episode finishes in Rick's kitchen in Symi where he tries his hand at cooking the fried red mullet with oranges and capers that he tried earlier in the programme in Gerakas.

You can find all of the recipes from Rick Stein's new TV series including Turkish mezze dishes and fried red mullet in his cookery book From Venice to Istanbul. Buy it online here.

Book a table at one of our restaurants and try some of Rick's new recipes From Venice to Istanbul.

If you want to learn how to cook the Turkish king of breakfasts from this episode, book onto our two day 'Cooking From Venice to Istanbul' course.