From Venice to Istanbul: episode 7
18.09.2015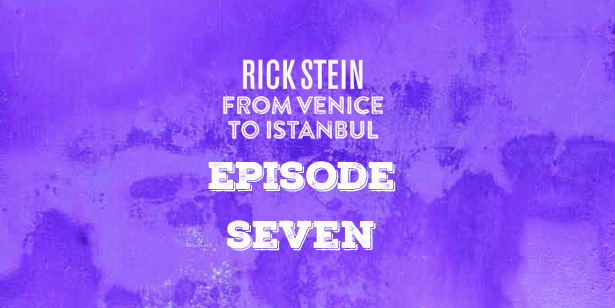 The final episode of Rick Stein From Venice to Istanbul starts in Dardanelles, Turkey, where the crew have lunch at the Balaban Coffee House and enjoy roast goat and irmik tatlisi, hazelnut semolina halva made by boiling semolina with milk and sugar.
Next Rick visits the Ezine tomato fields, before meeting Ayse Nur who cooks outside in her garden bread oven. They try sinkonta, baked pumpkin with sun-dried tomato paste called salca and crispy onions with sumac. Back in Rick's kitchen in Symi, he cooks oven roasted chicken sumac, pomegranate molasses, chilli and sesame seeds.
Next Rick meets Osman Demirci at Guzelyali village where he tries sardine sarma. In Gallipoli, Rick goes to the Ozcanlar Restaurant and tries lamb and pistachio kofte kebabs, before retuning to his kitchen in Symi to make his own with plenty of chilli.
Rick fishes for bluefish on the Bosphorus with a very pleasant fisherman, Mesut, on his small diesel engine boat. They eat Mesut's blue fish stew with chilli cornbread (get the recipe here). He chats with Bilge Kadioglu at the Egyptian Spiace Market and then meets Altan Sekerleme and tries some traditional Lokum (Turkish delight), made with rosewater and cornflour as opposed to gelatin.
The next dish Rick cooks is kisir, a pearl barley salad with pomegranates. Then he tries simit a circular bread covered in sesame seeds and balik ekmek, griddled mackerel in a baguette with tomato, lettuce, onion and sumac by Galata Bridge. Tuba Satana takes Rick to Esnaf Lokantasi Lades, where they eat kapuska, turkish spiced cabbage and minced lamb stew with tomatoes, harni erek, veal stew,  a Turkish spiced bulgar pilaf with cinnamon, pine nuts and currants and then hünkar begendi, a rich lamb stew with aubergine purée. Rick then makes his own version of the kapuska in his kitchen in Symi.
As the episode draws to a close, Serhan Güngör joins Rick for a mezze lunch in Uskuda of pickled bass in mustard sauce, taze fasulye (green beans in tomato sauce), lekarda, pickled bonito from the great Black Sea, baba ghanoush, smoky aubergine purée with garlic, tahini and lemon juice, hamis with dill and raki. Then the pair visit the Topkapi Palace kitchens.
The series ends with a round up of all the places Rick has travelled to. If you missed any of the episodes of Rick Stein From Venice to Istanbul, you can watch them on BBC iPlayer here
To find out more information on any of the episodes or recipes from Rick Stein From Venice to Istanbul, take a look at our blog posts here.

You can find recipes from Rick Stein's new TV series in his cookery book From Venice to Istanbul. Buy it online here.

Book a table at one of our restaurants and try some of Rick's new recipes From Venice to Istanbul.

Love the look of the dishes in this series? Book onto our one day Mediterranean street food and mezze course at Padstow Seafood School and try your hand at Rick's newest recipes, along with pizza bianco, halloumi saganaki and oven-roasted chicken with sumac.