Gluten-free dishes from our Easter menus
23.03.2016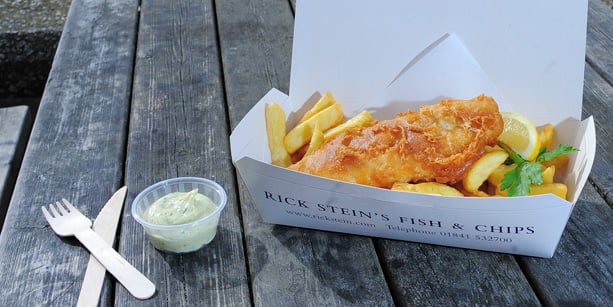 Wondering where to eat this Easter break that caters specifically for gluten-free diets? Look no further! All of our restaurants offer tasty gluten-free dishes, so the whole family are satisfied. Here are a sprinkling of gluten-free dishes that we know will tempt you this Easter:
Turkish treats at Rick Stein's Café


You'll find yourself spoilt for choice with the café's exclusive gluten-free lunch menu. We recommend you start off with the pad Thai noodles, a sweet, hot and sour dish, popular with the street vendors of Thailand. Once your taste buds have been tickled, the real star of the show has to be our new dish for Easter, the not-so-easy-to-pronounce, Imam Bayildi. Straight from Rick's cookbook, Mediterranean Escapes, this Turkish dish may be a mouthful to say, but you'll savour every mouthful when you try it. Fried onions, tomato, chilli and parsley are generously stuffed into aubergines and then baked. What makes it even better? It's gluten-free of course!
Offer: Enjoy a 3 course gluten-free set menu for £23.50 every lunchtime this Easter period.

Miss Muffet comes to Falmouth (well, kind of!)


Don't be fooled, Miss Muffet isn't in town! Our restaurant, Rick Stein's Fish, in Falmouth, offers gluten-free customers a starter of Miss Muffet cheese, a creamy but smoky cheese, tossed together with chilli beetroot, pancetta and balsamic. No curds and whey, we promise! We can also promise you a taste of Southern India in one of Rick's favourite curries. Selected by our head chef, Dominic Gill, from Rick Stein's India, this fragrant cod curry is served with basmati rice, Kachumber salad and cucumber and mint raita. If that wasn't enough – make sure to leave room for the Treleavens raspberry sorbet. The kids will love it!
Offer: This Easter period, enjoy 2 courses for £11.95 at lunchtime and 3 course menu for £16.45 from 5pm – 6pm.

The best of both worlds at The Cornish Arms


You just have to sample proper British food when at The Cornish Arms, but why not start off with something a little bit different? Sample the grilled piri piri sardines served with tomato and red onion salad – guaranteed to get your taste buds tingling to begin with. Then venture onto some classic home comforts, such as the succulent Tywardreath ham, free range eggs and chips, perfect with a glass of French Sauvignon Blanc. However, if you're searching for a great dish to go with a glass of red, you just have to go for the 10oz rump steak, from Warren's butchers in Launceston, served with tomato, shallot and thyme salad and chips. A glass (or two!) of Pinot Noir is a must!
Fistral fish and chips? No problem


We all know that batter has never been a gluten-free customer's best friend. However, do not panic! At all our restaurants, including Rick Stein Fistral, Stein's Fish & Chips and Rick Stein's Fish in Falmouth, we offer you the chance to have your fish cooked in gluten-free batter. This means you are able to enjoy all of your classic fish dishes, worry-free. The only worry you will have is whether to add a second splashing of white wine gluten-free vinegar or not – go for it, we say.
Vegetarian? Check out our other blog posts to find out what we have to offer.
If you'd like to book at any of our restaurants, click here, or call us on 01841 532700