Gnocchi With Tomatoes, Prawns & Basil Recipe – Rick Stein's Simple Suppers

Quick, comforting and full of Italian flavours. This is gnocchi with tomatoes, prawns and basil – as featured in Rick's new book, Rick Stein's Simple Suppers. About this particular recipe, he says:
Using a pack of ready-made gnocchi makes this a really quick supper. Peeling the prawns and boiling up the shells takes a few moments but it's well worth it to extract every bit of their wonderful flavour.
---
Ingredients for Rick's prawn gnocchi recipe
SERVES 4

300g raw prawns in the shell (defrosted if frozen)
40ml olive oil
1 garlic clove, finely chopped
250g cherry tomatoes, quartered
150ml chicken stock or water
600g gnocchi
Pinch of chilli flakes
Small handful of basil leaves, shredded
Salt and black pepper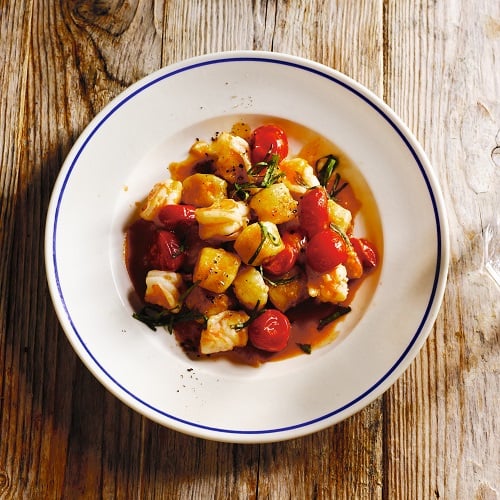 ---
How to make Rick's gnocchi with tomatoes, prawns and basil
1) Peel the prawns, cut the meat into small pieces and set aside. Put the heads and shells in a pan with half the oil, half the garlic and half the tomatoes, then fry gently for 3 minutes.
2) Add the chicken stock or water and boil until the liquid has reduced down to 4 or 5 tablespoons. Pass this through a sieve, taste and season and set aside until ready to serve.
3) Cook the gnocchi in a pan of salted boiling water until they pop to the surface, then drain.
4) Heat the remaining olive oil in the pan and add the rest of the garlic and the chilli flakes, then the prawns and remaining cherry tomatoes. Cook for a minute or so until the prawns are hot (and have turned pink), then stir in the gnocchi. Season with salt, pepper and shredded basil.

5) Divide between 4 bowls and spoon over the reserved sauce.
Happy cooking
---
Prawn gnocchi recipe taken from Rick Stein's Simple Suppers, BBC BOOKS, 2023. Food photography by James Murphy.
---

Stein's Online Fishmongers
We created an online fishmongers to help give you the confidence to cook more fish and shellfish at home. With recipes and techniques from Rick and Jack alongside species aplenty to choose from – including whole fish, shellfish, mixed boxes and fillets.