Great British Bake Off: Alternative ingredients
02.09.2015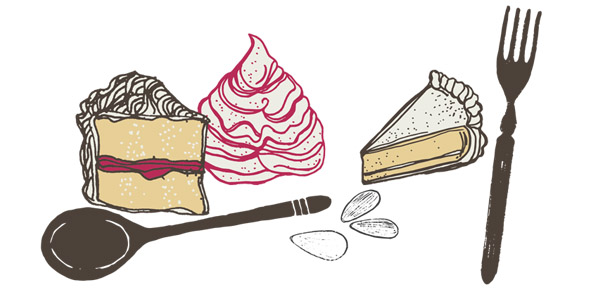 It's a challenging week for the bakers on GBBO this week as they have to make a sugar free sponge, gluten free pitta breads and finish with dairy-free ice cream rolls. We caught up with Stuart, our head pastry chef to get his top tips for sugar free, gluten free and dairy free recipes.
Sugar free cake
I would make a sponge whipping up egg whites and then whipping up the egg yolks with honey to make a  sabayon, then add in some sugar free dark chocolate. The honey and chocolate should add some nice flavours and sweetness to the cake. Then you could make a mousse of melted dark chocolate, crème fraîche and semi-whipped cream to decorate and layer up the sponges.
Gluten free pitta bread
The trick to making a great pitta bread is a hot oven. Replace a standard recipe with gluten free alternatives and make sure your oven is piping hot before you put them in to bake on a pre-heated baking tray. Make sure the dough is not too thick when you roll it out and flip it up with your hands. With any bread, always make sure you let the dough shrink back before you cut it, to get equal sized pieces.
Dairy free ice-cream show stopper

For this I would use almond milk or soya milk to make the icecream along with some coconut milk and honey or agave syrup for sweetness. I'd use fruity flavours like passionfruit and strawberry to flavour the ice cream and smother a layer of ice-cream and then a layer of  raspberry sorbet on the sponge roll so the flavours combine together. My design would be a train with carriages full of ice cream rolls.