Great British Bake Off: Pastry
08.09.2015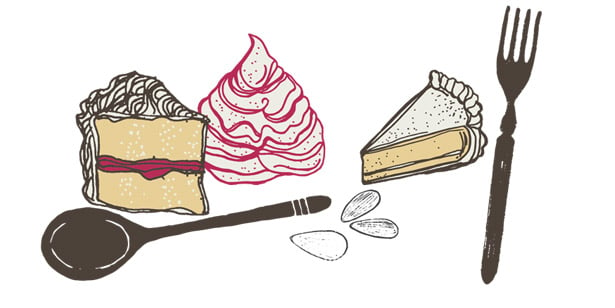 Stuart's eyes lit up when he heard it was pastry week on GBBO, a passion for our head pastry chef at The Seafood Restaurant. The bakers start with frangipane tarts, a flaouna (a cheese filled pastry from Cyprus) and finish with the 70s classic, vol-au-vents. Here are Stuart's top tips for shortcrust pastry and his secret technique for perfectly even vol-au-vents.
Frangipane tarts
To get a nice shape to your tarts, roll out your shortcrust pastry to about 3ml thick, line the pastry case and make sure you get the pastry into all the corners before cutting the top off. Fork the base so it cooks evenly, then part bake the base blind without colour. The cream is made up of ground almonds and flour, you can use a little baking powder in there too, for an additional lift. Beat the butter and sugar lightly together, then beat your egg whites and yolk and then slowly fold them into the flour and almond mix. At The Seafood Restaurant, we make a frangipane tart with a chocolate base, frangipane top and dessicated coconut to decorate.
Flaouna
I have to confess, I've not made one of these myself before, it's a Cypriot dish traditionally enjoyed at Easter – Paul's definitely picked a challenge with this one, I'll look forward to seeing what the bakers come up with.
Vol-au-vents
I have a couple of great tips for making sure your vol-au-vents rise evenly.  Firstly, when you egg wash your sheet of pastry, let the egg wash dry so that you have a nice, clean edge when you cut it. If you don't allow it to dry, the egg wash can run down the side of the pastry and stop it from rising. Secondly, to make sure your vol-au-vents all rise to the same height, place a tart tin in each corner of the tray, with a sheet of baking paper on top and then a wire rack. This will ensure that your vol-au-vents stop rising at the same height so they're lovely and even. I normally cook these in a hot oven, at 210°C for 8-10 minutes and then cook them for a further 8-10 minutes at 190°C.
For my fillings, I would create a fruits de mer and a seafood ragout. You can prepare these separately to the vol-au-vents, then fill them once the pastry is cooked. If you go across the pastry lids with fork prongs before baking you can get a nice lattice pattern.