Great British Bake Off: Patisserie
23.09.2015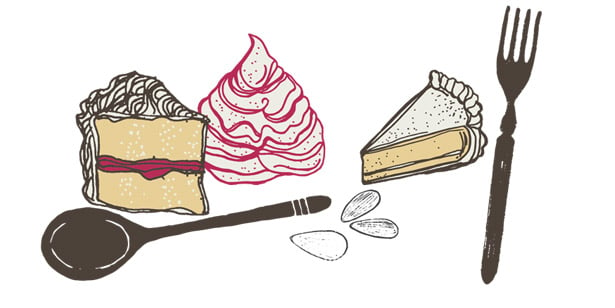 What better week to call on our head pastry chef than patisserie week on the GBBO. This week the remaining bakers will create cream horns, mokatines and religieuse a l'ancienne. 
Cream horns
These are created with strips of puff pastry, lightly egg washed, wrapped around a cone and then cooked. A top tip for making sure your pastry doesn't stick to the cone is to wrap it in greaseproof paper. I'd fill mine with fresh fruit and top with a raspberry sorbet for a twist on the classic cream filling.
Mokatines
This is a coffee flavoured genoise sponge filled with coffee buttercream icing. My top tip for getting the best coffee flavouring is to use espresso coffee – you get a really intense flavour you just don't get with other types of coffee. Traditionally nibbed almonds are used to decorate this cake on the side, but for a sleeker finish, I prefer to use flaked almonds.
Religieuse a l'ancienne
This is a truly impressive GBBO show stopper: three tiers of choux pastry eclairs iced and decorated. The only way to get the structural integrity of this kind of bake right is to make precise measurements so the final eclair of each tier is wedged tightly into the design and holds it all together. When baking your choux pastry, use a hot oven at about 210°C for the first 8 minutes and then turn down to 190°C. It's also really important to try not to open the oven too much and if you do, not to bang the oven door.
If I was to make this, I think I'd try and introduce some natural flavourings so it wasn't quite so sweet – a sweet potato mousse with dates or banana mousse with pastry dipped in dark chocolate.
If you'd like to find out more tips from Stuart Pate, join him on 12th November at his patisserie tasting evening where he will cook cherry pithivier, semi-freddo and macarons. Find out more here.