In pursuit of English sparkling wine
12.06.2013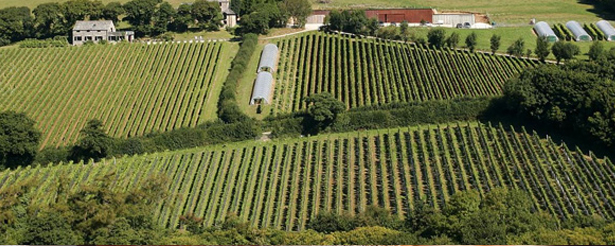 Padstow is very lucky to have the beautiful Camel Trail on its doorstep and every year thousands of people enjoy a leisurely cycle along the flat 5 miles to Wadebridge. But if you go beyond the traditional trek to Wadebridge, there is a true gem hidden in a luscious valley – Camel Valley Vineyard.
Visiting Camel Valley Vineyard by bicycle from Padstow makes for a great day trip – and who can resist the reward of a cold glass of English sparkling wine at the halfway point, and a portion of fresh fish and chips from Stein's Fish & Chips when you get back to Padstow. 
It's 7 miles from Padstow to Camel Valley Vineyard and the flat cycle path snakes along the bank of the estuary all the way up to Wadebridge before reaching the vineyard.
There are plenty of vantage points along the way, and the perfect excuse for a picturesque picnic. You can pick up all your essentials from Stein's Deli before you leave (Cornish Pasty, Rick's lemon cordial and Nicky Grant Chocolate springs to mind!) and then hire your bikes from Padstow Cycle Hire or Trail Bike Hire.
When you arrive at the vineyard you can secure your bikes and head over to the shop and peruse the many awards and accolades won by this English winery. The vineyard sell all of their wines by the glass (£2.25 for 62ml and £4.50 for 125ml) and you can enjoy them on the terrace overlooking the rows of vines. With such a great sun trap it would be very easy to spend all afternoon here tasting your way around the fantastic English bubbles and wines. It will take around 1 hour to cycle to Camel Valley, but with so many picture spots along you might want to allow a little longer.
When you finally manage to drag yourself away and start the cycle back to Padstow, you will probably notice that the first few miles will easily fly-by, perhaps something to do with the glass or two sampled at the vineyard.
The estuary starts to widen beyond Wadebridge and you begin to see the golden sands of Rock. the legs may well be tiring, but fear not – just keep in mind the fresh and perfectly crisp portion of Stein's Fish Chips waiting for you back in Padstow. Enjoy!
Enter our competition to win two tickets for a tasting and guided tour at Camel Valley: Competition