Jack Stein's recipe for monkfish curry and rice
21.03.2021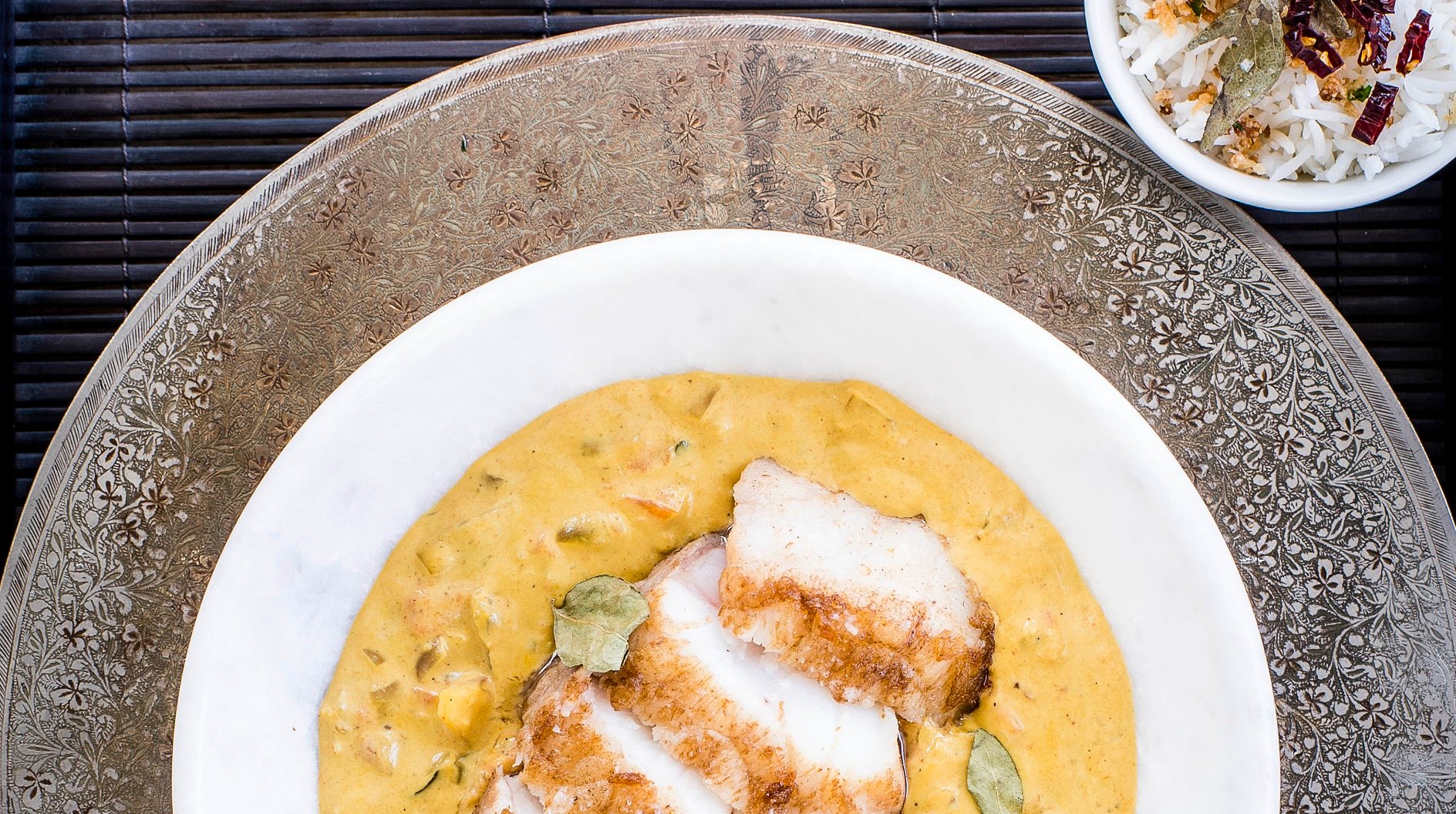 Jack says: 'I have been to Sri Lanka many times and I absolutely love the place. The food is wonderful, the people are amazing and the surf is great. In the English winter it's my go-to spot if I am in need of some sun. Everywhere there are signs offering 'rice and curry' – often more rice than curry. Add one or two of the wonderful sambals and a few chutneys on offer and a frugal and brilliant meal is to be had. I use monkfish in this recipe which is meatier and less susceptible to overcooking than many other fish. I find it to be the perfect partner in a fish curry as it is quite bland and so handles the spice extremely well. Try to find fresh curry leaves as they really do give the taste of Sri Lanka. Serve with bowls of plain rice and poppadoms.'
Serves 4
Ingredients
50ml vegetable oil
4 onions
12 curry leaves
6 garlic cloves, finely chopped
5cm ginger, finely chopped
8 vine-ripened tomatoes, sliced
400ml coconut milk
600g monkfish cut into 4 fillets, trimmed
1 tablespoon salt
2 green chillies, sliced
For the Sri Lankan curry powder
2 tablespoons basmati rice 4 tablespoons coriander seeds
3 tablespoons cumin seeds
2 tablespoons black peppercorns
2 tablespoons chilli flakes
1 teaspoon fenugreek seeds
1 tablespoon black mustard seeds
2 teaspoons cloves
1 heaped teaspoon cardamom seeds (from the pods)
1 heaped teaspoon fennel seeds
1 teaspoon turmeric
to serve
boiled basmati rice deep-fried poppadom
Method
To make the curry powder, place the rice in a dry pan and roast until brown. Then add the spices and cook together until fragrant. Place in a blender and mix. Store in an airtight container until needed; it will keep for 1 month.

For the curry base, warm half of the vegetable oil in a large, wide pan and add the onions and 6 of the curry leaves; cook until lightly coloured (8 minutes). Then add the garlic and ginger and cook for another 3 minutes. Move this onion mixture to one side of the pan and place 2–3 teaspoons of the roasted curry powder (depending how hot you like it) in the space left. Cook the spices for 1 minute (this deepens their flavour), then add the tomatoes and stir together.

Cook the mixture for a further 20 minutes. (Meanwhile boil the rice, then cover to keep warm.)

If the curry starts to dry, add a little water. You want the tomatoes to break down and release their juice. Now add the coconut milk and cook until reduced and thick. Keep the curry warm over a low heat while you cook the fish.

Season the monkfish fillets with the salt and cook in a frying pan in the remaining vegetable oil until nicely browned; you want to cook it under the temperature where you want it to finish – say 45ºC. Take the fillets out of the pan, slice thickly and leave to rest.

Warm up the curry base and add the monkfish slices to the pan. Cook for 1–2 minutes until the fish reaches 55ºC. Remove from the heat. Add the raw sliced chilli and remaining fresh curry leaves. Serve with the basmati rice and deep-fried poppadom triangles.
Credit: Jack Stein's World on a Plate by Jack Stein (Bloomsbury Absolute, £26). Photography by Paul Winch-Furness
LOTS MORE RECIPE INSPIRATION…
Discover even more of Rick and Jack's favourite recipes that you can recreate for your family at home. From classic French main courses to comforting desserts.