Jack Stein's recipe for peanut butter and chocolate cheesecake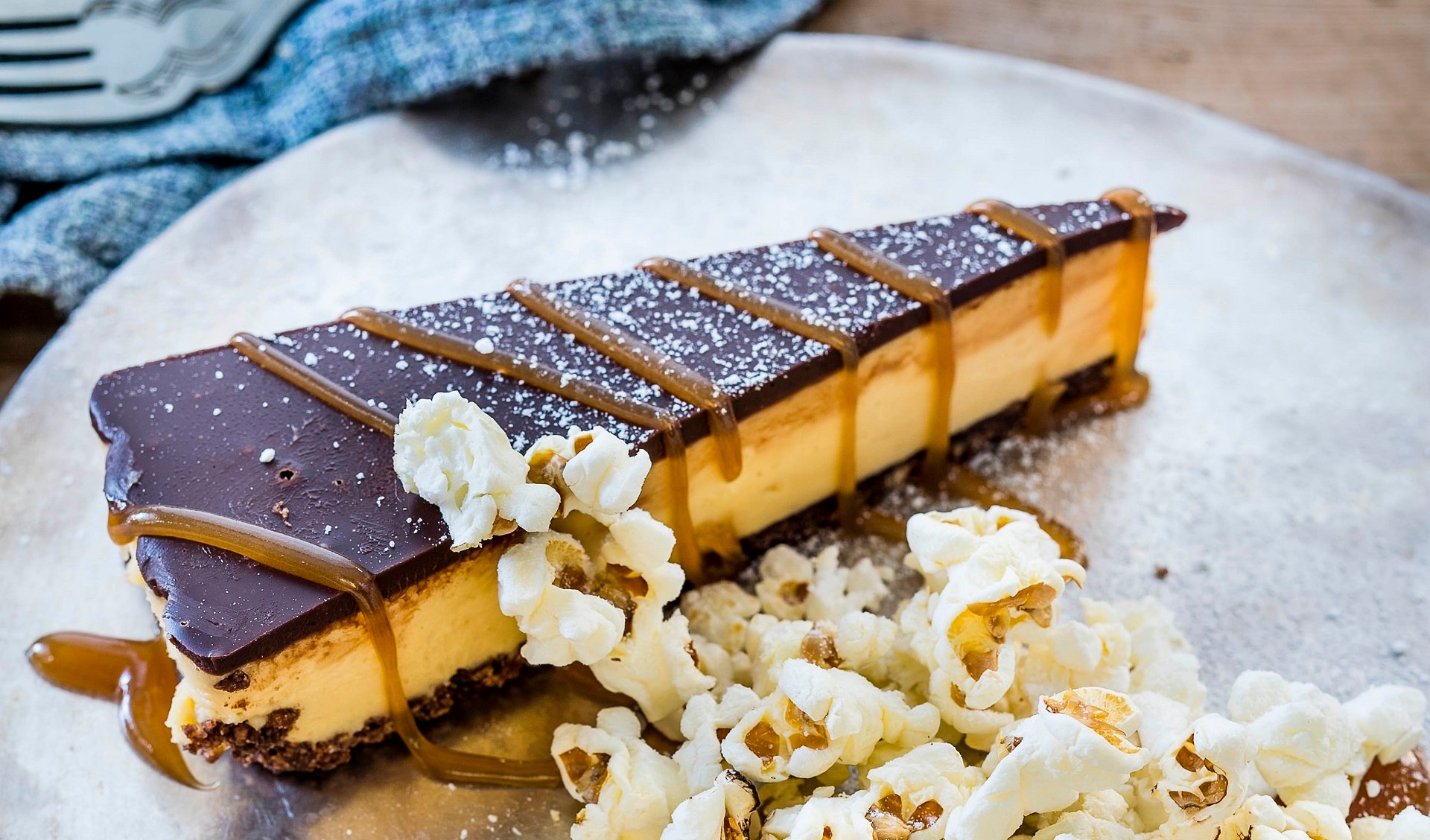 This simple cheesecake recipe is the perfect make-ahead dessert for any celebration at home. Who doesn't love a chocolate cheesecake…
Jack says: 'Sometimes in life you have to make a quick decision; this dessert is a good case in point. We were prepping to photograph the desserts for this book in London and I had slightly miscalculated the number of desserts – we were one short. I knew that the ingredients I had in mind would combine beautifully, so I opened the fridge at the restaurant and extracted a slice of cheesecake, poured a little caramel into a tub and legged it to the shoot, leaving a small note saying, 'Took one slice of cheesecake, won't be able to replace, thanks.' If you're making this dessert from scratch, you'll need to start it the day before serving.'
Makes 1 cheesecake – serves 10 to 12 people
Ingredients
For the base
150g digestive biscuits, crushed
3 teaspoons cocoa powder
100g unsalted butter, melted
For the filling
60g smooth peanut butter
150g caster sugar
500g mascarpone
25ml double cream
1 teaspoon vanilla essence
For the topping
100ml double cream
100g dark chocolate drops
For the salted caramel sauce
100g granulated sugar
45g unsalted butter, at room temperature
60ml double cream
½ teaspoon salt or more to taste
To serve
Purchased ready-made popcorn: 10g per person
A little icing sugar
Method
Mix all the base ingredients together and push into a loose-bottomed, 23cm flan tin. Chill in the fridge for 2 hours.

Beat the peanut butter and sugar together in a food mixer until light in colour. Add the mascarpone, cream and vanilla and mix slowly until just incorporated (over-mixing will cause it to split). Smooth it over the cheesecake base. Chill for 2 hours.

Heat the cream and the chocolate drops together in a saucepan over a low heat, stirring until combined. Leave the mixture to cool for 10 minutes, then pour it evenly over the cheesecake. Chill for 12 hours.

Now make the salted caramel sauce. First heat the sugar in a saucepan over a medium heat, stirring it continuously with a spatula or wooden spoon.

As soon as the sugar has dissolved and is a dark brown, thick liquid, add the butter straight away. The caramel will start to bubble. Keep stirring until all the butter has melted and been incorporated into the caramel.

Slowly pour in the double cream, still stirring. Keep on heat for another minute; the mixture will bubble and rise in the pan. Remove from the heat and stir in the salt, then allow to cool. You can always add more salt, depending on your taste. The caramel can be stored in the fridge overnight along with the cheesecake. It makes about a cupful and will keep for 1 week. Any left over would make a great topping for ice cream.

Shortly before serving, place the popcorn in a large bowl and stir in a little salt and icing sugar to taste. Remove the cheesecake from the fridge and let it sit for a few minutes to make it easier to cut. Place a slice on each plate. Warm up a little salted caramel – either in a small pot on the hob or in a small bowl in the microwave for 30 seconds –1 minute until it is loose enough to drizzle over the cheesecake but not so hot that it would melt the chocolate layer. Add some salty, sweet popcorn to each plate and dig in!
Credit: Jack Stein's World on a Plate by Jack Stein (Bloomsbury Absolute, £26). Photography by Paul Winch-Furness.
LOTS MORE RECIPE INSPIRATION…
Discover even more of Rick and Jack's favourite recipes that you can recreate for your family at home. From classic French main courses to comforting desserts.