Leading Ladies: Meet Jill and Kate Stein
12.10.2022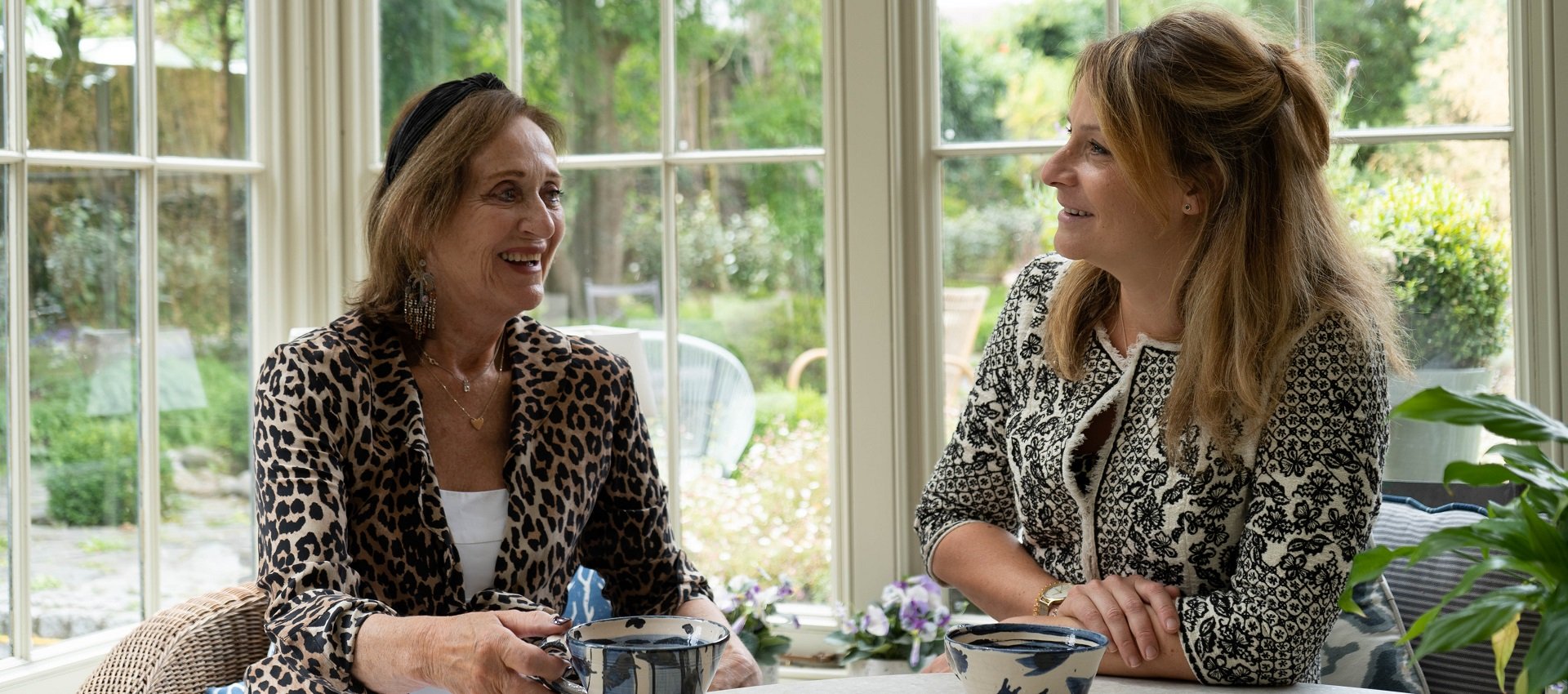 Words by Sophie Farrah.
Having been at the helm of the business for over 45 years, there is little that its co-owner and founder, Jill Stein, doesn't know about hospitality, and it's easy to see why.
"I've worked in the kitchen and front of house, I've cleaned the bedrooms, paid the wages, and I've done the laundry – I've done every job in the business!" she laughs.
"It gave me an incredibly good grounding in hospitality, and I learnt it all on the hoof."
In the years since The Seafood Restaurant first opened its iconic doors, Jill has added yet another string to her bow; interior design. Today, the business may be synonymous with gloriously fresh, simply cooked seafood, but it is also celebrated for creating lively, welcoming spaces that guests enjoy spending time in. Ambience is a sum of many parts, but good design is key; from the navy-blue water jugs adorned with teal lobsters to the plump seaweed-patterned cushions inviting you to stay for a long, leisurely lunch, this laid back yet luxurious sense of style plays a huge part in what many people love about the guest experience today.
"I've always said that a restaurant should be fifty percent food and fifty percent atmosphere," explains Jill, who previously ran The Seafood Restaurant for 25 years.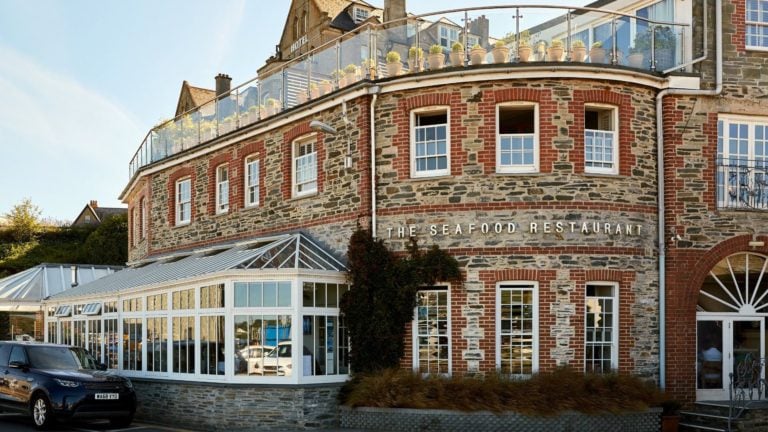 "You can eat wonderful food but if it's a soulless place, then it's not going to work. When the interiors and the food come together and make a whole, that's the secret.
"Style and substance – you've got to have both."
Much like the food and drink side of the business, this thoughtful approach to design is also a family affair; Jill works closely with the company's Style Director, her daughter-in-law Kate Stein, to create their signature breezy coastal style. An artist and designer by trade, Kate was artistic from a young age, "that was my thing as a child – I was always the creative one," she recalls. For Jill, however, it was more of a baptism of fire.
"When Rick and I first set up together I wasn't on the creative side of things as I was too busy running the business," she explains.
"Kate is instinctively creative – it's in her DNA, whereas I had to learn. Initially I used to do all the interior design on my own, sitting on the end of my bed – I didn't even have an office! So it's a big change for me, but it is a complete joy."
Initially, Jill and Kate began working together sourcing products for the gift shop in Padstow, and before long their eye for design turned to interiors. Today, the mother and daughter-in-law duo work closely as a team, applying their distinctive style not only to Rick Stein restaurants but to its collection of guest accommodation in Padstow, ensuring that all the bedrooms and rental properties feel contemporary and inviting, from the classic coastal-inspired rooms above The Seafood Restaurant, to the luxurious and tranquil accommodation found at St. Edmunds House.
"The key to a good hotel room is that it's got to be slightly better than your own bedroom. It's all about luxury and feeling comfortable," says Jill.
"We want the rooms to have a classic, timeless feel, and because the design comes from us, not a group of external designers who have nothing to do with the business, it's our style, it's very personal to us," she adds.
"We're always trying to bring something new to it and keep it fresh and evolving. We don't want to do clichés, that's not what we're about," adds Kate.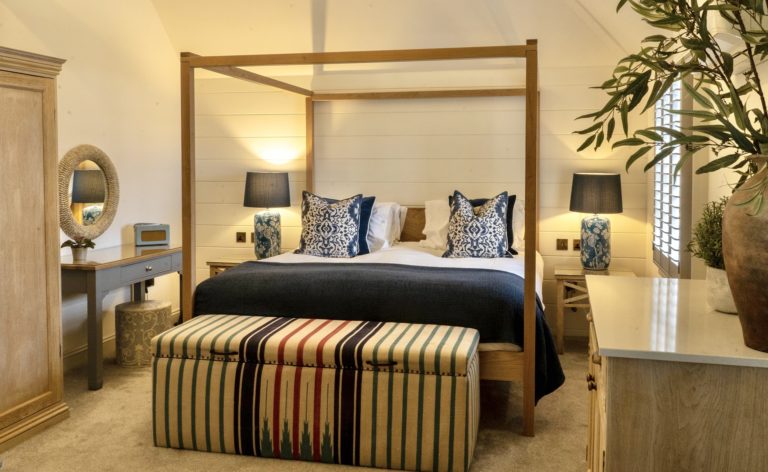 "The age of the building is also a big influence. For example, St Petroc's is a very old, listed building, and the rooms are a certain shape, so those elements always influence what we do. We like to work with what we've got."
Their approach to restaurant design is similar. Working across Padstow, Winchester, Sandbanks, Marlborough and Barnes, each one is designed to feel relaxed and uniquely 'Stein' with simple, stylish nods to the business' coastal heritage throughout, but every location also offers its own unique sense of character and charm.
"Sandbanks is my favourite," smiles Kate.
"You can't say that! You can't have a favourite Kate," laughs Jill.
"I mean that I loved working on Sandbanks the most! It was a blank canvas and we got to imagine it from floor up – we created a really light and airy style, and we designed every little aspect, even down to the door handles. It has a beautiful pebble mosaic floor that Jill found, and a solid glass wall overlooking the sea so you can see all the boats bobbing around and kite surfers out there. It's the perfect place for a long lunch…" says Kate.
"We also put a fire at the front of the bar so that it feels homely winter's day. I always say that summer takes care of itself, but we have a lot of long winter days, so I like fires everywhere," says Jill.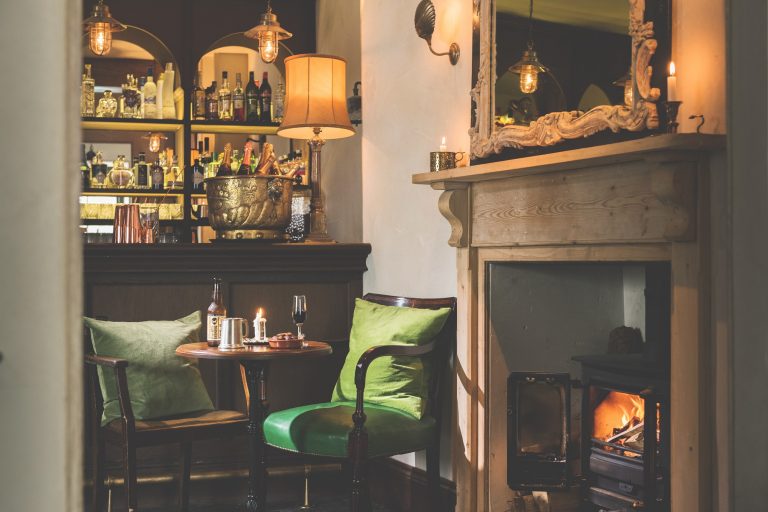 "Ruby's in Padstow was also a lot of fun to do. The intention was to make it look like a pub at the turn of the century, with a bit of poetic license…"
Tucked away next to St Petroc's Bistro, Ruby's Bar is filled with dark wooden furniture, intimate lighting, pops of rich green fabric and walls covered in small antique paintings, each one handpicked by Jill and Kate. Its atmospheric cosiness is a contrast to Rick Stein in Barnes, where natural light pours in through floor-to-ceiling windows, mirrored walls make the most of the panoramic river views, and hanging plants sit against exposed brick to create a more contemporary, almost urban feel. To develop such different styles, Kate and Jill are always on the lookout for sources of inspiration. 
"I might be in Spain or Italy, and I'll see a tiny little thing and take a photograph of it," says Jill.
"Even nature can spark something, and Cornwall also comes through in our designs. Because we both live here, we really absorb it," Kate adds.
"I think it's the light," agrees Jill.
"It sounds a bit precious, but because we're right by the sea, the light really is different here. There's something about the north Cornish coast, it has a unique feel. The Atlantic is a pretty hairy ocean, and the trees all lean in the wind. It's all part of the Cornish landscape, and subconsciously it all goes into the creative process."
Working closely with Jill, Kate is also responsible for the eye-catching designs of the popular Porthdune range; a collection of beautifully packaged natural skincare and lifestyle products inspired by the beauty of the Cornish coast. She has also designed the growing collection of own-brand Rick Stein products, which include playful kitchen textiles, colourful ceramics, stylish soft furnishings, patterned fabrics and more.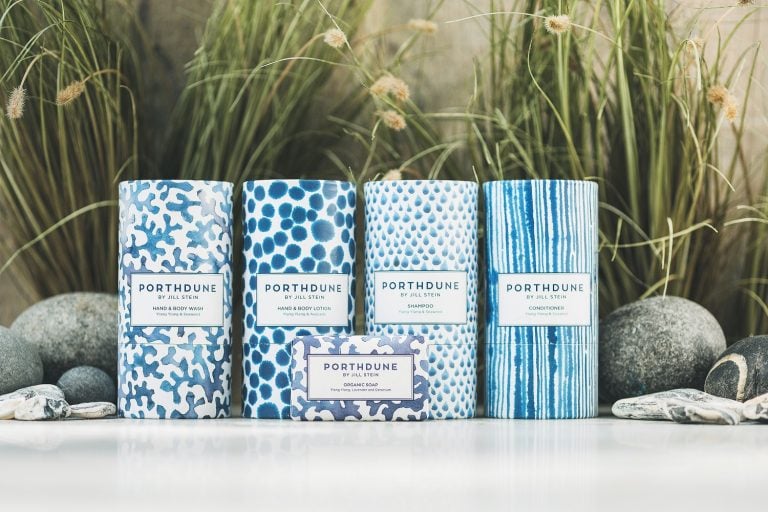 "I saw the potential for growth in the shops, and the products have made a beautiful change," explains Kate.
"I remember being in the deli once and some customers were saying some lovely things about the ceramics, and they didn't realise that I was standing behind them. To hear that was wonderful. We were actually about to stop selling that particular collection and so I rang Jill and said, 'I've just heard these women being so lovely about the ceramics, I think we should keep them for another year!"
Jill and Kate continually refresh their design work, always keeping an eye on what needs to be done where in order to ensure that each and every space feels fresh, welcoming and effortlessly chic. They also proudly fly the female flag for Stein women within the immediate family business, and Jill is the only woman who sits on the board of directors. In 2013 she was appointed Officer of the Order of the British Empire (OBE) for services to the restaurant industry, and in 2021 she was included on respected industry magazine CODE's 100 Most Influential Women in Hospitality list.
"As a woman [in a male dominated industry], it can be challenging. Sometimes it's hard to get your voice heard but I am used it, and my sons are very supportive. I just wish there were more women in hospitality – I am always banging the gong for more of us!" she says.
Interior design aside, Jill has been considered a driving force behind the success and growth of the Rick Stein group since the very beginning. Today she may spend less time doing the laundry, but she remains as proudly and passionately hands-on as she was when the business first began.
"I still love going into work every day," she beams.
"Most of all, I love the people I work with. We have the most wonderful team and sometimes I go and sit in The Seafood Restaurant just to talk to them. After all these years, that's still what I get the biggest buzz from."
Find out more about the Stein's here.