Meet Wendy Bray
17.03.2015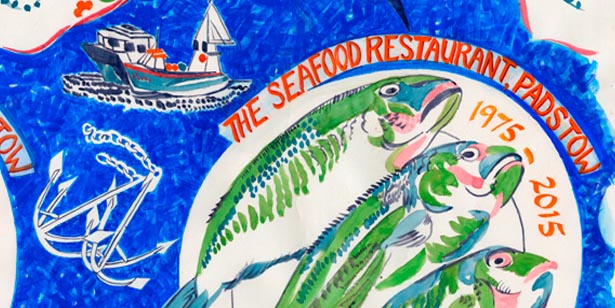 This year we are celebrating our 40th Anniversary at The Seafood Restaurant. As well as releasing a commemorative book and some fantastic 40th Anniversary wines we have also created a limited edition range of ceramics and textiles featuring a beautiful print by designer, Wendy Bray.
Jill Stein came across one of Wendy Bray's prints on Pinterest and immediately got in touch to discuss the possibility of creating a print specifically for our 40th anniversary. We met with Wendy and her husband, Geoff, to find out how she came to create the stunning print we have used in our 40th Anniversary collection.
What was your brief from Jill when you first met? 
Jill had a very specific idea of individual motifs from prints that I'd created and using them with the details of the 40th Anniversary worded around it. I felt so comfortable with Jill and we were on the same wavelength for the design from the outset. When Jill first emailed me, I was in Sete fish market buying dorades for supper, and rouget and crevettes for painting, with an extra helping of shiny sardines to bone and fry to eat on thick buttered french bread – those are the mackerel that inspired the 40th Anniversary fish!
How would you describe your creative process?
My husband, Geoff, used to work for Courtaulds which meant we travelled a lot. Many of the countries we visited were communist and cameras weren't allowed so I started to keep a diary of my travels, sketching my surroundings. That has become my process for my designs, I sketch what I see and work from these original pencil drawings and watercolours. For the 40th Anniversary print, I walked out of the front door of The Seafood Restaurant after meeting with Jill and started sketching what I saw in Padstow harbour.
What were those first sketches? 
There was a  trawler at low tide which caught my eye and when I walked around the warehouse I saw two rusty anchors entwined which have also made it into the final print. I also sketched a pair of cheeky seagulls on the harbour – they're not in the final print, but are one of my favourite sketches.
Were there any challenges you faced designing the print?
Incorporating the wording was certainly a challenge. I studied lettering at art school 65 years ago, so to get the words to fit without compromising the designs took some reshuffling. We also had to simplify some of the drawings for the prints – the anchors for example went from four pronged to two pronged to make the design more effective.
You've been in the industry since the 1950's, how have things changed since you graduated from art school?
It used to be such a laborious process to change, repeat and enlarge designs and sketches, but with technology now it's so much easier. For things like the mackerel design that we've used in this collection, it meant I could really play around with the print in a much less time-intensive way.
Do you have a personal favourite from the 40th Anniversary collection that's been created from your design?
I love the tea towel as it's the whole print in its original form, but I also really like the trawlers on the mugs as they are so close to my original sketches.
Our 40th Anniversary collection is available to buy at Stein's Gift Shop and Stein's Deli. If you'd like to see more of Wendy's designs, visit her website here.