Padstow Christmas Festival Highlights 2014
25.12.2014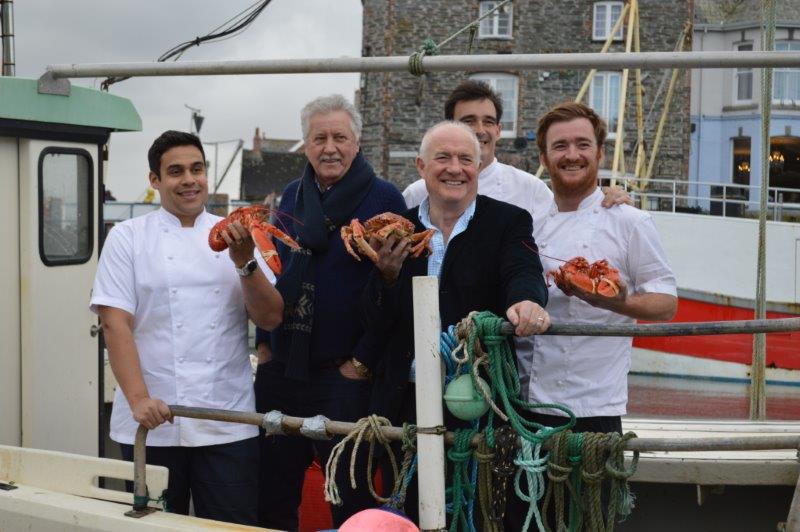 What a fantastic time we had at Padstow Christmas Festival at the beginning of this month! We shared hundreds of photos and tweets with you all on Facebook and Twitter over the weekend, but for those of you that weren't able to make it, here are our top 5 highlights of the weekend.
1. Ready, Steady, Cook! With Fern Britton, Brian Turner, Phil Vickery and surprise guest judge our very own Rick Stein! 
Saturday morning left a tent roaring with laughter as the crowd watched Fern Britton tactfully control the boisterous duo Brian Turner and Phil Vickery as they undertook the green pepper and red tomato challenge in the main demonstration tent.
Just when we thought we couldn't laugh any more, Rick Stein turned up and was coaxed on stage to taste the finished dishes. Lacking in cutlery, the crowd saw Rick improvise with a pair of tongs, concluding that both dishes were of equal merit. It was a close call, but Phil just about won the title of the best dish.
2. Great local produce and food
From the mussel stand courtesy of The Cornish Arms, preserves and fabulous home brews, the festival really did display the best of the south west's local produce. You couldn't get more than a few steps before trying another Cornish treat – clotted cream, shortbread, ale.
There were some great outlets providing 'grab and go' food from a retro burger van to a mobile wood fired pizza. The only thing we had difficulty deciding was where to get our lunch every day!
3. Double Trouble
We were spoilt for choice with dynamic duos this year at Padstow Christmas Festival. Here are a few of our faves (from left to right): Simon Hulstone and Jack Stein, Rick Stein and Brian Turner, Ross Geach and Jack Stein, Nieves Barragan Mohacho and Stephane Delourme, Charlie Stein and Jack Stein, Mitch Tonks and Mark Hix.
4. Santa's Grotto 
This year's Santa's grotto was away from the hustle and bustle of the main tent next to the rowing club, and it was absolutely beautiful. The Narnia themed tent saw children write their letters to Santa before being guided through the wardrobe into a winter wonderland.
Coated with snow, and lined with Christmas trees, we followed the path until we met Santa himself along with his little helper.
5. Our team 
The weekend just wouldn't have been the same without the smiling faces of our team. From the wonderful demos they performed, stalls they ran and the support they offered each other both on and off the stage, we'd like to say a huge thank you to all of them.
If you'd like to see more of our photos from the weekend, just take a look at our Facebook page.