Recipe: Apple tarte tatin
01.12.2020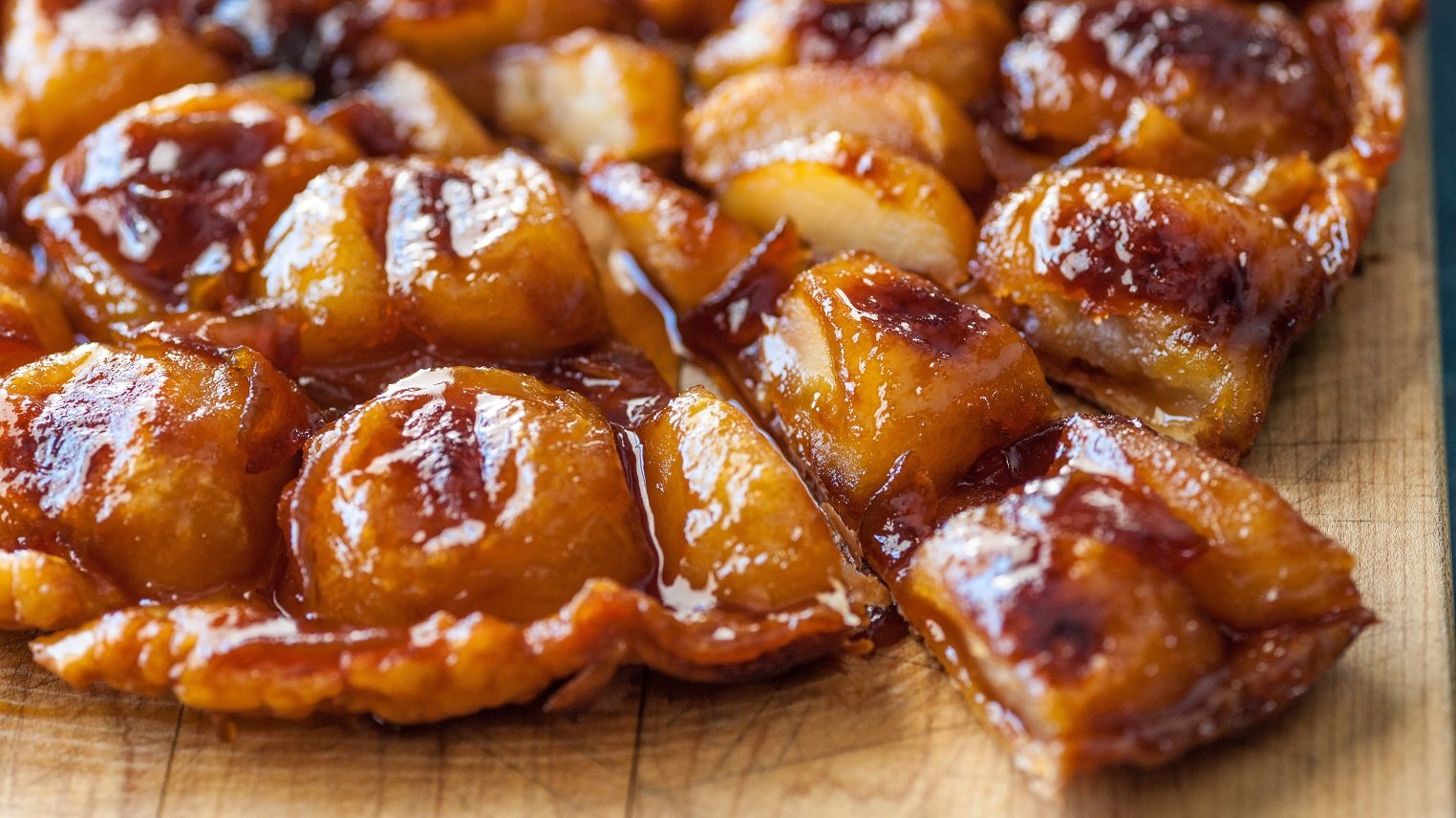 Our recipe of the month is the best antidote for those that don't eat Christmas pudding. Apple tarte tatin is such an impressive dessert to bring out to the table for your guests to see it in all its glory – crispy pastry, soft apples and a satisfying chew from the sweet caramel. It really is a classic for a reason. You can also enjoy it on the menu at The Seafood Restaurant and Marlborough this month.
Rick says: 'Personally, not being a great fan of Christmas pudding is my absolute on Christmas day dessert is tarte tatin served with crème fraîche.'
Serves 6
Ingredients
250g puff pastry
75g softened butter
175g caster sugar
10 large firm dessert apples, such as Cox's
Vanilla ice cream or crème fraîche, to serve

Method
Roll out the pastry on a lightly floured surface and cut out a 26cm disc, slightly larger than the top of a 20cm tarte tatin dish or reliably non-stick cast-iron frying pan. Transfer to a baking sheet and chill for at least 20 minutes.
Spread the butter over the base of the tarte tatin dish or frying pan, and sprinkle over the sugar in a thick, even layer.
Peel, core and halve the apples, trimming them very slightly if necessary to fit but keeping their nicely rounded shape, and then tightly pack them, rounded-side down, on top of the sugar. Place the tarte tatin dish or frying pan over a medium heat and cook for 20–25minutes, gently shaking the pan now and then, until the butter and sugar have amalgamated with the apple juices to produce a rich toffee-coloured sauce and the apples are just tender.
At first the caramel will be pale and liquid from the juices from the apples, but as you keep on cooking the juices will evaporate and the butter and sugar will become darker and thicker. Just take care that the butter and sugar are not allowed to burn.
Preheat the oven to 190°C. Lift the pastry on top of the apples and tuck the edges down inside the pan. Prick the pastry 5 or 6 times with the tip of a small, sharp knife, transfer to the oven and bake for 25 minutes until the pastry is puffed up, crisp and golden.
Remove the tart from the oven and leave it to rest for 5 minutes. Then run a knife round the edge of the tart and invert it onto a round, flat serving plate. Serve warm, cut into wedges, with crème fraîche or vanilla ice cream.
Happy cooking!
Recipe from © Rick Stein's French Odyssey, BBC Books, 2005