Rick Stein community update: April – July
11.07.2019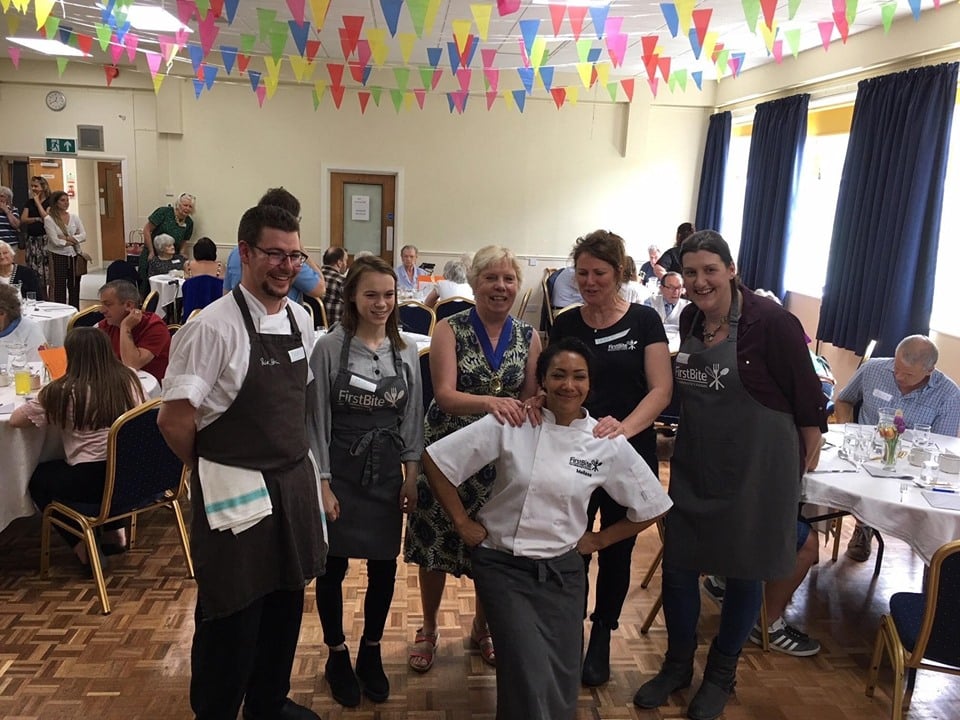 Over the last few months our teams have been busy getting out and supporting their local communities in a number of ways – giving up their time, sharing skills and raising money for local charities. Scroll down to see exactly what they've been up to…
Team Sandbanks and Team Winchester took part in the Host a School Chef programme
Our teams in Sandbanks and Winchester were delighted to welcome Dan Staple from Local Food Link's Bridport kitchen and Dave Leeper from The Trafalgar School at Downton to our kitchens as part of the Host a School Chef programme. Dan and Dave were able to join in with our weekly in-house training sessions as well as learn some new things from our chefs too. Great to see schools taking the time to develop varied and balanced menus for their pupils.
Team St Petroc's Bistro cook for the homeless in Truro
General Manager Julia and Head Chef Mark cooked lamb karahi and all the trimming for the clients and volunteers at St Petroc's Society's Thursday Supper Club in Truro. The charity's aim is to end street homelessness in Cornwall, and it was fantastic to be able to support the work they do – sharing skills, conversation and yummy food, of course.
Team Winchester took part in Trinty Winchester's Big Sleep Out
Five of our team in Winchester loved being part of Trinity Winchester's Big Sleep Out on Friday night. Using cardboard, ground sheets, a mop handle and plenty of duct tape to create a makeshift shelter, they and around 250 others from the area slept out in the Cathedral grounds to raise awareness and money for Trinity's work to support the homeless.
The Cornish Arms raised money for prostate cancer in community football match
Our team from The Cornish Arms, including Jack Stein, Head Chef Julian and former Assistant Manager Alex took on a strong 11 from The Farmers Arms to raise money for prostate cancer. Much falling over and sweating later (it was a very hot day), the final score was 5 – 5.
Senior Management Team head out for a beach clean
Our senior management team (Ian, Neil, Hilary, Micheal, Martin and Sara) supported Beach Guardian's 24-hour Summer Solstice beach clean and litter pick. They headed along to Porthcothan Bay, near Padstow, to help collect micro plastics and other single use plastics that had been washed up on the beach.
Supporting Jessie May
Stephane and Stuart from The Seafood Restaurant gave up their spare time to help cook a special five course charity dinner in Bristol for local charity Jessie May. Supporting the charity's work with young families in the Bristol, Wiltshire and Somerset area.
Team Winchester supported FirstBite's first Silver Sunday lunch
Helen, Ben and Mia from our team in Winchester loved supporting FirstBite's first Silver Sunday event. 60 lovely locals came along to make new friends and enjoy a hearty Sunday roast, including our very own Winchester pudding. A fab way to bring the community together and something that we were very happy to help out with.
Team Fistral lent a hand at the monthly Fistral beach clean
Sous Chef Rachele and some of our team from Fistral went along to help at the monthly beach clean. Collecting rubbish from the dunes and single use plastics from the beach, they loved the experience and recommend it to anyone that loves Fistral and wants to help keep the beach free of litter.
Special seafood masterclass for St Mary's primary school
Retail Manager Tony delivered a fab educational session for the little ones from St Mary's primary school at our seafood bar. They got hands-on with lobsters and lots of other fresh seafood.
Sandbanks Head Chef Pete Murt delivered masterclass for local brownie group