Rick Stein' Cornwall: Cornish Pasty Recipe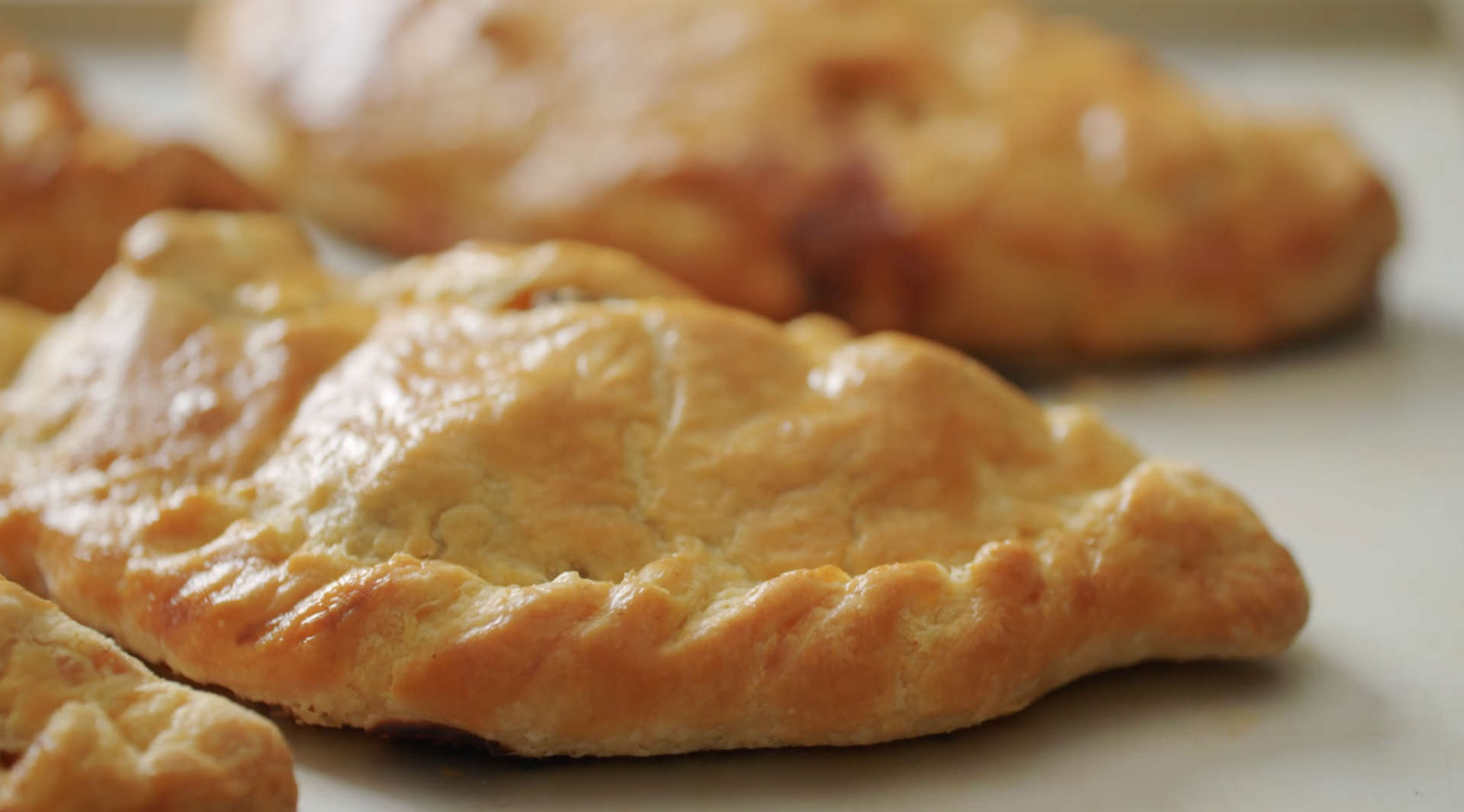 As seen in series two episode fifteen of Rick's Stein's Cornwall on BBC2 – try Rick's proper Cornish pastry recipe at home. Great if you haven't visited Cornwall for a while and miss the comforting delights of a pasty. Happy cooking.
Makes 4
Ingredients
150g peeled swede
250g peeled floury potatoes
100g onion, chopped
400g Skirt steak, cut into 1 cm pieces
1 egg, beaten
Salt and freshly ground black pepper
for the pastry :
500g  plain flour
1 teaspoon salt 
250g cold  butter
150ml cold water
Method
For the pastry, sift the flour and salt into a bowl, add half the butter and rub it in with your fingers to fine crumbs. Stir in the rest of the butter and water and bring it together to form a soft dough. Knead briefly until smooth, roll out into a rough rectangle and Fold up the bottom one third and then fold down the top one third wrap in cling film and chill for 30 minutes.
Unwrap the dough and roll it out again into a rectangle on a lightly floured surface. Fold up the bottom one third and then fold down the top one third and roll out once more. Repeat this process until all the pieces of fat have disappeared. Fold up the dough once more, wrap it in cling film and chill for another 30 minutes.
For the filling, cut the swede and potatoes into 1 cm thick slices, then each slice lengthways into 1 cm thick 'chips'. Cut these across into 5mm thick pieces. Mix the swede, potatoes, onion and steak together in a bowl with 1 teaspoon of salt and ¾ teaspoon freshly ground black pepper.
Roll out the dough once more on a floured surface until it measures 3mmthick and cut out 4x 20 cm discs. Spoon equal amounts of the mixture into the centre of each pastry disc and lightly brush the edge of one half of the pastry disc with water. Bring the edges together over the top of the filling and press together well. Then, working from left to right, fold in the corner and then fold 2 ½ cm of the edge inwards. Fold over the next 2 ½ cm and continue like this along the edge, to create a rope-like design which will seal the pasty. Put them onto a greased baking sheet and brush them with beaten egg. Chill for 1 hour then bake in a preheated oven at 180°C/350°F/Gas 4. Bake for 1 hour, turning them around after 30 minutes so they all brown evenly. Serve warm.
DISCOVER MORE RECIPES FROM RICK STEIN'S CORNWALL
Recreate your favourite recipes from both series one and two of Rick's adventures around Cornwall. Something sweet, something savoury, something spicy and lots more to cook at home.