Rick Stein: From Venice to Istanbul episode five
04.09.2015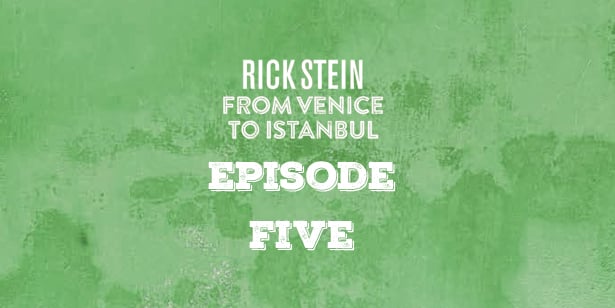 This week Rick starts his journey in Pylos, Greece trying vlita, cooked greens. He heads to the Poseidonia Restaurant and tries fish stew, before visiting O Nakos Taverna in Koukounara and trying rooster hilopites with mizithra cheese: a one pot dish with pasta and tomato sauce.
Back in his kitchen in Symi, Rick cooks galaktoboureko with a sweet and sticky orange syrup,  whisking the egg yolks and sugar until pale and creamy and the egg whites into peaks before folding, to make the pastry as light as possible.
Next, Rick visits the Trixordo Taverna in Messinia, where he tries a host of Greek mezze dishes including lamb cooked in a wood fired oven, petoules (thin pancakes) with mizithra cheese, stuffed courgette flowers,  veal, mint and oregano meatballs in a rick tomato sauce, saganaki, kayiana  Greek version of menemen, pork and chips, wood oven vegetables, souvlaki and pork chops. Back in Symi, Rick tries his hand at the halloumi saganaki recipe, dusting the halloumi in semolina before frying it in olive oil and drizzling with warm honey, black sesame seeds and oregano.
In the Taygetos mountains, Rick tries the ancient spartan soup, melas zomos, a black broth made of boiled pigs' legs, blood, salt and vinegar. He then moves on to Preveza, a seaside town on the western coast of Greece. Here he meets Pavlos Alexandrou and joins the Preveza gastronomic society dinner . They enjoy oxymeli, an ancient dish made up of orange juice, vinegar and honey, rabbit cooked in wine, bream with celery and an egg and lemon sauce called avgolemono and kokotretsi.
In Kardamyli, Rick ventures to Patrick Leigh Fermor's house where his housekeeper, Elpida, cooks her famous moussaka (get the recipe here). In Poto Cayo, Rick enjoys some grilled sardines before we head back to his kitchen in Symi and watch him prepare gigantes, a giant Greek butter bean.
The last dish of the show is enjoyed in Areopolis: pot-roasted goat with potatoes, artichokes and fennel from the Lithostroto Taverna with Maria Koronaiou. The roasting pan is lined with fennel before the goat leg steaks, cut through the bones are added, followed by potatoes and other vegetables, finishing with the artichokes: a long, slow-cooked dish.

You can find all of the recipes from Rick Stein's new TV series in his cookery book From Venice to Istanbul. Buy it online here.

Book a table at one of our restaurants and try some of Rick's new recipes From Venice to Istanbul.

If you loved the look of Rick's halloumi saganaki,  book onto our 'Mediterranean Street Food and Mezze' cookery course at Padstow Seafood School where you can learn to cook the dish yourself. If you'd like to learn the art of cooking gigantes, try our two day 'Cooking From Venice to Istanbul' course including dishes such as grilled mackerel stuffed with hot red pepper paste, parsley and garlic, stuffed duck and Tiramisu.