Rick Stein – The Road to Mexico: Episode five, Mexico City to Oaxaca
12.12.2017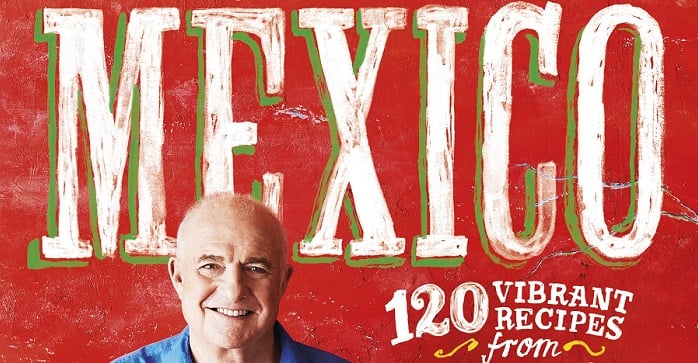 Rick Stein The Road to Mexico: Episode five
And so to the capital, the melting pot that encapsulates a country that, despite its narrow stature, crosses three time zones.  For that simple reason, locals casually refer to the city as 'Mexico'.  Not much has changed to the food that fed the former seat of the Aztec Empire.  Scenes captured by Diego Rivera in his murals still come alive in the city's bustling markets and working men's taverns offer Pulque, the alco-pop of the ancients.
After recapping his adventure in Guadalajara, it's time for Rick to visit Las Duelistas Pulqueria with Arturo Garrido to sample a popular central Mexican alcoholic drink, pulque. Made from the fermented sap of the agave plant, it has the colour of milk, a somewhat viscous consistency and a sour yeast-like taste, mixed with fruit juice to create an alco-pop style drink. Rick downs a pint of it in one gulp!
After a mooch in Cayoacan organ grinders and a visit to the Molinera el Progresso spice shop to learn about chillies, chillies and more chillies, it's off to meet Saul Guevara at Cocina Economica Laurita (The Good Value Kitchen) in the Azcapotzalco Market. The market is packed with great-value street food, including chicken enchiladas with salsa verde, which of course Rick has to try. A lunchtime favourite with the locals, corn tortillas full of chicken are smothered in a salsa verde made from tomattillos, serrano chillies, onion and garlic – topped off with soured cream, cheese and spring onions.
Back in Padstow it's time for breakfast as Rick prepares Chilaquiles – the perfect recipe to use up stale tortillas. Cut into triangles, then fried or baked, they're known as totopos. They're then covered with salsa verde (made using the ingredients above from Rick's visit to Cocina Economica Laurita) and topped with a fried egg, some crumbled cheese (Lancashire and feta work well), raw onion, soured cream and coriander.
A chat about the Mexican revolution, the impressive revolution monument and a wander along Plaza de la República is followed by coffee and cake at Cafe La Habana. A spot where Che Guevara and Fidel Castro used to go. Rick is then given a tour of some 'locals' cantinas by 'Paco' de Santiago – Mexican pubs where you only pay for the drink – food is free. On the menu, pork shank, caracoles (snails) in mole, made from nuts, chocolate and chilli. This is followed by a trip to the epic, Mercado Central de Abastos – a huge commercial market.
An adventure at Xochimilco chinampas (a vast area of luscious garden) with one of Mexico's most famous chefs, Eduardo Garcia, sees Rick enjoy a salad made of fennel, beetroot and various other freshly picked veg – paired with tortillas stuffed with Oaxaca cheese. Simply cooking at its best, as Rick says.
Rick also demos a recipe for Aztec soup – roughly translated to tortilla soup with chipotle chilli, tomato and avocado. As he mentions in the book 'I know how hard it is to persuade people to go for the soup. This is because often you get a bowl of just that. If you want people to order soup, you have to make it special by adding lots of garnishes – in this case, fried tortilla strips, avocado, chilli flakes, coriander, a good spoonful of soured cream and often shredded chicken too.
Inspired by his time at the Dominican Covent Santa Rosa, back in Padstow Rick prepares the famous chicken mole poblano – a dish of simply pan fried chicken breasts topped with a complex rich, fruity sauce with a hint of toasted chilli and a sprinkling of sesame seeds. The mole sauce is a real labour of love, but it's really worth it.
The episode draws to a close with Rick visiting the Koch mezcal distillery where he chats to General Director and co-founder, Carlos Moreno. Mezcal is an alcoholic spirit with a certified denomination of origin, elaborated through the distillation of the fermented juice of the Agave plant in its various forms. Distillers traditionally slow-roast the agave by burying it in pits with hot rocks, which infuses the final product with its signature smokiness. Try it in our exclusive Ribs-e-Rita cocktail by award-winning bartender, Mr Lyan, at Ruby's Bar, Rick Stein, Sandbanks and Rick Stein Barnes.
Make sure you tune into BBC2 at 9pm next week for the penultimate episode where Rick explores Oaxaca and Chinantlan Mountains;  and treat yourself to a signed copy of Rick Stein The Road to Mexico here.