Rick Stein – The Road to Mexico: Episode six, Oaxaca & Chinantla Mountains
19.12.2017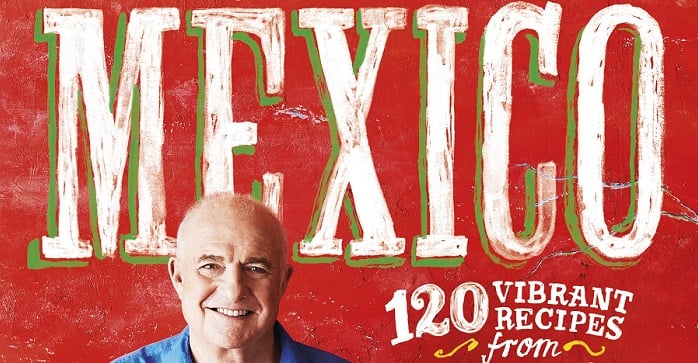 Rick Stein The Road to Mexico: Episode six
For Mexicans, their most revered dishes come from the south and their Mecca is undeniably Oaxaca, where locals still dress in traditional costume bringing to life the enduring descriptions of writers like D H Lawrence who fell in love with the area.
Following an authentic Mexican wedding precession, Rick heads to the Oaxaca Market where he tries some local air-dried meat called cecinas, like prosciutto, at Mercado Benito Juarez. Still in the market, Rick reminisces about the various taco's he's had on his journey so far, before trying something a little different… champulines, or edible grasshoppers. Somewhat of a delicacy in Oaxaca. Apparently.
After a mooch around the Oaxaca central plaza, Rick pays a visit to the town of Reyes Etla to meet Don Lorenzo Reyes Pinelo to talk cheese. Specifically, Oaxaca cheese, which is a white, semi-hard cheese, similar to Monterey Jack, but with a mozzarella-like stringiness to it. Sounds great, doesn't it?
Back in Padstow, Rick demos the recipe for his blue corn quesadillas that he discovered in the Xochimilco market, which is about 20 miles from the centre of Mexico City. The blueness comes from the type of corn flour used to make the tortillas – don't let the colour put you off the dish. The tortillas are warmed through in a pan and topped with mozzarella and Lancashire cheeses – when melted courgette flowers and spinach are added before folding the tortillas into a semi-circle then cooked until the cheese is oozing out the sides.
Next up, Rick explores the famous murals at Museo de Palacio in the heart of Oaxaca and then visits Nora Valencia who runs an authentic Oaxacan cookery school, Alma de mi Tierra. On the menu, chicken pozole, one of the oldest recipe in Mexico! Expertly prepared by Nora, a whole chicken is boiled until cooked then shredded into bite-sized pieces, which is served in a punchy herb and chilli filled green soup, all topped with radishes, jalapenos and lime. As Rick says, the secret to this dish is having a great stock. To end the day, it's a mooch in Oaxaca Central Square to listen to marimba musicians play 'Sandunga'.
The following day Rick heads to Monte Albán, a large archaeological site in the Santa Cruz Xoxocotlán Municipality in Oaxaca – located on a low mountainous range rising above the plain in the central section of the Valley of Oaxaca. Back on the food and drink trail, Rick visits Tianguis Market in Tlacalula to sample Tejate – a thirst quenching, non-alcoholic drink made maize and cacao that originates from pre-Hispanic times.  Followed by a trip to Restaurant Tlamanelli. Founded by Abigail and Rosario Mendoza in 1990, the restaurant shares traditional cooking methods that dates back hundreds of years. Rick trys seguesa de pollo, another pre-hispanic dish that consists of chicken leg in a rustic corn sauce with some tomato to complement its rich flavour. Finished off with a toast of mezcal and a slice of chilli-topped orange.
In his kitchen in Padstow Rick cooks up a staple for many Mexican dishes, hot red chilli sauce. Made using two types of chillies, garlic and a range of herbs and spices, it really packs a punch, and definitely worth trying out if you love a hit of spice in your food. Next on the menu in Mexico, Rick pays a visit to Casa Oaxaca Restaurant where he meets Alejandro Ruis Olmedo who shows him how to make a classic salsa and guacamole in a molcajete (pestle and mortar), along with a dish of rabbit with oregano, griddled beef and an extra-special taco filled with grasshoppers, worms and flying ants!
Inspired by a visit to a cacao cooperative in Chinantla, the final dish of the episode is chocolate fondant truffles and pasilla chillies – which Rick says are really addictive! The pasilla chillies are dried and have a fruitiness to them which works beautifully with dark chocolate. The recipe calls for the truffles to be dipped in batter and deep fried just long enough to soften in the centre.
The episode draws to a close at Rick's location for the night, the eco-tourism Yetla cabins in the San Mateo Yetla Village, San Juan Bautista Valle Nacional – in Rick's words "glamping, Mexican style".
The Road to Mexico takes another break next Tuesday for Boxing Day, but you can catch the final episode of the series on BBC2 at 9pm on Wednesday 3rd January where Rick explores the Yucatán Peninsula;  and don't forget to treat yourself to a signed copy of Rick Stein The Road to Mexico here.