Rick Stein – The Road to Mexico: Episode three, San Diego to Baja California
21.11.2017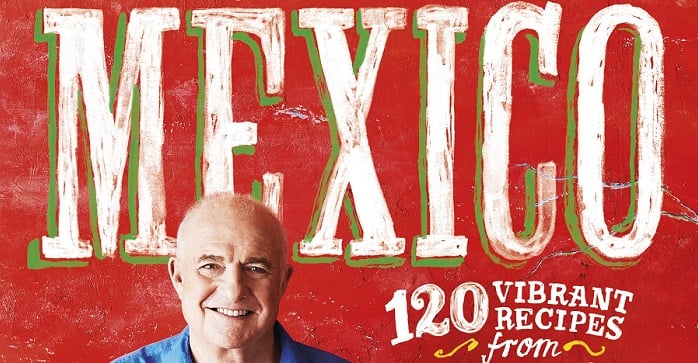 Rick Stein The Road to Mexico: Episode three
Breakfast being the most important meal of the day, Rick enjoys a hearty steak and eggs with O'Brien potatoes American diner special and bids a fond farewell to his trusty Ford Mustang as he heads across what is reputed to be the busiest border crossing in the world, 90,000 people a day – San Diego to Tijuana – the start of his Mexican adventures.
Back in the crew's bus, Rick's first stop in Tijuana is Caesar's Restaurant – where he meets the owner, Javier Plascencia, to chat about the place that created the original Caesar salad, some 90 years ago. He notes the dish hugely benefits from being simply – made from romaine lettuce with croutons and a dressing made of salted anchovy fillets, lime juice, mustard, Worcestershire sauce, garlic, olive oil and of course, Parmesan. Definitely one to try at home.
Beautiful shots of Tijuana arch, Agua Caliente pool, Avenue de Los Heroes, Abraham Lincoln & Aztec Emperor statues are followed by Rick demoing his recipe for chicken burritos with pico de gallo salsa back in Padstow. A large flour tortilla packed with marinated chicken thighs, rice, grated mozzarella, guacamole (kept nice a chunky), soured cream and shredded lettuce. A real Mexican classic.
Next up in Mexico, Rick travels 45 minutes south of Tijuana, down the coast road to Popotla, a village famous for fishing. Whilst there he samples ling cod sarandeado – the fish is marinated with lime and chillies then grilled over charcoal, and deep-fried scorpion fish, served with refried beans, guacamole and salsa.
One of the best wineries in the Guadalupe Valley is La Lomita, so Rick swings by to meet owner Fernando Perez Castro Pagano – he notes that they make a very delicious 'Pagano' Grenache, which is a punchy 15.8% alcohol! This is followed by Rick demoing a fab crab dish by the chef at La Lomita, Sheyla Alvarado – baked crab with poblano, achiote paste and coriander. Sweet, white crab meat is paired with chilli, orange juice, tomato and coriander, added to a ramekin and topped with breadcrumbs and Parmesan before grilling for 5 minutes.
A meeting with the creator of the BajaMed cuisine, chef Miguel Angel Guerrero at his family farm gives Rick the opportunity to try venison tacos for the first time. The meat is grilled quickly and served in corn tortillas with a dressing of garlic, shallots, lime, thyme and olive oil. Rick's journey south continues down to Ensenada and La Mision Beach. At Taqueria Criollo, he meets Tania Ganja and Memo Barrett, and tries tacos with a difference – crispy tacos filled with mashed potatoes and crowned with shrimp aguachile and watermelon escabeche. "Seafood tacos for the social media generation."
Back in Padstow, Rick knocks up Ensenada fish tacos with chilli and coriander. Finger-sized pieces of cod fillet deep-fried in beer batter, served in corn tortillas with shredded white cabbage, avocado and chilli sauce.
The episode ends at Hussongs Bar, the oldest and best-known cantina in Baja California, where Rick enjoys a classic Margarita cocktail – traditionally made with Tequila, lime juice and Cointreau. See page 268 in the accompanying book to find an extra special Margarita recipe by award-winning bartender, Mr Lyan – you can also try it at our restaurants in Sandbanks and Barnes, and Ruby's Bar in Padstow.
Make sure you watch BBC2 next on December 5th at 9pm where Rick heads further south;  and treat yourself to a signed copy of Rick Stein The Road to Mexico here.