Rick Stein's coq au Riesling recipe from Secret France
26.01.2021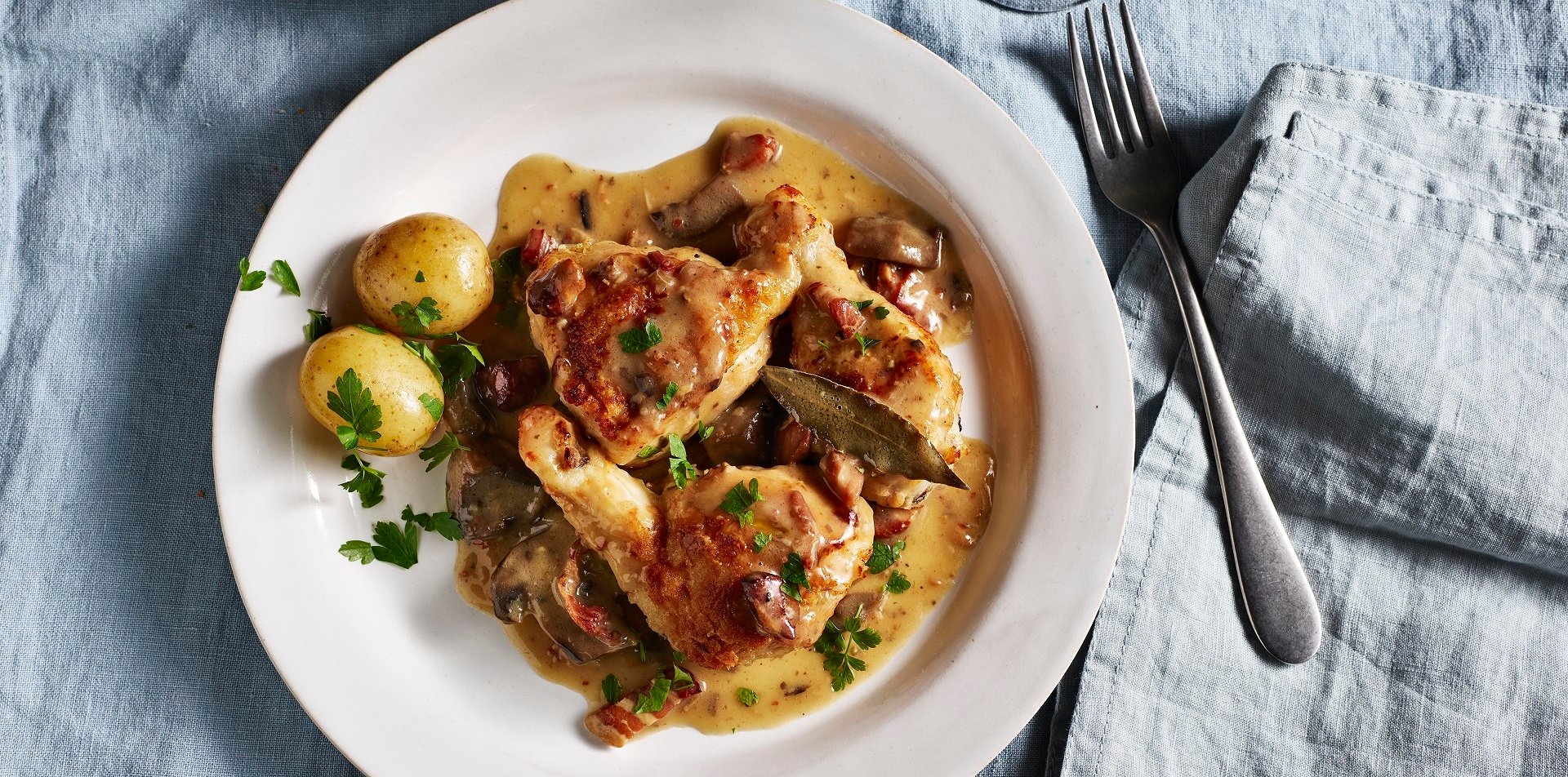 Hailing from Rick's BBC2 series, Secret France, coq au Riesling is an oh so comforting dish to cook at home for your family.
Rick says: "I've never been entirely happy with coq au vin because the 'vin' bit always seems rather pale. I think if you are going to make a red wine sauce, make it deep and red, or everything can take on a rather mauve hue. Coq au Riesling, on the other hand works, much better because white wine with some cream and lots of parsley just looks much more appetising. The acidity of Riesling can be a rather surprising joy in Alsatian cookery."
Ingredients
Serves 4 – 6
2 tbsp vegetable oil
70g unsalted butter
12 shallots, peeled but left whole
3 cloves garlic, finely chopped
160g smoked bacon lardons
250g chestnut mushrooms, wiped and halved if large
1 free-range chicken (about 1.7kg), jointed into 8 pieces
1 tbsp plain flour
500ml medium-dry Riesling
350ml Chicken stock
1 bay leaf
2 thyme sprigs
100ml single cream
1 egg yolk
Small handful flatleaf parsley, chopped, to garnish
Salt and black pepper
Method
Heat half the oil and butter in a shallow flameproof casserole dish and fry the shallots, garlic and bacon lardons until the shallots have started to colour. Add the mushrooms and fry for a couple more minutes. Transfer everything to a bowl with a slotted spoon.
Add the remaining oil and butter to the casserole dish. Dust the chicken joints with flour and brown them in a couple of batches. Put all the chicken back in pan and add the wine, stock, herbs and the cooked shallots, lardons and mushrooms. Season with a teaspoon of salt and plenty of black pepper. Bring to a simmer and cook for about 20 minutes, uncovered. Pass everything through a colander set over a bowl and keep the chicken, lardons and vegetables warm.
Return the strained liquid and juices to the pan and reduce a little. Take the pan off the heat. Whisk the cream with the egg yolk and a ladleful of the reduced cooking liquid, then pour this into the pan with the stock. Place over a medium heat until the sauce has thickened, but don't let it boil.
Put everything back into the pan and let it warm through. Check the seasoning and garnish with chopped parsley. Serve with pommes purée.
Recipe from © Rick Stein's Secret France, BBC Books, 2019
DINE IN WITH STEIN'S AT HOME
From steak to lobster and coq au Riesling to curry, our Stein's at Home menu boxes bring fresh Cornish seafood and Rick's classic dishes straight to your door to enjoy at home. Available for delivery across the UK.