Rick Stein's classic fish pie recipe

This is how to make fish pie, as seen in series two episode one of Rick's Stein's Cornwall on BBC2. Rick's fish pie recipe is a comforting classic that's easy to cook at home for your friends and family for a midweek supper or weekend gathering with a glass of something decent. There's something about fish pie that pleases a crowd – maybe the rich sauce, smooth mash or delightfully poached fish? We know you'll love recreating Rick's fish pie recipe with the freshest catch from our online fishmongers.
The best fish pie recipe
Rick says: The older I get the keener I am to keep ingredients out of recipes instead of adding them. This is as simple a recipe for fish pie as you can imagine but if the fish is good (and that includes the smoked fish which must be of the best quality), there is no better fish dish in the world than British fish pie with boiled eggs and parsley of course.
What's makes this the best fish pie recipe? Good quality fresh fish, of course – but it really is greater than the sum of its parts. Each ingredient plays a role in making the most unctuous dish. Adding prawns alongside the poached fish provides a sweet, seafood surprise, a good grating of nutmeg in the sauce punches extra flavour and enriching the mashed potato with egg yolk is a great tip for both taste and finish. Once baked, the fish pie will be a glorious golden brown with a pleasing crunch as it's served at the table. The inclusion of hard boiled eggs might divide an audience, but Rick swears by them.
Classic fish pie is a great recipe to have up your sleeve for any big occasion. After all, when isn't a good time for fish pie.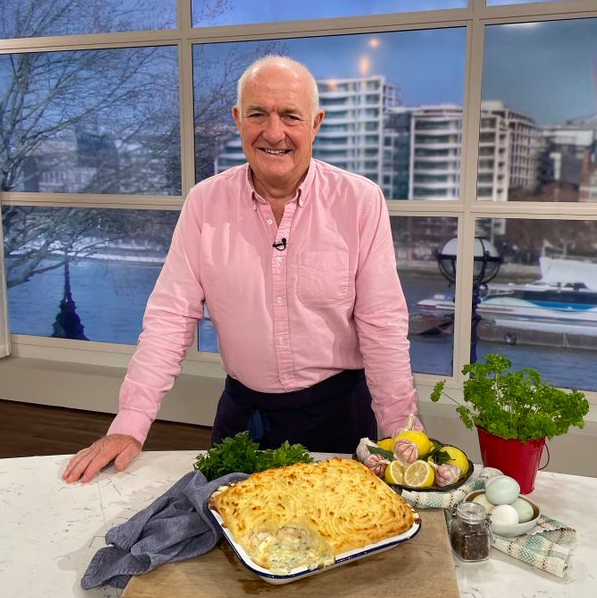 What to serve with fish pie
The simple answer to this – garden peas. It really doesn't need anything more fancy. Anything to muddy the waters of a tried and tested favourite. When it comes to wine, however, the creaminess of the dish needs something to stand up to its big flavours so a good Chardonnay like White Burgundy or Chenin Blanc work very nicely indeed.
Can you freeze fish pie?
One of the best things about fish pie is the fact you can make it ahead of a celebration and freeze it. You need to consider a couple of things when freezing a fish though. Cooked boiled eggs don't freeze well, so it would be best to leave them out of the recipe if you know it's going straight in the freezer. Similarly, if you're planning to use frozen prawns, leave them out as they shouldn't be re-frozen. To avoid freezer burn or damage to the pie, once it's completely cooled, wrap tightly in a double layer of cling film and lay in flat in your freezer. This will be good to enjoy for up to three months.
To defrost, remove from the freezer and leave in the fridge for 24 hours – this will ensure the quality of your fish pie. To find out more about freezing fish here.
Ingredients for fish pie
Serves 8 (half the quantities for 4)
1 medium onion, thickly sliced
4 cloves
1 fresh bay leaf
1.2L whole milk
600ml double cream
900g unskinned pollock fillet
450g undyed smoked haddock fillet
24 large cooked prawns
8 eggs
200g butter
90g plain flour
Large handful flat-leaf parsley, chopped
Freshly grated nutmeg
2.5kg peeled floury potatoes such as Maris Piper or King Edward
2 egg yolks
Salt and freshly ground white pepper
How to make fish pie
Put the onion slices and cloves in a large pan with the bay leaf, 900ml of the milk, the cream, pollock and smoked haddock. Bring just to the boil and turn down to simmer for 6 minutes. Lift the fish out to a plate and strain the cooking liquor into a jug. When the fish is cool enough to handle, break it into large flakes, discarding the skin and bones. Sprinkle it over the base of a shallow 3.5 litre ovenproof dish.

Hard-boil the eggs for 8 minutes, then drain and leave to cool. Peel and cut them into chunky slices and arrange on top of the fish.

Melt 100g of the butter in a pan, add the flour and cook for 1 minute. Take the pan off the heat and gradually stir in the reserved cooking liquor. Return it to the heat and bring slowly to the boil, stirring all the time. Leave it to simmer gently for 10 minutes to cook out the flour. Remove from the heat once more, stir in the parsley and prawns and season with nutmeg, salt and white pepper. Pour the sauce over the fish and leave to cool. Chill in the fridge for 1 hour.

Boil the potatoes for 15 – 20 minutes. Drain, then using a hand whisk purée the potatoes until lump free and fluffy, add the remaining butter and the egg yolks. Season with salt and freshly ground white pepper. Beat in enough of the remaining milk to form a soft, spreadable mash.

Pre-heat the oven to 200ºC/180c fan. Spoon the potato over the filling and mark the surface with a fork. Bake for 35 – 40 minutes, until piping hot and golden brown.
Rick's classic fish pie is a must-try for homecooks that love a comforting seafood supper with friends and family. The beaming smiles you'll be greeted by as you place the pie in the middle of the dining table for everyone to dig into will be memorable.
EXPLORE STEIN'S ONLINE FISHMONGERS
Delivering a wide range of sustainably caught fresh fish and shellfish, straight to your door from Cornwall. Order restaurant quality fish fillets, whole fish, shellfish, smoked fish and mixed fish boxes, plus ready to eat options.