Rick Stein's Cornwall: Grillade of Monkfish Tail Recipe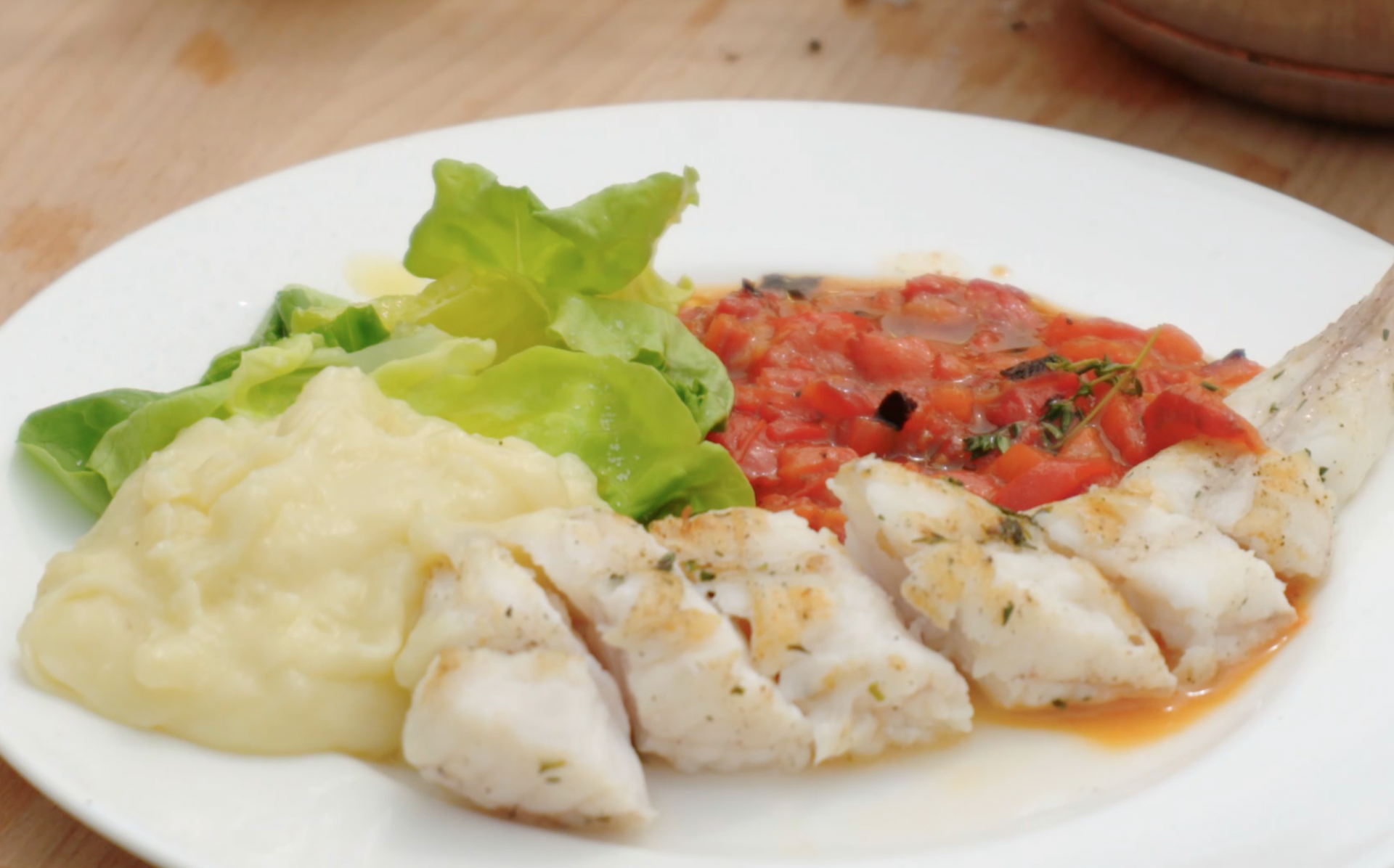 As seen in series two episode twelve of Rick's Stein's Cornwall on BBC2 – Rick's grillade of monkfish tail with Saffron and roasted red pepper dressing olive oil mash. Recreate it with the freshest catch from our online fishmongers.
Serves 2
Ingredients
For the Monkfish
2 monkfish tails, skin and membrane removed
Olive oil
4 sprigs of thyme picked
Salt and pepper
For the roasted red pepper sauce
2 red peppers
300 ml Fish stock
40 ml Dry white wine
Pinch of Saffron
Pinch of Dried chilli flakes
85 ml olive oil
15ml sherry vinegar
1 tbsp butter
For the olive oil mash
600g maris piper potatoes or king edwards, peeled and cut into chunks
60ml olive oil
50ml fish stock
Salt and pepper
Method
Heat the BBQ about 40 minutes before you need it so it gets nice and hot.
Put the peppers on the grill until charred all over and blistered. Remove from the grill and set aside. Once cooled, peel the skins and remove the seeds and finely chop the flesh.
For the dressing, put 250ml of the fish stock, wine and saffron and a pinch of dried chilli flakes in a pan and reduce the volume by ¾ It should be concentrated.
Mix together the olive oil and vinegar and season with salt and pepper.
Boil the potatoes in salted water until very tender, drain well and pour into a wide mixing bowl, add the olive oil, fish stock, salt and pepper and mash until smooth,
( I use an electric hand whisk) cover with foil to keep warm.
Brush the monkfish with olive oil and picked thyme leaves, salt and pepper.
Put them on to the grill and cook for around 10 minutes, turning regularly to stop them burning
Return the sauce back to the heat and bring it to a boil, whisk in the dressing and butter (it will look split but don't worry it is a split sauce. Finally add in the peppers
To serve cut slices of the monkfish on the angle and serve with the olive oil mash and some fresh salad leaves dressed with a drizzle of olive oil and lemon juice.
EXPLORE STEIN'S ONLINE FISHMONGERS
Delivering a wide range of sustainably caught fresh fish and shellfish, straight to your door from Cornwall. Order restaurant quality fish fillets, whole fish, shellfish, smoked fish and mixed fish boxes, plus ready to eat options.